Google debuts its 'Slate' - a hybrid Chromebook/Detachable/Tablet/Android thingie (with a pen)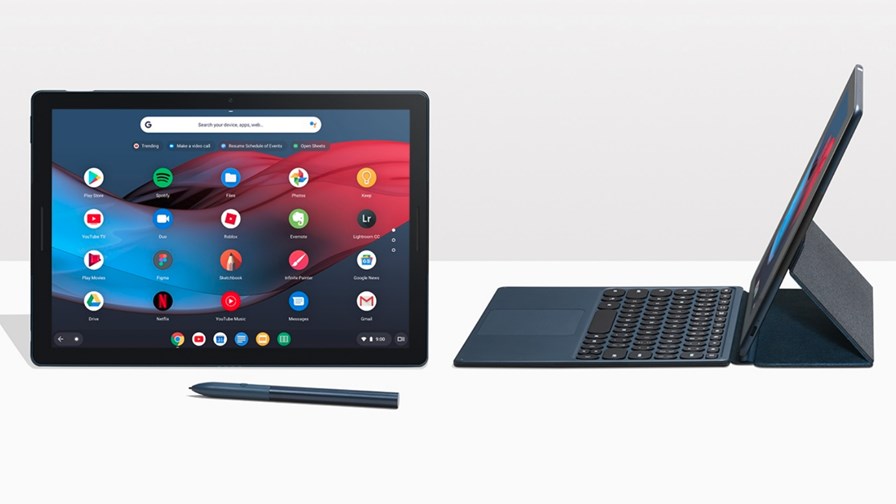 Google offers a Swiss Army Knife device
It tackles consumption and creation, plus business and leisure
It's a tablet and a laptop and a presentation device, all in one: will it work?
Yesterday Google launched an actual new product, roping together many of its existing products. Android phones we know are the world's most successful smarties. However Android tablets were generally regarded as not up to it and they didn't sell by the bucketload. Chromebooks, on the other hand, appear to be doing well: users like the interface, the platform is curated by Google itself (it updates the OS on a constant basis) and the Chromebook is said to be the only computer that actually gets faster as it gets older (perhaps). So from a Google product line-up perspective the Slate makes sense. It covers all the bases, disposes of the Android tablet, and its starting price of $599 doesn't seem too high.
Has it invented a newish 'form factor'. Perhaps. In the boring world of black slab phones it at least sets out to do something new. Chromebooks (some of them) now also support Android but I see no mention of Andoid apps in the Slate story below. Perhaps later. Or perhaps with Slate v.2.
The product will be available in North America and the UK towards the end of the year.
Google announces new Pixel Slate powered by 8th Gen Intel Core Processors
On Tuesday, Oct. 9, 2018, Google announced the all-new Google Pixel Slate featuring 8th Gen Intel Core processors. Optional Pixel Slate Keyboard and Pixelbook Pen make Pixel Slate adjustable for laptop, tablet, entertainment mode and more. (Credit: Google)
What's New: Today in New York City, Google announced the new Google Pixel Slate* featuring 8th Gen Intel® Core™ processors for amazing entertainment, connectivity and performance on the go in a beautiful, versatile, thin-and-light design.
"The new Google Pixel Slate showcases the exceptional performance and capabilities of 8th Gen Intel Core processors for a range of sleek 2 in 1 and thin-and-light devices that are transforming our ability to create, connect and contribute." –Chris Walker, Intel vice president in the Client Computing Group
What It Offers : Engineering teams from Intel and Google co-engineered the Pixel Slate to deliver uncompromising performance, plus everything you love about Google for how you live and work today.
Powered by 8th Gen Intel Core m3, i5 or i7 processor or Intel® Celeron® processors.
3-inch Molecular Display* with 293 ppi for the sharpest picture.
Get more done with powerful multitasking tools including split-screen and collaboration apps like Google Docs, Sheets and Slides*.
Pixel Slate automatically1 updates in the background, so you'll always have the latest features and security without any hassles.
Pixel Imprint* lets you quickly and securely unlock with the touch of a finger.
Optional Pixel Slate Keyboard* and Pixelbook Pen*.
How to Get It : Google Pixel Slate will be available2 later this year on the Google Store* and at major retailers in the U.S., Canada and the U.K. starting at $599. For more details, visit the Made by Google YouTube channel.
The Small Print:
1 Auto-updates and auto backup require an Internet connection.
2 This device has not been authorized as required by the rules of the FCC, Industry Canada or CE. This device is not, and may not be, offered for sale or lease, or sold or leased, until authorization is obtained.
This content extract was originally sourced from an external website (
Intel Newsroom
) and is the copyright of the external website owner. TelecomTV is not responsible for the content of external websites.
Legal Notices
Email Newsletters
Sign up to receive TelecomTV's top news and videos, plus exclusive subscriber-only content direct to your inbox.