Foldable screens are on the way... anything to drive some smartphone differentiation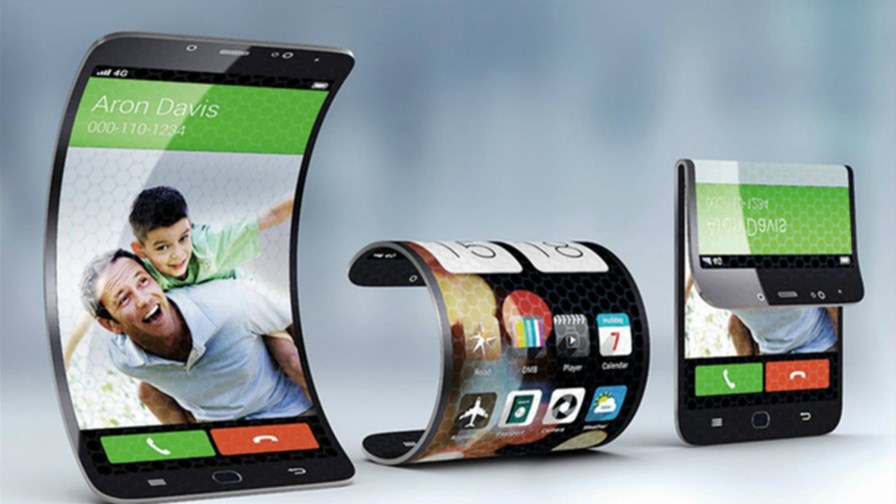 Smartphone vendors are desperate to offer features and differentiators to give the kiss of life to a market which has seemingly reached saturation
Foldable smartphone will likely appear this year and next, providing both novelty and a larger display area in a smaller form factor
As will on-screen fingerprint sensors and multiple cameras
This is the year that foldable smartphones are expected to hit the market, according to market and technology analysts. Samsung is widely expected to be prepping folding screens for its next incarnation of the Galaxy phone lineup. According to IHS Markit, in a report released earlier this year, Foldable AMOLED displays are expected to comprise about 0.001 percent of flexible AMOLED shipments in 2018, rising to 6 percent in 2021. It says that while the flexible AMOLED display market included equal volumes of flat and curved displays in 2017, most flexible AMOLED panel suppliers are planning to put foldable AMOLED into mass production in a few years.
Samsung has been demonstrating single- and dual-foldable AMOLED displays since 2013, says IHS Markit.
BOE has developed a prototype of a 7.56-inch 2048x1536 foldable AMOLED display with a 5-millimeter bending radius, which reliably bends 100,000 times without breaking. BOE is looking to supply this foldable AMOLED display to Huawei this year.
AUO has developed a 5-inch 1280x720 AMOLED display, with a 4-millimeter bidirectional bending radius. The company says it will bend more than 1.5 million times without breaking. It includes an integrated touch sensor and 4H cover film.
The new foldable displays will be used primarily in larger-sized premium mobile devices, with transformable displays that combine the usability of smartphones and tablets.
ABI Research, in a report released today, is slightly less optimistic. It thinks foldables will likely appear next year along with 5G smartphones and other features such as fingerprint 'on display' and multi-cameras.
See full ABI Research press release below
Foldable screens, 5G, and smart biometrics among technologies to completely transform smartphones by 2027
London, United Kingdom - 25 Sep 2018
The smartphone market is continuously experiencing growth and change, despite an overall level of saturation, with devices offering an increasing number of transformative features as vendors seek to improve replacement cycles. Features such as fingerprint on display and multiple cameras are starting to enter the market, while others such as foldable displays and 5G are due to appear next year, all of which are expected to experience significant growth in market penetration. ABI Research , a market-foresight advisory firm providing strategic guidance on the most compelling transformative technologies, forecasts that over 248 million smartphones will ship with a foldable display in 2027 and over 1.4 billion smartphones will ship with 5G capabilities.
"The smartphone market has seen a large amount of technological development over previous years, which is expected to continue moving forward," says Stephanie Lawrence, Research Analyst at ABI Research. "In order for vendors to offer smartphones that stand out while creating differentiation, they must continue to develop and offer new transformative features that provide consumers with new, unique and innovative ways in which to interact with their devices. Advanced features such as smart biometrics, multiple cameras, foldable displays, and 5G will totally transform how we interact with, and use our smartphone."
Smart biometrics refers to the individual human characteristics that are used to enable authentication and access to applications, such as facial recognition, iris scanning, voice AI, vein recognition, and fingerprint on display (FOD). FOD offers improved fingerprint scanning capabilities and is beginning to enter the smartphone market, notably on devices such as Vivo's X20 Plus UD, Xiaomi's Mi 8 Explorer Edition, and Huawei's Porsche Design Mate RS. FOD will increase in popularity between 2018 and 2027 – over 553 million smartphones will feature the technology by 2027.
Dual-cameras help to provide better quality photographs, often with one sensor providing the main image and the other providing the extra detail at a slightly different angle. They have found their way into an increasing number of smartphones, most recently Apple's iPhone X, Samsung's Galaxy S9 and Note 8, Xiaomi's Note 5, and LG's V30. Most commonly, these dual-cameras are found on the rear of the phone; however, LG's V30 also features dual front cameras. The first smartphone with three rear camera sensors (40MP color, 20MP monochrome, and 8MP zoom lenses) was released in March 2018—Huawei's P20 Pro. Multiple cameras will continue to find their way into smartphones, with vendors launching flagship cameras with the technology.
Foldable displays will appear on the smartphone market in 2019, most notably via the rumored Samsung's Galaxy "X", followed by Motorola's new RAZR. This feature enables devices to have a large tablet-like screen on a small device form factor. This will improve the overall user experience since multiple apps can be open, and usable, simultaneously on each side of the screen. Foldable displays allow each app to take up a significant amount of space, making each app more readable and recognizable. The current lack of smartphones with a foldable display can be put down to the complex manufacturing processes involved and the requirement for the device to be able to withstand the wear and tear of everyday use. However, by 2027, most major vendors will have launched a device with the functionality and it is expected that over 248 million smartphones will ship with a foldable, or flexible, display.
5G will also appear in 2019, experiencing large growth as a key driver for device migration, to become the connectivity standard for most smartphones by 2025. This is due to its ability to offer an enhanced wireless broadband connectivity experience, improving not only the speed, but also the connectivity, diverting users away from public Wi-Fi while increasing video call and video streaming quality, AR experiences, and instantaneous cloud connections.
"In order to provide devices with many of these transformative features smartphone vendors need to invest in either in-house expertise, outsourcing, and/or partnerships," concludes Lawrence. "This approach will ensure that such features are included effectively and efficiently into the device without compromising the user experience — for example, in the case of 5G vendors need to solve the increasing RF complexity that goes along with the improved connectivity if they are to launch a smartphone fit for market."
These findings are from ABI Research's Emergent Mobile Device Technology Trend Analysis report. This report is part of the company's Handsets & Devices research service, which includes research, data, and Executive Foresights.
This content extract was originally sourced from an external website (
ABI Research Media Releases
) and is the copyright of the external website owner. TelecomTV is not responsible for the content of external websites.
Legal Notices
Email Newsletters
Sign up to receive TelecomTV's top news and videos, plus exclusive subscriber-only content direct to your inbox.