Amazon makes its big move on the smartphone (updated)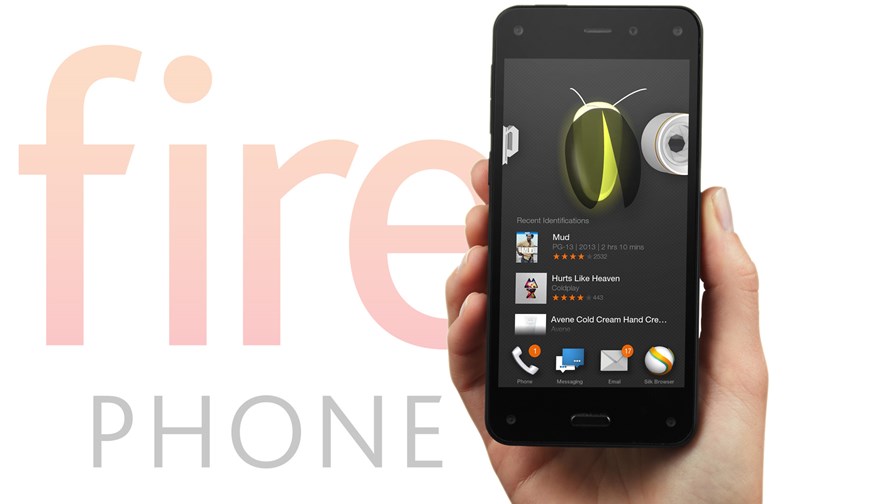 As expected, Amazon has launched its smartphone, the Fire Phone, Wednesday evening UK time. It's another black slab with a screen layout that looks distinctly iPhoney (or Androidy come to that). Jobs would probably be reaching for his lawyers if he could. There are lots of specifications which, taken together, lump the Fire Phone into the mid-range of the smartphone market. It's a biggish phone (4.7 inch, 720 HD screen). It sports Qualcomm's 2.2 GHz quad-core Snapdragon 800 processor supported by 2Gbytes of RAM. Storage choice will be 32 or 64 Gbytes.
Naturally it highlights media consumption and generation: a 13 megapixel main camera which can shoot video in HD and unlimited Cloud Drive storage for the resulting photos (match that Google!).
It runs Amazon's own forked version of Android so doesn't sport the Google services - gmail, G+, download store and so on - but it is compatible with Amazon's existing Fire tablets.
It's supposed to have what Amazon's founder and CEO Jeff Bezos called a premium feel. On specs and techy buzz-factor , though, it's unlikely to represent any sort of challenge to Apple and Samsung as a hardware package.
But Bezos is counting on its abilities as a purveyor of content - Amazon content. With this gadget it's supposed to be easier to discover and pay for and better to view and hear. The screen is brighter than your average (better in natural light) and it has stereo speakers.
The gimmicky (perhaps) stuff is a gamble. There's 'Dynamic Perspective' which sets four user-facing cameras to work to interpret various features of the face looking at it. This way the system could control on-screen content (scrolling perhaps when the user hits the end of a page). This sounds dangerously like something that probably won't quite work and might be implemented in annoying ways. Amazon is offering an SDK for third parties to have a go (and to take the flak).
There's MayDay, the live assistant service, already being promoted on the Kindle. Then there's Second Screen, somewhat like Google's Chromecast enabling content to be streamed to Amazon's Fire TV media box. And naturally there's Prime, Amazon's online content service. It usually costs ($100 per year in the US) but Fire Phone users will get it for free for one year (this might be a pretty good draw for many users).
Another bit of software is called Firefly which sets about recognising things (so the user can make impulse purchases). This is clever but I can feel the fun of the chase seeping out of the shopping act. The phone's main camera, via the software, can recognise objects and text (I'll have that); can listen to music (add that to my basket) and can even sample and identify a video or movie (I'll watch that later, it's on Prime). Is this like having a virtual small child suggesting purchases as you trawl the supermarket?
Yes, of course it is. Retail-wise this and all the features are damned clever - at least as described - and Bezos thinks he's finally found a compelling set of enablers to allow him a proper crack at mobile retail just as the smartphone is becoming the dominant online weapon of choice for consumers.
Will it fly with those consumers? Not so sure. It's so clearly a mobile shopping cart that I wonder whether users might not feel a tad de-neutralised by buying it. Remember the Facebook front-end that was supposed to sweep all before it and got observers highly excited. No, neither do I.
As a proposition, "buy this phone for a reasonable price and it will help you spend much more money" may not be enough, which is why I think there may be more of this story to come.
In the US the phone is an exclusive (for the time being) for AT&T and will cost a reasonable $200 for the 32Gbyte version, but there is no ground-breaking (and controversial) freephone-style data deal, which in the pre-launch version of this story I said I thought was possible...
"[Bezos] could be going to lard the phone up with compelling content offers as part of the price. This seems pretty obvious and by itself is unlikely to create the huge stir that Bezos is expecting. "Wait!" as they say on the shopping channels, "there's more."
We must factor in Bezos' predilection for the simple connectivity deal (always trying not to put anything between the device and the content that he really wants to sell). Back in the day Amazon did a cellular data deal in the US for the first Kindles - a move widely regarded as a marker for things to come across the whole industry where devices are granted life-long mobile subscriptions as part of the purchase price. Not to be. It soon became apparent that most users would far rather forego the extra expense and just use WiFi to download their books. Within a few years WiFi-only Kindles predominated.
This time, though, it may be different. With the FCC chairman having expressed the belief that 'two-sided business models' were inevitable it could be that Bezos is hatching a plan with AT&T to test drive its 800 Freephone data idea - or something close to it. That's where the content provider (in this case Amazon) ties up with fairly obviously a non-neutral play but there is no net neutrality rule, especially for mobile, in the US market today.
But can you still do an exclusive network deal? It may have been fine for Apple in 2007, but surely not now with 100 other capable smartphones on the market. True, but there may be other ways to skin this cat. For instance, dual SIM capability with an embedded SIM allowing only Amazon data downloads and a second SIM for for the user to contract to the network of his/her choice for everything else. Where there's a will there are probably several ways, and that may be one of them.
Or we may be completely wrong."
I was. No 'free to the user' connectivity deal via AT&T (to match the free unlimited photo storage)... yet.
Email Newsletters
Sign up to receive TelecomTV's top news and videos, plus exclusive subscriber-only content direct to your inbox.