ARM sees 5G 'disruption' as a route into the PC chip market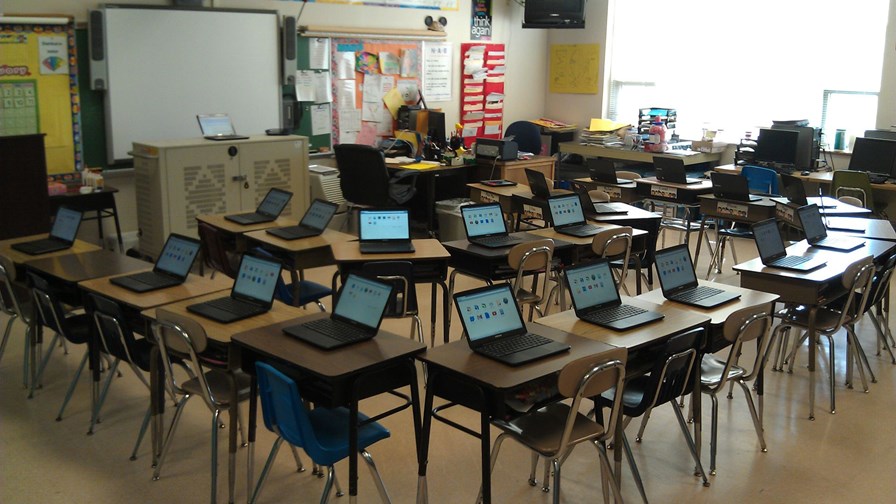 ARM says Intel's Moore's Law is running out of steam
It has a new plan for endless chip improvement
Views the 'always connected' device market as its destination
Chip designer ARM, based in Cambridge UK, but owned by Japanese giant, Softbank, claims it's going to make a concerted effort to muscle it's way into the laptop processor market, loosening Intel's grip there.
ARM's designs have more or less driven the mobile handset and smartphone market to now. Adopted in particular by Qualcomm (ARM designs chips, doesn't make them) which adds its radio smarts to create SoCs (System on a Chip) all geared to using very small amounts of power, thus maximising the battery life, reducing heat etc.
The trick for smartphones is to get optimum processing power for the tasks in hand without draining the battery and the same applies to laptop technology which, over the past few years, has been designed to perform more like a large smartphone. Google's Chromebooks, for instance, are very good on battery life but, as they migrate to hosting more demanding workloads - Android now and Linux applications in the near future - they're going to demand more powerful processors (at reasonable prices).
That means that the time may be right for ARM to make a concerted claim on the laptop processor market if it can come up with some new designs to get it there. Not just a design for the next year or two, but what silicon vendors like to call a product roadmap. This provides OEMs with confidence that increasing speed and other capabilities will be on hand for their target products at versions 2, 3 and 4, not just version one.
So ARM has announced new processor 'cores' for both the smartphone and laptop/notebook markets, which will enable both Windows and Chrome OS device makers to really attack the 'always connected' market which has been, up to now, a rather elusive one. Chromebooks in particular were launched with the idea of vendors putting 4G modems inside, but as it transpired, users stayed away from those options (and there weren't many), preferring instead to rely on WiFi for their connectivity and tethering where there was no WiFi. .
But that could change this time around with speedier LTE Advanced and, ultimately, 5G, finally making the 'always connected' dream a reality.
The full press release on ARMs new roadmap is below.
Accelerating mobile and laptop performance: Arm announces Client CPU roadmap
August 16, 2018
By Nandan Nayampally, vice president and general manager, Client Line of Business, Arm
News highlights
Arm unveils its first-ever public CPU forward-looking roadmap and performance numbers
Client CPU's expected to deliver year-over-year performance improvements of >15% for compute through 2020
Arm positioned for laptop share gain with roadmap designed for 5G always-on, always-connected devices
Over the last five years, advances in Arm technology have brought desktop-class PC performance into our smartphones, fundamentally changing how we use technology in our daily lives. This is a direct result of Arm's annual cadence of introducing new world-class CPU designs, which have delivered double-digit gains every year in instructions-per-clock (IPC) performance since 2013. Arm is now applying this same design leadership, along with optimizing for the latest advances in process technology from our foundry partners, to enable the PC industry to overcome their reliance on Moore's law – which has definitely slowed – and deliver a high-performance, always-on, always-connected laptop experience. It's an experience that will be a necessity as 5G enables an entirely new world of connected possibilities.
The latest example of this is our recently launched Cortex-A76 CPU.  The Cortex-A76 is delivering an unprecedented 35% gain in performance compared to the previous generation, without compromising Arm's efficiency leadership. This is an industry milestone for multiple reasons. Firstly, it's the foundational CPU IP for the first 7nm SoCs expected to be in production later this year. More importantly, Cortex-A76 represents the continuation of the trajectory that will increase performance at a staggering pace, enabling consumers to do more with their smartphones and level the performance playing field against mass-market laptop CPUs from the competition.   
Looking ahead: Breakthrough performance for the always-on, always-connected user
Today is another milestone for Arm as we're publicly disclosing both forward-looking compute performance data and a CPU roadmap for Arm's Client Line of Business from now through 2020. It's the first time we've ever shared a roadmap of any kind publicly, and it won't be the last (hint: come to Arm TechCon.)
Some important details you need to know about our client CPU roadmap:
The follow-up to Cortex-A76 will be codenamed 'Deimos' and delivered to our partners in 2018. Optimized for the latest 7nm nodes, 'Deimos' is based on Arm DynamIQ technology and is expected to deliver a 15+ percent increase in compute performance.

In 2019, the CPU codenamed 'Hercules' will be available to Arm partners. 'Hercules', also based on DynamIQ technology, will be optimized for both the latest 5nm and 7nm nodes. 'Hercules' continues the trajectory of increased compute performance, while also improving power and area efficiency by 10 percent (in addition to the efficiency gains achievable from the 5nm process node).
Why it matters
Our roadmap of client CPUs has been designed to take advantage of the disruptive innovation 5G will bring to all client devices. This combined with innovations from our silicon and foundry partners will enable Arm SoCs to break through the dominance of x86 and gain substantial market share in Windows laptops and Chromebooks over the next five years.  
Additionally, the Arm Artisan Physical IP platform and Arm POP IP will also help Arm partners get every bit of performance-per-watt they can out of their SoCs on whatever process node they choose. Artisan is a key part of building industry-leading process nodes for our foundry partners from 130nm down to 5nm, while POP IP has helped our partners realize market-leading performance, power, and area (PPA) over many generations of Arm cores. Arm POP IP is already helping to enable laptop-class performance in 7nm SoCs based on Cortex-A76 by giving our partners the opportunity to push the clock-speed past 3.0GHz and up to 3.3GHz within power envelopes around half that of today's mass-market x86 processors.  
A robust and rapidly-expanding laptop ecosystem
Leading PC OEMs already recognize that efficiency is a key differentiator for the always-on, always-connected, laptop experience which is characterized by very slim, light form factors, full day battery, and excellent responsiveness. Windows 10 systems powered by Arm-based Qualcomm Snapdragon SoCs are already available from ASUS, Lenovo, HP, and Samsung have also announced they will join the mix as well. Along with Microsoft, these partners have given users a new choice for connectivity and an always-on experience that was not possible a year ago. 
But Arm didn't build the mobile ecosystem by just relying on its efficiency leadership. We accelerated the performance gain through our annual design cadence, while improving efficiency and silicon footprint. This has enabled our ecosystem of silicon, software, and OEM partners to bring smartphones to market every year with new innovations and features. Our latest roadmap highlights that we're bringing these same annual PPA improvements to the PC industry which now has both the opportunity and headroom to accelerate innovation like never before. 
"The CPU roadmap Arm has laid out coupled with Qualcomm's heterogenous approach to computing across our various IP block and integrated connectivity, will allow for new advancements in the always-on, always-connected PC experience offered by the Qualcomm Snapdragon Mobile Compute Platform," said Alex Katouzian, senior vice president and general manager, mobile, Qualcomm Technologies, Inc. "Our mission continues to bring the best of the mobile world to the PC, with great battery life, sleek innovative form factors, and Windows 10 for on-the-go productivity."
2018 was an important first step in expanding the Arm PC ecosystem and showing the world that we're no longer bound to the idea that process technology will only incrementally improve every two years and that a laptop will need charging every few hours.  The pace of innovation that transformed smartphones into the compute platform of choice is now powering  and transforming the larger screen devices.  The question now for the broader PC industry is: Are you ready to liberate yourselves from the slowing pace of Moore's law and deliver the mobile productivity experience consumers and businesses will need as we enter the 5G era?
This content extract was originally sourced from an external website (
ARM
) and is the copyright of the external website owner. TelecomTV is not responsible for the content of external websites.
Legal Notices
Email Newsletters
Sign up to receive TelecomTV's top news and videos, plus exclusive subscriber-only content direct to your inbox.