Intel stacks up its solid state drive technology for the data centre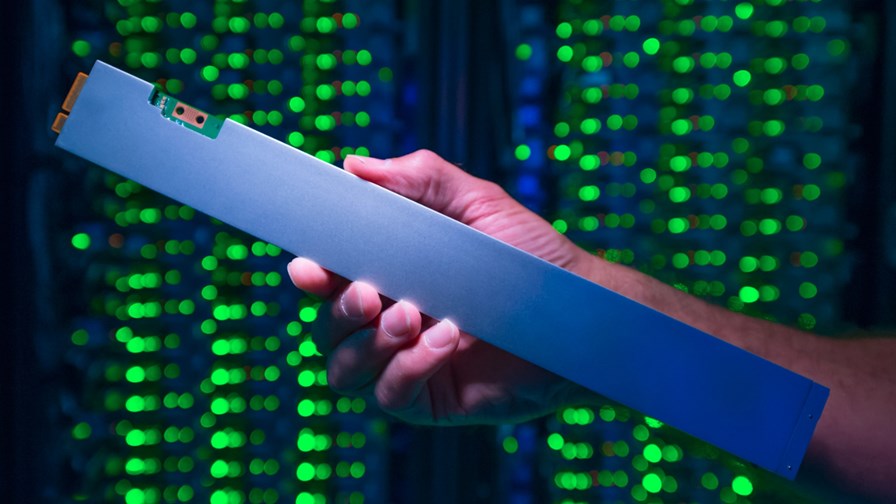 Intel says its latest storage product, the SSD DC P4500, is a reworking of the solid state drive concept
And, it claims, its invention will change the data centre as we know it
It uses 3D NAND and stacks the techology in layers to do cool things
Forget about data centres involving stacks of spinning disks, gobbling massive amounts of electricity and generating embarrassing amounts of heat. Technology has long since come to the rescue to make the spinning disk as outdated as a 1960s DJ, with the advent of non-volatile memory. There's still a power and heat embarrassment, but it's more containable and the curves are going in the right direction.
Now Intel claims it's taken the now mature solid state 'drive' (new name please) and made it 10 times better.
The catchingly entitled Intel SSD DC P4500, it says, "is about the size of an old-fashioned 12-inch ruler, and can store 32 terabytes. That's equivalent to triple the entire printed collection of the U.S. Library of Congress," it says.
The new SSD uses Intel's 3D NAND technology, which stacks memory cells atop each other in multiple, extremely thin layers. The memory cells are stacked 64 layers deep.
As your classic disk drives produces a great deal of heat, the biggest cost for most data centers today is the air conditioning required to keep them cool. One of the advantage of the SSD 'ruler' is that it uses half the airflow to keep cool and one tenth of the electricity. And that's one of the reasons, says Intel, that some of the world's biggest data companies — IBM, Microsoft, Tencent — are using the new "ruler" SSD to support their cloud and data center operations.
Read the story on the redesigning of the solid state drive below.
Redesigning the Solid State Drive – and the Data Center along with It
Intel Innovator: Wayne Allen, director of data center storage pathfinding, Non-Volatile Memory Solutions Group
Wayne Allen leads data center storage pathfinding at Intel Corporation. Allen and his team brought the ruler, or EDSFF, solid-state drive to life, delivering massive improvements in density, cooling, and space and power efficiency. (Credit: Walden Kirsch/Intel Corporation)
How he'd describe his work to a 10-year-old: "I make it so you can save endless selfies."
Flash to the future: While your smartphone and laptop have gotten substantially sleeker and slimmer with more compact electronics inside, data center equipment evolves more slowly. Occasionally, however, big jumps happen. One began a couple years ago, when Wayne and his team — which he says "dreams up what's needed in the data center of the future" — set out to "go figure out the best way to deploy flash in a server." Flash is a kind of chip that stores data, replacing the last-century spinning hard disk drive. Flash is both faster and more reliable, and most important, it's smaller. But the size and shape of most drives is based on those old spinning disks, which have been "around for 30 years," Wayne says.
Hello, ruler! Er, EDSFF: The team aimed to create something more compact, more efficient and easier to service and replace. They narrowed dozens of ideas down to three, and showed them to select customers for a vote. The winner? The aptly nicknamed "ruler." The long version (now an industry specification called EDSFF, which includes two other form factors) is about 12 inches long, 1½ inches wide, and a measly one-third of an inch thick.
A seriously cool design: While it wasn't easy, simply changing the size and shape of the drive had a surprising set of positive side effects. "We didn't just improve density — we improved thermals," Wayne notes. Thermals are a major factor in the operations and expense of a data center (cooling alone can be the biggest cost). And though these drives will spend their lives hidden from view, the design has earned awards from the Industrial Designers Society of America and the Core77 Design Awards.
Reshaping the drive, and the data center: Ruler-based servers can be designed to let fresh air pass directly to the processors in the back of the machine, improving the cooling efficiency and opening the door to even higher-performing processors. "A new form factor itself isn't all that exciting, typically," Wayne says. "But because [the ruler] impacts everything about server design and helps increase performance and reach new levels of density, it's a big deal. We're redesigning the data center with this — that's the most fun part of it for me."
Huge storage, tiny slot : The team wanted to achieve a petabyte of storage space — that'd be 4,000 256 GB smartphones — in a "1U" server slot that's 1.75 inches high and 19 inches wide. Thanks to the ruler and new 3D NAND technology, 32 of Intel's forthcoming 32-terabyte rulers will fit in that 1U space, and there's your very slim, extremely efficient petabyte. Compared to a petabyte of hard drives, Wayne says, "we've delivered a 10x power reduction and a 20x space improvement. It's pretty remarkable."
This content extract was originally sourced from an external website (
Intel Newsroom
) and is the copyright of the external website owner. TelecomTV is not responsible for the content of external websites.
Legal Notices
Email Newsletters
Sign up to receive TelecomTV's top news and videos, plus exclusive subscriber-only content direct to your inbox.