Revenues for big data and business analytics solutions forecast to reach $260 billion in 2022
FRAMINGHAM, Mass., August 15, 2018: A new update to the Worldwide Semiannual Big Data and Analytics Spending Guide from International Data Corporation (IDC) forecasts worldwide revenues for big data and business analytics (BDA) solutions will reach $260 billion in 2022 with a compound annual growth rate (CAGR) of 11.9% over the 2017-2022 forecast period. BDA revenues are expected to total $166 billion this year, an increase of 11.7% over 2017.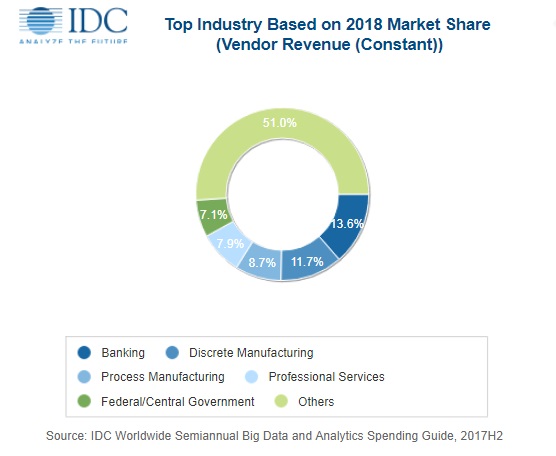 The industries making the largest investments in big data and business analytics solutions throughout the forecast are banking, discrete manufacturing, process manufacturing, professional services, and federal/central government. Combined, these five industries will account for nearly half ($81 billion) of worldwide BDA revenues this year. They will also be the industries with the largest BDA opportunity in 2022 when their total investment will be $129 billion. The industries that will deliver the fastest BDA revenue growth are retail (13.5% CAGR), banking (13.2% CAGR), and professional services (12.9% CAGR).
"At a high level, organizations are turning to Big Data and analytics solutions to navigate the convergence of their physical and digital worlds," said Jessica Goepfert, program vice president, Customer Insights & Analysis at IDC. "This transformation takes a different shape depending on the industry. For instance, within banking and retail – two of the fastest growth areas for Big Data and analytics – investments are all about managing and reinvigorating the customer experience. Whereas in manufacturing, firms are reinventing themselves to essentially be high tech companies, using their products as a platform to enable and deliver digital services."
More than half of all BDA revenues will go to IT and business services over the course of the forecast. Services-related revenues will also be among the fastest growing areas of opportunity with a combined CAGR of 13.2%. Software investments will grow to more than $90 billion in 2022, led by purchases of End-User Query, Reporting, and Analysis Tools and Relational Data Warehouse Management Tools. Two of the fastest growing BDA technology categories will be Cognitive/AI Software Platforms (36.5% CAGR) and Non-relational Analytic Data Stores (30.3% CAGR). BDA-related purchases of servers and storage will grow at a CAGR of 7.3%, reaching nearly $27.0 billion in 2022.
The United States is by far the largest geographic market, delivering nearly $88 billion in BDA revenues this year and more than half of the worldwide total throughout the five-year forecast. Western Europe is the second largest geographic market with 2018 revenues expected to reach $35 billion, followed by the Asia/Pacific region with $23.9 billion. Japan will be the second largest country for BDA investments in 2018, followed by the United Kingdom, Germany, and China. The countries with the fastest growth in BDA solutions are Argentina (20.8% CAGR), Vietnam (19.8% CAGR), Philippines (19.5% CAGR), and Indonesia (19.4% CAGR).
From a company size perspective, very large businesses (those with more than 1,000 employees) will be responsible for nearly two thirds of the BDA opportunity throughout the forecast, surpassing the $100 billion level in 2018. Small and medium businesses (SMBs) will also be a significant contributor to BDA revenues with nearly a quarter of the worldwide revenues coming from companies with fewer than 500 employees.
The Worldwide Semiannual Big Data and Analytics Spending Guide is designed to address the needs of organizations assessing the big data and business analytics opportunity by geography, industry, and company size. The Spending Guide provides subscribers with revenue projections for 19 technology and service categories across 19 industries, five company size bands, and 53 countries. Unlike any other research in the industry, the comprehensive Spending Guide was designed to help IT decision makers to clearly understand the industry-specific scope and direction of big data and business analytics opportunity today and over the next five years.
This content extract was originally sourced from an external website (
IDC
) and is the copyright of the external website owner. TelecomTV is not responsible for the content of external websites.
Legal Notices
Email Newsletters
Sign up to receive TelecomTV's top news and videos, plus exclusive subscriber-only content direct to your inbox.