IDC warns of 'rapid' cuts to IT spending as coronavirus hits economy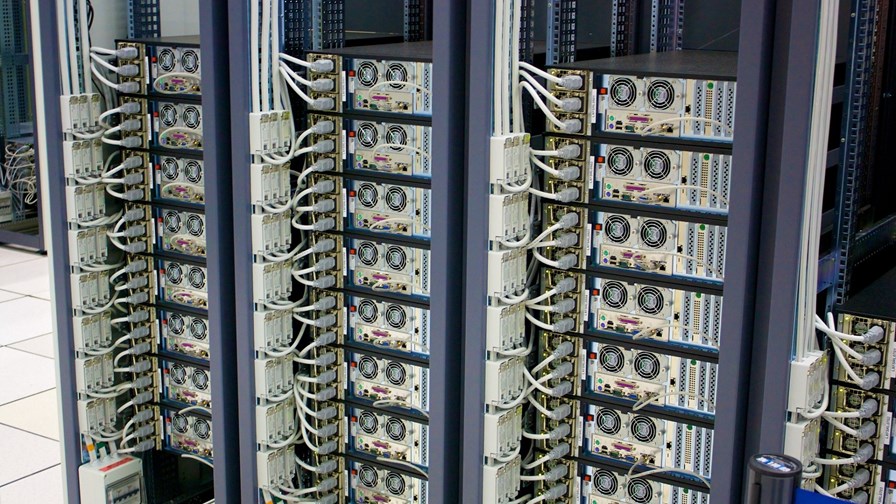 Analyst firm says global spending will shrink by 2.7 percent this year
Device market to be hit hardest; smartphone sector to miss out on 5G boost
Demand for remote working, collaboration represents pocket of opportunity
Global IT spending is expected to shrink by 2.7 percent in 2020, predicted IDC this week, as economic activity grinds to a halt under the weight of coronavirus.
To put that into context, spending in 2019 grew by 4.8 percent on 2018. In terms of the broader worldwide economy, IDC expects real GDP to fall by 1.7 percent this year.
You could be forgiven for thinking that IT is one of the more resilient sectors, as IDC noted that demand and usage has increased for certain technologies and services by consumers and companies affected by the pandemic. Indeed, collaboration and video-conferencing services like Microsoft Teams, Slack, and Zoom are some of the obvious examples here.
"There will be pockets of opportunity for software and related services during the next six months, as organisations create response measures focused around increased remote work and collaboration," said Stephen Minton, programme vice president of IDC's Customer Insights and Analysis group, in a research note. "Organisations that are further along the digital transformation and cloud migration scales are likely to be best-positioned in terms of integrating these technologies into effective and agile response plans."
That is not enough to offset the expected cutbacks in overall IT spending though, as companies and consumers have no choice but to put their plans on hold.
"Businesses in sectors of the economy that are hardest hit during the first half of the year will react by delaying some purchases and projects, and the lack of visibility related to medical factors will ensure that many organisations take an extremely cautious approach when it comes to budget contingency planning in the near term," said Minton.
The devices segment is expected to be the hardest hit, with spending on tablets, PCs, mobile phones and peripherals falling by 8.8 percent (see chart). The smartphone market, which was expected to bounce back this year thanks to strong demand for 5G, is now set for significant disruption, warns IDC.
************************************
We want to hear from you!
Take part in our 5G and Security survey and receive a free copy of the downloadable report ahead of general release.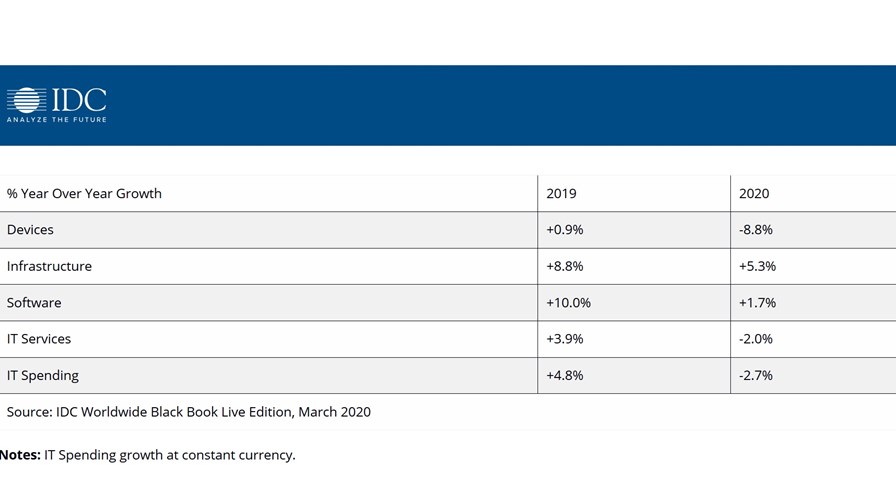 Meanwhile, total spending on IT infrastructure – which includes hardware as well as cloud services – is expected to grow by 5.3 percent. However, that growth will be driven exclusively by cloud services, which will more than offset expected declines in server/storage hardware spending (-3.3 percent) and enterprise network equipment spending (-1.7 percent).
"Hardware spending in general is always identified for rapid spending cuts during any economic crisis, as a means for enterprises to quickly protect short-term profitability," Minton noted.
There is one slight cause for optimism, and that is telecoms is expected to fare slightly better.
IDC said demand for broadband remains extremely strong, driven by the increase in working from home and other isolation measures. As such, global telecom spending is expected to show a slight increase of 0.5 percent this year, down from 1 percent last year, but positive nonetheless.
Email Newsletters
Sign up to receive TelecomTV's top news and videos, plus exclusive subscriber-only content direct to your inbox.