Will the trend to 'multi-cloud' mitigate the infrastructure dominance problem?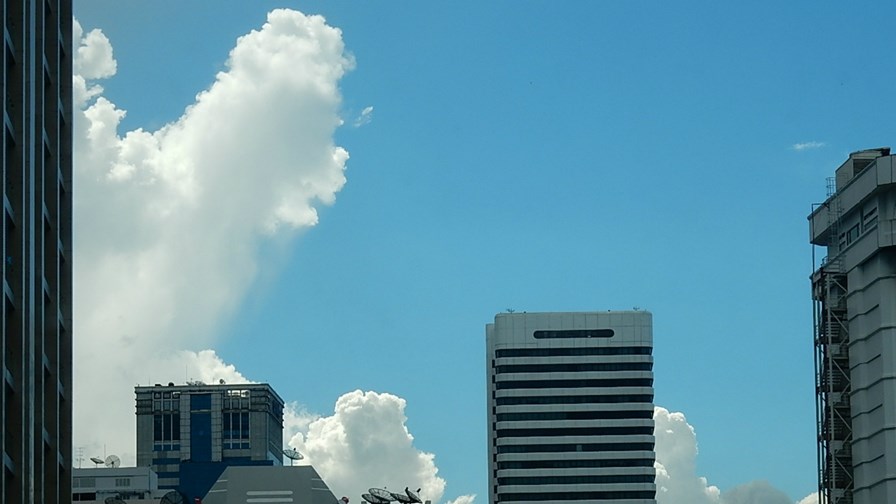 Fears of cloud market domination may be overblown as the numbers show Microsoft overtaking AWS in total cloud revenue

Plus the trend to multi-cloud may be nature's way of ensuring that no player can pull too far ahead
The cloud services market is looking more balanced as Microsoft's total take (infrastructure and services) gets ahead of Amazon's total after years of AWS dominance, according to IHS Markit which has been running the numbers.
It claims that Microsoft now takes top spot for total cloud services revenue, while AWS remains leader for Infrastructure as a Service (IaaS). At the same time 'Multi-clouds' continue to form it says.
But while the spotlight, as usual, is on the front-runners, especially the biggish three or four (AWS, Microsoft, IBM and Google) there are still many healthy 'others' across the two broad categories of revenue associated with 'cloud' - being Cloud applications and Cloud infrastructure.
The 'others' actually dwarf the totals notched up by any of the top five, which implies to me that the cloud market in its broadest sense, is not as highly concentrated as we are often lead to believe, especially considering the well-understood positive effects of scale in terms of cost reduction and global reach which tends to see the big grow bigger and the small get squeezed out.
Whatever happens with Amazon's retail business in terms of antitrust actions (which appear to be looming in the US) it's difficult to see why Amazon's cloud business deserves scrutiny judging by these figures, especially as it's now been surpassed, overall, by Microsoft.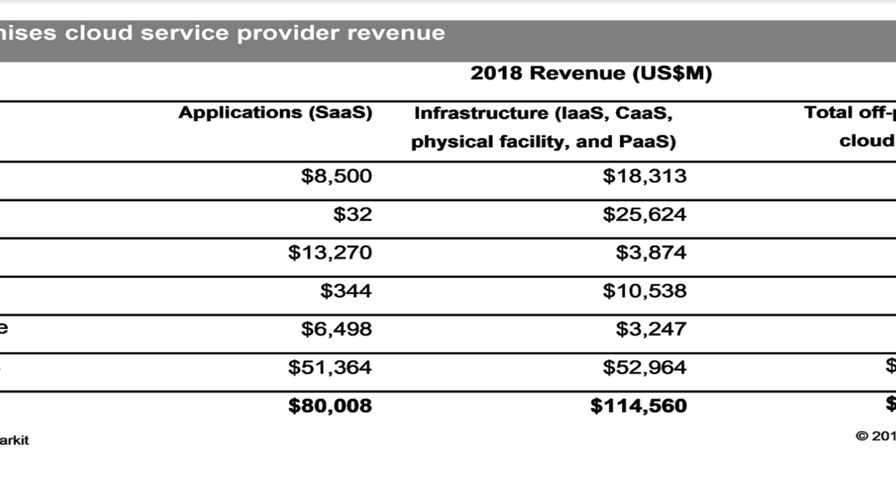 According to the analysts the market is continuing to change. They claim:
The global off-premises cloud service market is forecast to grow at a five-year compound annual growth rate (CAGR) of 16 percent, reaching $410 billion in 2023.

They expect cloud as a service (CaaS) and platform as a service (PaaS) to be tied for the largest 2018 to 2023 CAGR of 22 per cent. Infrastructure as a service (IaaS) and software as a service (SaaS) will have the second and third largest CAGRs of 14 per cent and 13 per cent, respectively.
According to IHS Markit, Microsoft in 2018 became the market share leader for total off-premises cloud service revenue with 13.8 percent share, bumping Amazon into the #2 spot with 13.2 percent; IBM was #3 with 8.8 percent revenue share. Microsoft's success can be attributed to its comprehensive portfolio and the growth it is experiencing from its more advanced PaaS and CaaS offerings.
Although Amazon relinquished its lead in total off-premises cloud service revenue, it remains the top IaaS provider. In this very segmented market with a small number of large, well-established providers competing for market share:
Amazon was #1 in IaaS in 2018 with 45 percent of IaaS revenue.

Microsoft was #1 for CaaS with 22 percent of CaaS revenue and #1 in PaaS with 27 percent of PaaS revenue.

IBM was #1 for SaaS with 17 percent of SaaS revenue.
According to IHS Markit: "Multi-clouds remain a very popular trend in the market; many enterprises are already using various services from different providers and this is continuing as more cloud service providers (CSPs) offer services that interoperate with services from their partners and their competitors," said Devan Adams, principal analyst, IHS Markit.
Adams claims that expectations of increased multi-cloud adoption were displayed in IHS Markit's recent Cloud Service Strategies & Leadership North American Enterprise Survey - 2018, where respondents stated that in 2018 they were using 10 different CSPs for SaaS (growing to 14 by 2020) and 10 for IT infrastructure (growing to 13 by 2020).
There have recently been numerous multi-cloud related announcements highlighting its increased availability, including:
Microsoft: Entered into a partnership with Adobe and SAP to create the Open Data Initiative, designed to provide customers with a complete view of their data across different platforms. The initiative allows customers to use several applications and platforms from the three companies including Adobe Experience Cloud and Experience Platform, Microsoft Dynamics 365 and Azure, and SAP C/4HANA and S/4HANA.

IBM: Launched Multicloud Manager, designed to help companies manage, move, and integrate apps across several cloud environments. Multicloud Manager is run from IBM's Cloud Private and enables customers to extend workloads from public to private clouds.

Cisco: Introduced CloudCenter Suite, a set of software modules created to help businesses design and deploy applications on different cloud provider infrastructures. It is a Kubernetes-based multi-cloud management tool that provides workflow automation, application lifecycle management, cost optimization, governance and policy management across cloud provider data centers.
What's striking in the IHS Markit figures in the chart above is the specialisation: Amazon, as you might expect, rakes it in on infrastructure but has a puny SaaS business in comparison. IBM is almost a straight inverse of that.
Google's split looks more like Amazon's than I would have expected, while Microsoft has the most balanced revenue split, getting closest to the aggregate ratio of the Apps to Infrastructure total.
With the eventual advent of more distributed cloud infrastructure to serve edge services, plus the move to multi-cloud - underpinned no doubt by big users needing to spread their eggs into multiple baskets for security and cost control - there's still plenty to play for.
Email Newsletters
Sign up to receive TelecomTV's top news and videos, plus exclusive subscriber-only content direct to your inbox.