SUSE makes a play for the telco edge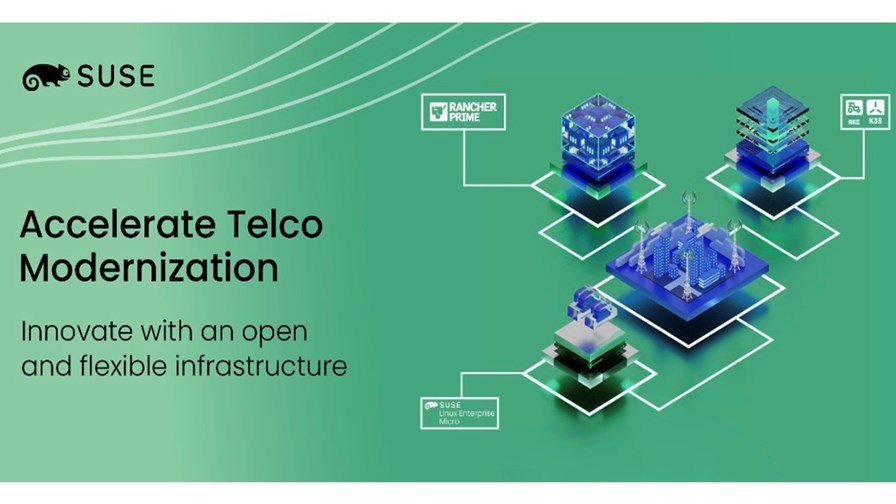 European open-source software specialist is courting telcos with edge aspirations
Its Adaptive Telco Infrastructure Platform has been designed for all manner of telco edge deployments
SUSE says the ATIP software stack has been developed in collaboration with Tier 1 telcos
German open-source software specialist SUSE is the latest company that believes it can help telcos to carry out and manage edge cloud deployments in a more simple and effective way than is currently possible, and boasts that it has developed a modular software package, the Adaptive Telco Infrastructure Platform (ATIP), from scratch rather than adapting pre-existing code.
SUSE, which has been a prominent player in the enterprise open-source software sector for years and a constant presence in the telecom sector (mainly with European operators), described ATIP in its press release about the product launch as a "telco-optimised edge computing platform" that has "an open and flexible infrastructure that adapts easily to future needs, is optimised for telco-grade performance, and simplifies operations at scale."
Importantly, ATIP is unlike current telco edge solutions in that it is "built for the telco edge from the ground up. ATIP enables faster rollouts with a highly scalable and programmable management solution for telco-grade infrastructure."
The platform, SUSE added, has been developed in "close collaboration with the leading European telco operators, such as Deutsche Telekom, Orange, Telecom Italia, Telefónica and others."
Keith Basil, SUSE edge general manager, says ATIP is suitable for an environment that is going to change a great deal as operators further develop their cloud-oriented, IT-based infrastructure and for which resource allocation and usage is going to be hard to predict. "Telecom operators are looking for flexible solutions to modernise their existing networks, help roll out 5G networks quickly and adopt open frameworks, such as Open RAN, while navigating disaggregation of their networks. ATIP has a flexible and adaptable infrastructure that future-proofs next-generation networks to support novel applications and use cases expected to arise from 5G, multi-access edge computing [MEC] and general edge computing. With ATIP, our telecom customers will thrive in a highly competitive environment," he stated.
ATIP is a package of IT infrastructure tools and applications – Linux, Kubernetes, security, management tools – bundled together, according to the press release, "in a customisable form, so telco operators can easily adopt it for a broad range of use cases across mobile and fixed networks," including those comprising existing telecom infrastructure elements as well as upcoming cloud-oriented systems, such as the Sylva telco cloud stack being developed by European operators and vendors under the auspices of the Linux Foundation Europe – see Euro telco and vendor giants to develop regional telco cloud stack.
The specific Kubernetes solution in this instance is Rancher Prime, to which SUSE has "made key enhancements" to support telecom use cases. Rancher became part of the SUSE portfolio when the German firm acquired Rancher Labs in 2020 – see SUSE snaps up Rancher Labs for its Kubernetes smarts.
As for being specifically developed for telecom network operators, SUSE noted that ATIP's Kubernetes and Linux stacks are optimised for telco functions. "Workloads can be scheduled based on underlying hardware functionality, direct access is allowed to network interfaces from Kubernetes Pods, a broad range of hardware enablement is made available, and telecom specific protocols are supported."
And there is clearly demand for this kind of platform. "We have had a longstanding partnership with SUSE, which has been a good experience," said Danny Al-Gaaf, senior cloud technologist at Deutsche Telekom (DT). "By using SLE Micro, SUSE Manager and Rancher, we can fully automate deployments for upgrading our edge cloud system," he added.
So it seems SUSE is going to get some traction in Europe with some big name telcos, but of course it is going into a commercial battle with some hefty competitors, such as Red Hat, VMware and Wind River, that already have a great deal of traction in the telco world.
But with the likes of DT, Orange et al supporting SUSE's development of ATIP, it seems evident there is certainly room in the market for any company that can help the telcos tackle what is still a very challenging part of their operations – distributed telco edge asset and application management.
- Ray Le Maistre, Editorial Director, TelecomTV
Email Newsletters
Stay up to date with the latest industry developments: sign up to receive TelecomTV's top news and videos plus exclusive subscriber-only content direct to your inbox – including our daily news briefing and weekly wrap.