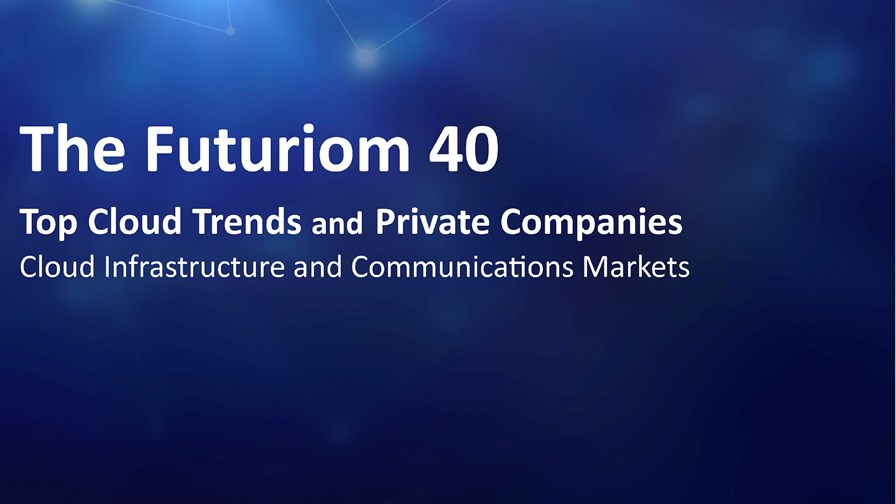 Every year, Futuriom names the strongest private companies in key markets for cloud and communications infrastructure, including cloud cybersecurity. Today, we have released our new Futuriom 40 report which includes all the details on these companies, as well as the major cloud technology trends driving their success.
The first Futuriom 40, released a year ago, already has a track record of success. Of the companies included, at least five had major exits, including either major sales or initial public offerings with valuations in the billions of dollars. Several others were snapped up in more minor deals, with a total of seven exits. In addition, we put the remaining 2021 companies through our patented analyst filtering process and eliminated five more companies. That left a total of 12 openings for fresh blood.

In this report, we outline the macro trends driving cloud technology, then dive into three general themes we see for cloud technology investment. Within each of those themes we look at key trends we have detected over the past year and give you details on the top Futuriom 40 companies riding those trends.
2022 Futuriom 40 Highlights

One goal of this report is to highlight private companies with the potential for long-term success and big financial exits, including IPOs. The other goal is to outline the top trends driving the need for cloud and communications technology.
Here are some of the key highlights:
In 2021, there were many companies from the 2021 Futuriom 40 (F40) that had big exits, including some blockbuster IPOs. These F40 companies included Auth0 (acquired in March 2021 for $6.5 billion by Okta); Cohesity (filed for IPO in December 2021 with last valuation at $4 billion); Couchbase (IPO in July 2021 at a $1.2 billion valuation); Darktrace (April 2021 IPO at a $2.3 billion valuation); and HashiCorp (December 2021 IPO at a $15 billion valuation).
The 2022 Futuriom 40 companies have raised a total of $13.3 billion in funding. Within those numbers, 45% have scored over $100 million; 18% have scored over $500 million; and two have raised over $1 billion – Databricks with $3.6 billion and Lacework with $1.9 billion.
Macro drivers in cloud infrastructure remain strong. According to our surveys and channel checks, enterprises and organizations continue to see urgency in digitization and modernization efforts, which will drive the need for cloud infrastructure and cybersecurity technology. In addition, financial markets show continued positive sentiment for these technologies.
The broad themes driving many of the private companies in this report include unified cloud security, distributed cloud infrastructure, and cloud data management. In this report, we summarize each theme along with the subtrends driving them.
Key emerging technologies gathering momentum to adapt to modern cloud infrastructure include zero-trust security, zero-trust network access (ZTNA), edge compute, confidential computing, security cloud networking, and secure access service edge (SASE) technology. Hybrid work and related networking and security needs remain an important driver for enterprises. The hybrid work environment remains here to stay, driving organizations to upgrade software-based networking and security systems that can accommodate a mobile workforce and work across multiple or hybrid clouds.
The cloud data management space is growing fast with many opportunities. The cloud will require a wide variety of database and data security technologies, including secondary backup, data management, and dynamic cloud databases for both structured and unstructured data.
Companies discussed and/or profiled in this report: Alkira, Anjuna, Arrcus, Aryaka Networks, Aviatrix, Benu Networks, CAST AI, Cato Networks, Cockroach Labs, Databricks, Celona Networks, Devo Technology, Dragos, DriveNets, Elisity, Exabeam, Fivetran, Fortanix, Fungible, Hazelcast, Infiot, Itential, Kentik, Lacework, Macrometa, NetFoundry, Netris, Netskope, PacketFabric, Pluribus Networks, Orca Security, Rubrik, StackPath, Stellar Cyber, Tigera, Triggermesh, TrueFort, Versa Networks, Weaveworks, WiteSand.
Report total length: 43 pages
Cost: Completely Free!
Futuriom 40 Methodology
Futuriom analysts stay on top of the F40 throughout the year, tracking news, partnerships, and technology implementations. A significant source of our intelligence comes from our work on Futuriom Cloud Market Trend Reports (CMTRs), which we publish monthly. In additional, we gather information on cloud technology trends from the 4-5 end-user surveys we collect throughout the year.
After combing through our CMTRs and having our analyst team submit companies, we arrived at a short list of about 60 companies. We further vetted these companies on a weekly basis for two months. Each week, we eliminated some companies until we came up with our final list at the beginning of January.
We removed several companies because we either saw better prospects from replacements or because we hadn't seen enough forward progress and mojo from these companies. Another element might be the market some of the companies play in. Futuriom has seen lackluster progress and a lack of customer deployment. These companies we decided to remove include: EDJX, Saguna Networks, Pensando, ZEDEDA, and Vapor.io.
Keep in mind that this doesn't mean these companies can't succeed – it just means they are no longer on our list of the most promising companies that we track. It's possible we missed something, or that they are being revitalized with new technology and deals, and they can return to the F40 list. For now, however, it's our subjective opinion that they're not currently members of the elite class.
This has been an exciting project that helps guide our research and cloud technology teams for the rest of the year. And of course, we will start right now tracking these companies and starting to compile potential new companies for the 2023 list! We expect many more successful exits!
Email Newsletters
Sign up to receive TelecomTV's top news and videos, plus exclusive subscriber-only content direct to your inbox.