An inbetweener: UK pub chain becomes its own ISP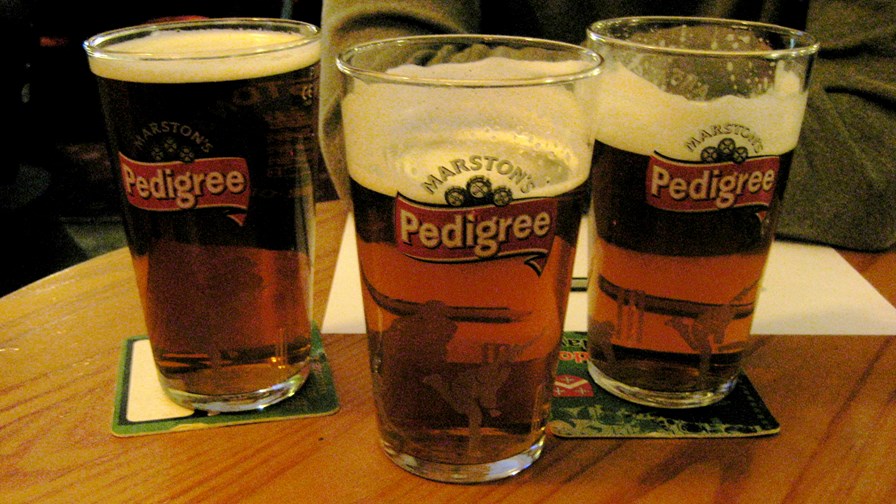 Many of the most interesting business models in telecoms/networking emerge in the 'Inbetweeners' segment. These are the 'Not Really Telcos': they're enterprises with the necessary permissions to buy and sell like telcos.
But then, they're not simply enterprises either. They are often companies where 'the network' has become so important or central to the business that it has gone 'strategic' and may even have become a profit centre in its own right as the company finds itself with expertise and facilities that can be offered up to other companies in similar-shaped businesses.
Leading UK 'pub chain' Marston's (coincidentally the owner of one of TelecomTV's favourite watering holes in the City of London) essentially launched itself into the telecoms market five years ago with what felt then like a tactical and limted cost-savings exercise. According to Operations Manager, Rob Derbyshire, the idea was to "get some savings for the group," by getting to grips with telecoms costs at a time when the UK itself was in the grip of perhaps the worst recession since the early 1930s.
Instead of continuing with just third parties to manage the group's pub WiFi (then being built out) and back office requirements (point of sale and telephony) Marston's worked out that it could do some of the job itself and make significant savings. It did.
So much so that about 18 months ago, it decided to go the whole hog and essentially become an ISP (it secured a license from Ofcom) and established its telecoms operation as a separate profit centre within the Marston's Group - so not just tasked to trim the telephony and Internet bill, but expected to sell amenity WiFi and the necessary broadband to all its pubs as internal customers.
Marston's buys access capacity from both BT and TalkTalk (which unbundles BT via LLU) on a wholesale basis and runs its own core and data centre equipment. The pub back office and the WiFi are kept separate (security and resilience concerns - can't have the Point-of-Sale going down).
Most recently, Marston's has invested in a packet shaping, bandwidth control and filtering platform from Blue Coat, a move which has made security and network reliability, rather than just cost saving, a key benefit flowing from the whole effort. The World Cup, Rob says, was a case in point. Thanks to his network control he was able to buy up extra bandwidth if and when needed (or not, as England crashed had out of the competition pub interest was probably less than anticipated).
Rob agrees that the migration from passive corporate user to specialist ISP has actually been easier and more feasible than he might have expected at first. With the availability today of powerful enterprise platforms and competitive data centre facilities, it's possible to get into the ISP business for a few tens of thousands of pounds.
If there's a 'catch' he says, it's in the complexity of the requirements, but even that can be over-emphasised: "We used good consultants who got us through all the hoops and so on."
So where to from here? Marston's now has an ISP/amenity WiFi business on its hands, is it planning to get some competitive advantage by being innovative?
Everything's possible says Rob. Advertising, beyond perhaps putting the menu (the pub menu) online and making it available, is not being pursued right at the moment though the company does intend to turn a few tricks in that direction eventually. Of more importance is the idea of taking on more customers beyond the internal ones.
"We're not really interested in picking up small businesses with a few lines at a time," says Rob. "Where we think we'd be able to play to our strengths is in getting customers that are, well, a bit like us. A national or regional retail chain with similar requirements to our own.
"That's where we score over the conventional big ISPs. We can communicate more effectively with them because they'll know that we went through the same process that they're going through."
Email Newsletters
Stay up to date with the latest industry developments: sign up to receive TelecomTV's top news and videos plus exclusive subscriber-only content direct to your inbox – including our daily news briefing and weekly wrap.