Ad blocking - another existential threat to content monetisation?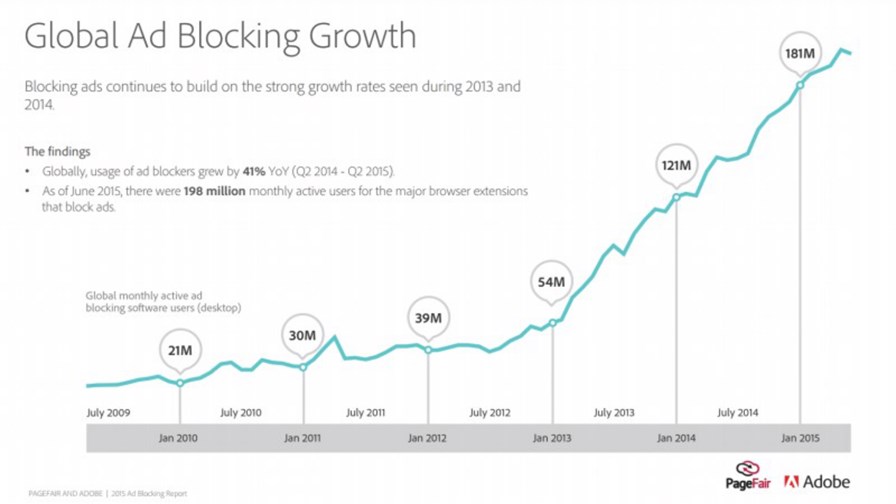 Ad blocker downloads on the rise
Ad blocking already costing billions, claim
Blocking growth set to continue
Ad Blocking: another death blow to content monetisation? Or just one more phase in the evolutionary struggle between viewer and advertiser?
Back in the days of black and white television - well before the arrival of the remote control and the mute button - my Dad invented his own ad blocker. It was a length of speaker cable (don't try this at home kids) intercepting the wire from the hot and dusty TV innards to the large speaker housed below them. The cable ran across the living room to the armchairs and was terminated with a circuit-breaking on/off switch of the sort used in the 1960s on table lamp pwer cables. All Dads of that vintage knew about speakers, wires and electricity; many thousands of them probably came up with the same idea. Elementary my dear Watts on.
Today it's easier and there are no special tools required. Ad blocking software is widely available for the desktop and now Apple has announced that it's going to build 'ad inhibitors' (not direct blockers) into its mobile IoS by making generic 'content blocking' part of its next version. As has been widely pointed out, Apple gets to please its users and improve the 'Apple Experience' while browsing, all the while aiming a killer uppercut at Google.
Meanwhile, on content side of things, ad blocking is understandably now a serious worry and some are pumping it up as an existential threat to the entire free content business.
A new report published by PageFair and Adobe reckons the number of consumers using ad blocking software worldwide has increased 41 per cent over the last year to 198 million users. Yes, that's still only a small proportion of the global web population, but blocking is growing and it's probably the valuable segments of the Web community that are using it the most. The report reckons that it will cost publishers more than US$21.8 billion in lost revenue this year. Next year it will be $42 billion worth of ads that are being blocked and not clicked. This sort of calculation is highly dubious of course, but there's little doubt that blocking will have an impact, even if it's only to force advertisers into subtlety.
Mobile is only partially affected by blockers so far, but with Apple tweaking its OS to enable it, it's only a matter of time before Google is reluctantly pushed in a similar direction with Android and then mobile usage will be affected as well.
Why the ad animus? The publishers would like to believe it's a performance issue for users. This may be partially true as large chunks of ad content will slow down the experience and boost consumption (annoying if you're on a mobile cap). Potential misuse of private information is another reason often cited.
But the major reason is that ads are just annoying. Most users understand that they're necessary if 'free to air' content is to be enjoyed, but they probably, like me, would prefer it they weren't as intrusive or as repetitive - and until publishers tone things down quite a bit, I'll use an adblocker to thin out the ads. It's a family tradition.
Email Newsletters
Sign up to receive TelecomTV's top news and videos, plus exclusive subscriber-only content direct to your inbox.