Altnets are building up to pass half the UK's population by 2025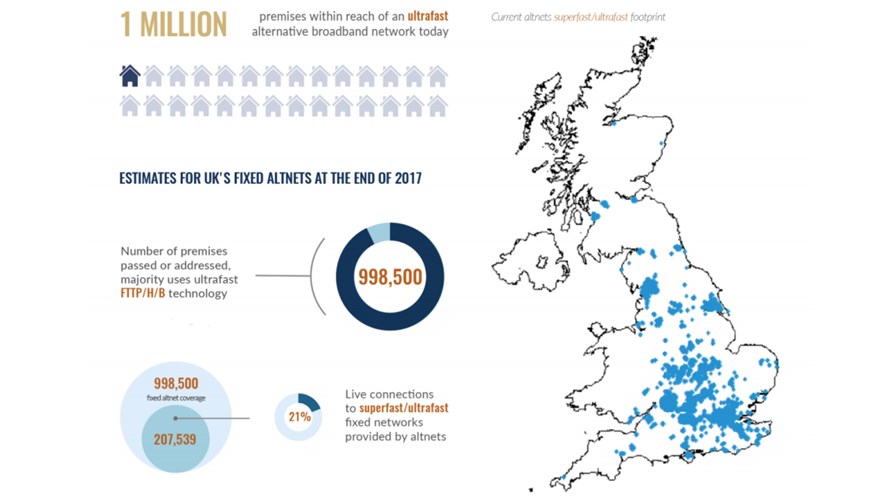 UK Altnets have fibred past double the number of premises passed by Openreach
Expect to 'reach' half the UK population by 2025
How much has the BT 'fibre broadband' naming row affected things?
Altnets (alternative networks) now run fibre past nearly 1 million premises in the UK and are aiming to pass over 14 million homes and businesses (50% of the UK's population) by 2025. At that point the altnets expect to have 4.8 million live connections.
That's according to a new report produced by the Independent Networks Cooperative Association (INCA) and Point Topic which claims the 1 million fibre passes is nearly twice the number of premises currently reached with fibre by BT's Openreach.
The report also estimates that altnets with Fixed Wireless Access networks can reach up to a further two million premises, mainly in rural areas.
The UK government is happy. Digital and Culture Minister Magot James says "It's fantastic to see the growth of the new companies building fibre and wireless networks. We're creating the right environment to stimulate industry investment, and I'm delighted by the altnets' ambitious plans to reach millions more homes and businesses over the next few years. We are also supporting these goals through government investment in new fibre networks, 5G projects and by removing business rates for new fibre deployment for 5 years."
According to INCA's CEO Malcolm Corbett. "The investment and competitive dynamic [the altnets] have introduced mean that we will get ultrafast full fibre networks and high-speed wireless broadband much faster than simply relying on the incumbent. Government support for the sector is tremendously helpful and with continued support altnets can speed up the deployment of new networks and services."
Of course a lot can happen in seven years, so the 2025 projections must be treated with caution. In particular, it's uncertain how much of the broadband access market, particularly the business market, will be affected by the arrival of 5G. Some of the more bullish 5G enthusiasts expect that the new network services aimed at specific vertical business and industrial sectors, will grab a large market share. Part of the wireless operators' offerings will involve deploying fixed radio links (radio fibre, it's sometimes called) and this must have an impact for the fibre builders.
On the upside, it's pointed out by fibre experts such as Diffraction Analysis' Benoît Felten, that 5G antennas up poles need fibre links to be useful. The extremely dense nature of 5G infrastructure when it comes to handling the second phase of 5G ( with spectrum licensed for 5G use in the millimeter wave band) means thousands of mini base stations covering very small cells - that means thousands of fibres to connect them and that must mean more paid links for the altnets.
But that is then. Right now it would be interesting to know by just how much the notorious 'fibre broadband' obfuscation committed by BT and others in their marketing of faster-speed DSL has complicated the marketing and perhaps slowed the roll-out of FTTH and FTTP. (see - Naming and shaming: Fibre Optic Broadband is a lie BT, so change it)
For despite the feel-good confident vibe being exuded by the competitive fibre builders and their spear-carriers, the real adoption of fibre services by the premises passed is still relatively low from a jumping up and down and throwing hats in the air perspective The impact of the complicated naming row is clearly difficult to measure, but it was deemed important enough last year to compel one of the Altnet builders - CityFibre - to consider legal action against the ASA which had refused to reconsider its initial finding. ( see our three years' later update - It's still OK to call this stuff fibre, says the UK's advertising watchdog (lapdog?)
Perhaps we should send helpful advice to New Zealand's Commerce Commission which has just laid 27 charges against Vodafone NZ for allegedly misleading the public with its advertising - and the circumstances are an almost exact re-run of the UK's 'fibre broadband' farrago.
The allegation is that Vodafone misled consumers into thinking its FibreX product was a full fibre-optic broadband service, when it wasn't. Vodafone has completed a 12 month promotion using the FibreX brand. I suppose it could argue that the X really stood for 'not'.
Email Newsletters
Sign up to receive TelecomTV's top news and videos, plus exclusive subscriber-only content direct to your inbox.