What's up with… Global data capacity, chips, subsidies, Berkshire Hathaway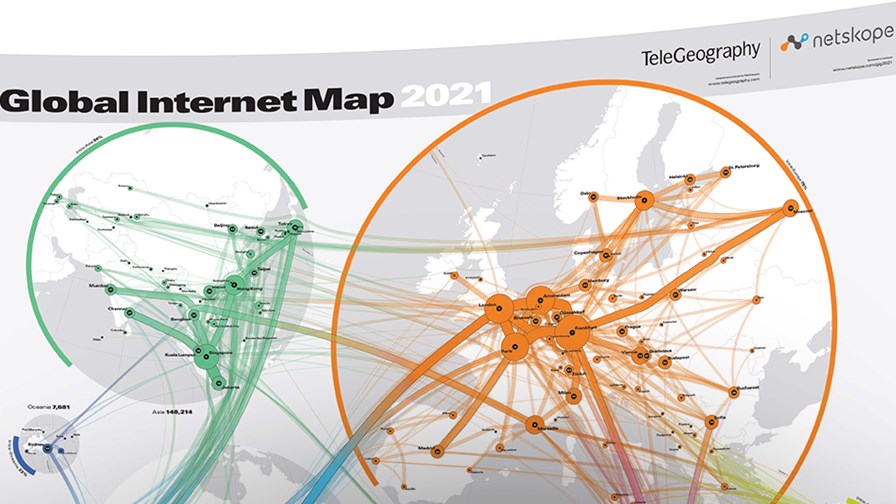 Global data capacity has gone up by 35%
The networking world is now a subsidy magnet
Berkshire Hathaway gives Verizon a boost
A major ramp in global data capacity and the growing influence of subsidization lead the way in today's charge to the news finishing line.
TeleGeography says there's been a 35% growth in international internet capacity, from around 450 Tbps to over 600 Tbps, between 2019 and 2020, due to the Covid-19 and work-from-home effect laid on top of an already pronounced migration to the cloud. Its 2021 Global Internet Map, with a new cloud infrastructure section, tracks global capacity, traffic and pricing data (see All data centres are not the same: proximity matters). The map also reveals that average international Internet traffic increased from around 120 Tbps to 170 Tbps from 2019 to 2020, and that Europe is the region with the highest regional capacity, and well as experiencing the greatest growth in capacity from 2019 to 2020.
The technological magic which enables network infrastructure and capacity to be turned up with (relative) ease clearly does not apply to silicon chip fabrication. So much so that several US chipmakers are asking that the US government provide subsidies and incentives to boost domestic semiconductor manufacturing to stave off a protracted chip shortage that could blow a hole in the US economy's post-pandemic recovery. Reuters reports that chip shortages are already impacting the US auto industry and causing problems for consumers wanting to get hold of the latest gaming consoles. The Semiconductor Industry Association, which has fired off a letter signed by Intel, AMD, Qualcomm, and Micron, calling for Government aid, lays the blame for the situation squarely with foreign governments - in this case South Korea and Taiwan - which are accused of subsidising local fabrication plants. It claims that the US government needs to step up with some aid to help right the situation. It might be pointed out that US semiconductor specialists have done their bit to boost Asian chip fabrication themselves by outsourcing chip production to the region. Sensing trouble ahead, TSMC and Samsung, which produce chips for Intel, Qualcomm and AMD, have announced plans to build chip fabs in Arizona and Texas, due to come on stream in 2023.
Subsidies tend to encourage more subsidies: While we're on the topic of state aid, the Indian government is to spend 121.95 billion rupees ($1.68 billion) to promote local manufacturing and the export of telecoms and networking gear. Announced by the telecoms minister today, the scheme is designed to offer gearmakers annual cash incentives of between 4% and 7% on any increase in sales of locally-made equipment over the next five years, compared with 2019-20 levels, according to US News. This scheme follows a government announcement last year that it was planning to 'encourage' the big telecoms equipment manufacturers to move towards making all of the telecom equipment they provide for India's giant telecoms operators inside India, as this would grant India security of supply.
Verizon got a nice boost today after it was revealed to be one of the top investment picks for Warren Buffett's Berkshire Hathaway. As this Investopedia report notes, Berkshire Hathaway invested in Verizon, upped its stake in T-Mobile US, but steered clear of AT&T… Verizon's share price is up by 4.5% today to $56.61.
IoT specialist Sigfox has appointed Jeremy Prince as its new CEO. Prince most recently served as the President of Sigfox USA since March 2019 and has been on Sigfox's Executive Committee since joining the company as Chief Strategy Officer in 2018. "Jeremy's success and experience in leading companies through the evolution of their business models was a deciding factor in our highly selective process that included several external candidates," said Anne Lauvergeon, Chairman of Sigfox. Prince replaces Ludovic Le Moan, who has led Sigfox as CEO for 10 years.
Email Newsletters
Sign up to receive TelecomTV's top news and videos, plus exclusive subscriber-only content direct to your inbox.