What's up with… Broadband cord cutting, HPE, Deutsche Telekom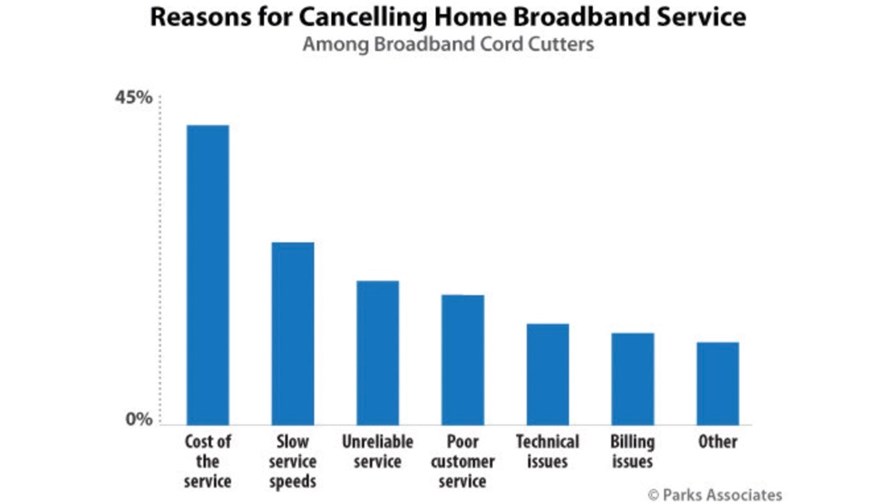 Millions of US households have abandoned fixed broadband services
HPE is doing better than expected
Deutsche Telekom is boasting international IoT reach
Broadband desertion in the US, better-than-expected financials for HPE and cellular IoT roaming are our top news topics today.
More than 12 million US households have cancelled their home fixed broadband service and use only mobile broadband for their Internet access needs, according to a report from Parks Associates. It finds there are more than 15 million households in the US that have only a mobile broadband service, which includes more than 3 million households that have never had a fixed broadband service. The chart above shows the main reasons why fixed broadband services were cancelled. Will this become an increasing trend as mobile data broadband speeds improve in the 5G era?
HPE reported better-then-expected financials, with its fiscal first quarter revenues coming in at $6.8 billion. "Our revenue exceeded our outlook and we significantly expanded our gross and operating margins to drive strong profitability across most of our businesses. Our non-GAAP EPS exceeded the high-end of our guidance and free cash flow was a record Q1 performance. These results give us confidence to raise our FY21 outlook," stated CEO Antonio Neri. The company also raised its outlook for the current financial year to $0.48 to $0.66 from $0.38 to $0.56. Read more.
Deutsche Telekom IoT, the company spun out of (but wholly owned by) the giant German operator last year, says it has brokered narrowband IoT (NB-IoT) roaming agreements with multiple operators around the world, including Vodafone, Telia, Orange, Telenet (Belgium), Swisscom TIM (Telecom Italia and T-Mobile US, and now offers NB-IoT roaming in 20 countries. It has also brokered roaming agreements with the likes of AT&T and NTT DOCOMO for IoT traffic using the LTE-M standard, and now offers roaming using that technology in 10 countries. See this announcement for further details.
Samsung claims to have made a breakthrough in 5G data speeds by enabling the combination of 4G and 5G capacity, using E-UTRAN New Radio Dual Connectivity (EN-DC) technology, to achieve 5.23 Gbit/s data speeds. Read more.
Things may be going well for Zoom at the moment, but after a period of compulsory lockdown communications, 'Zoom Fatigue' has been trending, and, as they do, researchers have been looking into whether it's an actual thing. It is, apparently. Stanford academic researchers have identified four primary psychological reasons as to why video chats fatigue humans, although they've been quick to point out that other video conferencing platforms are available and probably just as culpable. This is no 'technology is to blame' hatchet job, but a really interesting read and a pointer to how Zoom and the like should refine their services.
Germany's Automotive Alliance, founded by a range of major companies including BMW, Deutsche Telekom, Robert Bosch, SAP and Siemens, has expanded its membership and taken its development to the next stage. Operating under the name Catena-X Automotive Network (Catena-X), the initiative aims to enable automotive manufacturers and suppliers, dealer associations and equipment suppliers, including the providers of applications, platforms and infrastructure, to "create a uniform standard for information and data-sharing throughout the entire automotive value chain." For more information, see this DT announcement.
The number of mobile subscribers using 5G roaming services is set to soar from just 4.3 million this year to 147 million in 2025, according to a market forecast from Juniper Research. The analyst house notes that the deployment of standalone 5G core systems, which are just starting to get activated by operators, will be "instrumental in allowing operators to create appealing 5G roaming packages for this growing number of subscribers." Read more.
Looking back now, instead of ahead, research house Dell'Oro reports that the SD-WAN market grew quickly in the final months of 2020. "The combination of pent-up demand caused by the COVID-19 pandemic and an acceleration away from legacy technologies created a surge in SD-WAN adoption during the fourth quarter," said Shin Umeda, Vice President at Dell'Oro Group. The market grew by 32% last year compared with 2019, with Cisco, VMware, Fortinet, Versa and HPE/Silver Peak claiming the top five market positions. Read more.
The relationships between CSPs and cloud giants continues to thrive. Lumen Technologies (the operator formerly known as CenturyLink) has integrated IBM Cloud Satellite, a distributed cloud architecture that can run on public or private (on premises) cloud platforms, with its edge platform that comprises 180,000 connected locations across the US. "Our enterprise customers can now extend IBM Cloud services across Lumen's robust global network, enabling them to deploy data-heavy edge applications that demand high security and ultra-low latency," stated Paul Savill, SVP Enterprise Product Management and Services at Lumen. "By bringing secure and open hybrid cloud capabilities to the edge, our customers can propel their businesses forward and take advantage of the emerging applications of the 4th Industrial Revolution," he added. Lumen isn't the first US operator to team up in this way with IBM, which is targeting telcos with its Cloud for Telecoms: Last year, AT&T combined the capabilities of IBM Cloud Satellite with its 5G access services in order to help enterprises managed their applications in hybrid edge environments. Read more.
Microsoft has announced 'Teams Connect' a feature which will allow organisations to use its Teams UC service to 'collaborate seamlessly' with customers, partners and suppliers through shared channels. In fact it's announced a plethora of enhancements for Teams and its other platforms at its Ignite digital event, which is probably worth catching - online of course.
- The staff, TelecomTV
Email Newsletters
Sign up to receive TelecomTV's top news and videos, plus exclusive subscriber-only content direct to your inbox.