Starry, Tarana shine a light on FWA's potential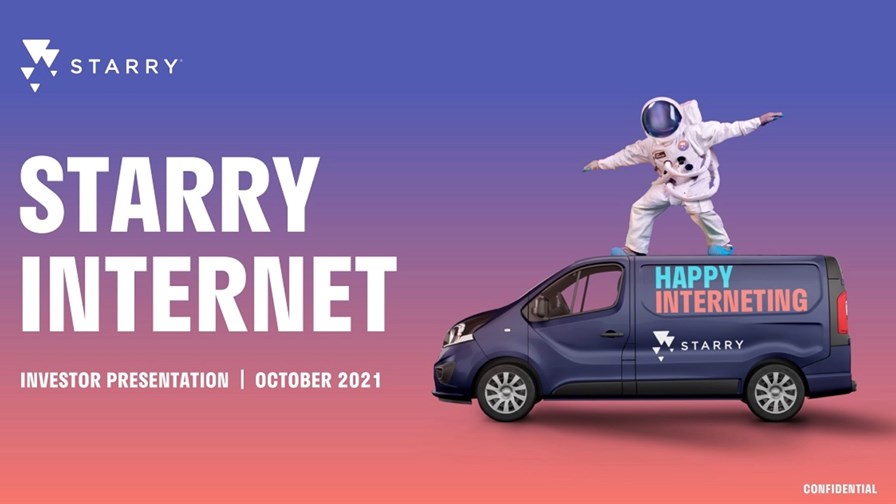 Fixed wireless access (FWA) has long been an alternative broadband access option
It got more attention as operators such as Verizon included it as part of their 5G plans
But there are plenty of non-5G FWA specialists helping to make FWA a crucial part of the broadband mix
FWA service provider Starry, which has just struck a SPAC deal that will raise $452 million, and equipment vendor Tarana Wireless are two that have hit the headlines this week
For many traditional network operators, fixed wireless access (FWA) is an alternative way to deliver broadband access services when the deployment of copper, fibre or coax lines is uneconomic and coverage gaps need to be filled. But for others, FWA is the primary broadband connectivity option or a technology still ripe for further development, with Starry, which has just struck a SPAC-enabled merger deal that will raise $452 million, and Tarana Wireless, which is shouting about its international service provider engagements, as respective examples that are generating some interesting headlines.
Starry has been around since 2014, rolling out FWA infrastructure and offering services in key US markets (Boston, New York, Los Angeles, Washington D.C., Denver, and Columbus) with 4.7 million premises covered currently using mmWave licensed spectrum and its 802.11-based proprietary technology stack. It had 48,000 customers as of the end of June this year, having marketed its symmetrical, unlimited broadband service to "large apartments" initially, but now targeting "every building under coverage" according to company documents.
Its offer takes a simple approach to broadband services: For a fixed monthly fee, customers get connected, get their router/CPE and can use all the data they want – for Starry's 200 Mbit/s service, the monthly tariff is $50.
Its bold plans to cover 25 million premises, have 1.4 million customers and be generating annual revenues of $1.1 billion by 2026 – its spectrum licenses actually allow it to reach 40 million homes across 37 US states (see map below) – have convinced investors that it's a good long-term bet: Starry has just committed to a merger with SPAC (special purpose acquisition company) FirstMark Horizon Acquisition that will ultimately make it a public listed company on the New York Stock Exchange with the ticker symbol STRY. The process, which values Starry at an eyebrow-raising $1.66 billion, will pump $452 million into Starry's coffers to help fund its expansion plans once the merger transaction is completed (expected in the first quarter of 2022).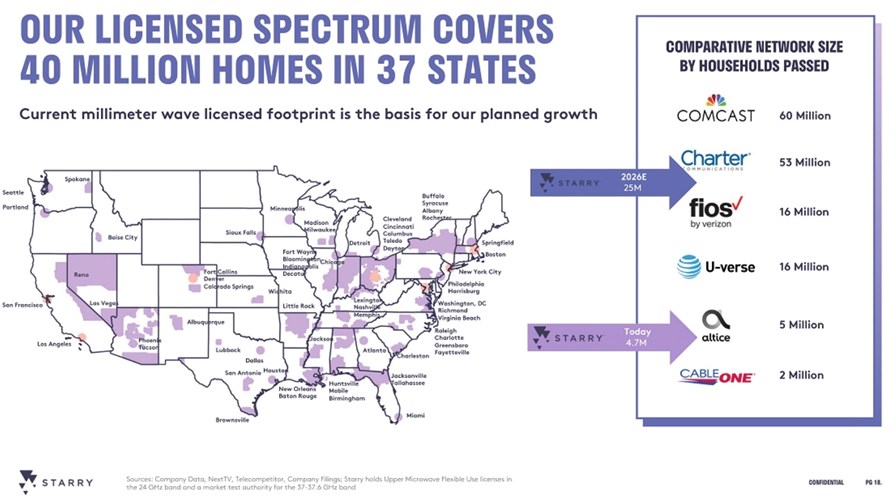 "When we set out to build this business, we wanted to transform how broadband networks were built so that we could meaningfully improve people's lives with faster, better, more affordable internet access," said co-Founder and CEO Chet Kanojia, who will continue to lead Starry once it is a public company. "Nearly seven years later, Starry's wireless technology has transformed the economics of connecting homes and small businesses to a fiber-quality connection through the air – without having to sacrifice reliability or the customer experience. This business combination with FirstMark will give us the necessary capital to expand our business and reach profitability. More importantly, it will allow us to continue to deliver for customers and execute on our mission. We believe broadband connectivity is a social good and, if it is universally available and affordable, that great things will happen for families, for communities and for society as a whole."
The traditional charge against FWA, of course, is that it is too limited in its applicability (the base station needs to be located on tall, existing structures at a height above the intended customer base) and service quality can be impacted by so many variables, including the weather and line-of-sight challenges.
But companies such as Starry are at least in part meeting such challenges with their weather-hardened equipment and network planning – while its customer base is still relatively small, the company claims an impressive net promoter score (NPS) of 61, compared with cable operator rivals Charter (NPS of 5) and Comcast (NPS of -3), as the chart below shows.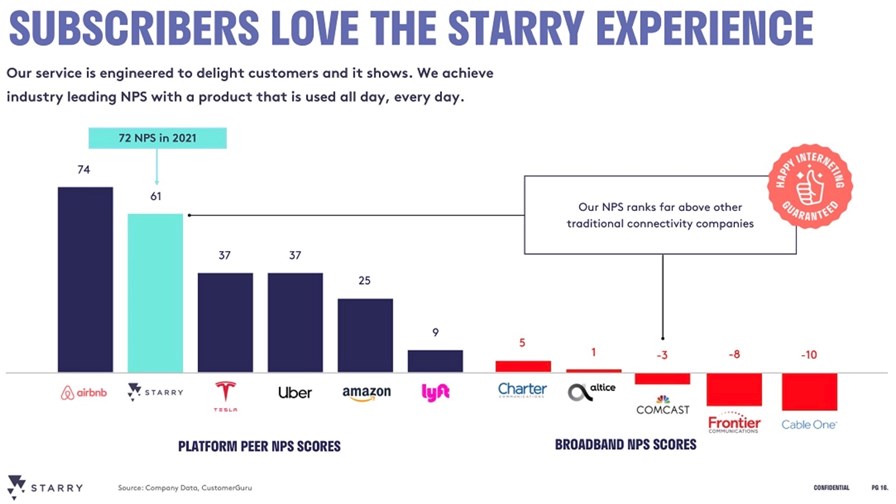 Another company pushing the boundaries of FWA is Milpitas, California-based Tarana Wireless, which has been gaining traction with its G1 distributed massive MIMO systems that are underpinned by three custom chipsets, one of which comes from Ethernity networks, which is supplying Tarana with its ENET Flow Processor FPGA systems-on-chip.
Its end-to-end system, the company claims, enables non line-of-sight connectivity (or "sees around corners and rejects interference" in the company's own words) using its "unique" signal processing techniques.
The 12-year-old company, which raised $50 million in May this year to take its total funding to more than $200 million, has the advantage of boasting former Nokia executive Basil Alwan, one of the most respected technology leaders in the telecoms industry, as its Executive Chairman and CEO. That will help Tarana to build on its existing customer base of wireless ISPs such as US rural service provider Wisper Internet and MTN in South Africa and engage in conversations with the likes of BT, which is exploring the potential of using Tarana's technology to supplement its 5G and fibre broadband rollouts with an affordable broadband connectivity solution.
FWA systems and services based on 5G chipsets look set to play a part in delivering broadband connectivity in all sorts of markets to help 'bridge the digital divide,' but it'll be interesting to see to what extent companies such as Starry and Tarana can develop services and technology that can compete on performance, reliability and cost with traditional, mass-market options.
- Ray Le Maistre, Editorial Director, TelecomTV
Email Newsletters
Stay up to date with the latest industry developments: sign up to receive TelecomTV's top news and videos plus exclusive subscriber-only content direct to your inbox – including our daily news briefing and weekly wrap.