Proximus plan hints at capex crunch for vendors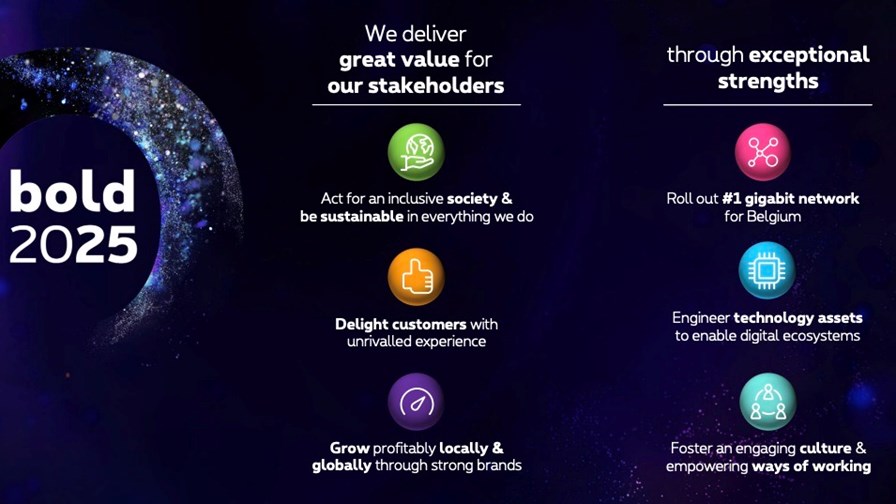 Belgium's national operator Proximus has unveiled its new strategy
The three-year bold2025 plan includes capex reduction from 2024
Telcos in certain regions are shifting to a return on investment (ROI) focus instead
That should set alarm bells ringing in the vendor community
Further signs that multiple telcos are going to be spending less on their networks starting in 2024 (or even this year) emerged today when Belgium's national operator Proximus unveiled its new three-year strategy, which it has dubbed bold2025.
The strategy is very much focused on how the operator plans to boost revenues, margins and free cash flow and, as with most operators, the Proximus plan involves not only ways to develop and drive new business opportunities but also ways in which it can reduce its spending. (You can find out more about the bold2025 plan in this extensive announcement.)
One way to cut spending is to invest less in networks and supporting IT systems and, like many operators in Europe, North America and parts of Asia, Proximus is coming to the end of what has been an intensive cycle of investment in fibre access networks and 5G rollout to achieve broad population coverage with high-speed broadband services. The operator noted today that it is on track to reach 50% of all Belgian households with its fibre broadband network (and 95% by 2032) and achieve a full nationwide 5G rollout, both by 2025.
It noted that 2023 will be another year of significant investments but that this year will mark the peak of its fibre and 5G network investments, after which its capex will tail off from 2024 onwards. And as the chart below shows, its capital expenditure looks set to decrease by about 20% between 2023, during which capex is set to be just above €1.3bn, and 2025, when the annual capital spend dips to around €1.05bn. And, as can also be seen from the chart, after 2023 the investment in fibre network infrastructure dips significantly.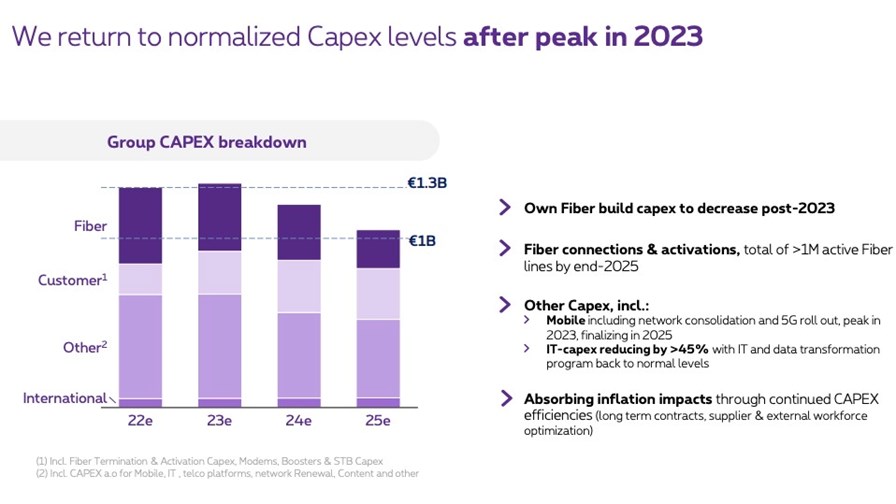 The cycle of heavy investment in fibre access and 5G rollouts up to 2022-23, followed by a reduction in capex and greater focus on getting a return on those investments, is also playing out in the US, where T-Mobile US plans to reduce its capex year on year by about 30% to between $9bn and $10bn, and Verizon plans to shrink its capex from $22bn in 2022 to around $17bn in 2024, likely with an intermediary step this year (the 2023 number will be revealed on 20 January when the operator unveils its full year 2022 financials) – see T-Mobile US confirms capex dip as it boasts stellar 2022.
AT&T's CFO, meanwhile, has stated that 2022 and 2023 will be its peak years of capital investments, after which it will spend less on its networks.
Many operators will provide updates on their spending plans in the coming weeks as they report on their 2022 financials and look to the year(s) ahead. What the vendor community will be hoping is that as operators in the US and telcos like Proximus get to the end of their intensive investment cycles that operators in markets such as India, where 5G rollouts are only just beginning, can pick up some of the slack.
The next few weeks should provide the industry with a guide to what to expect in terms of operator spending, but it's not like the writing wasn't on the wall, as research group Dell'Oro noted back in April last year that global telco capex was on course to "taper off" in 2023 and 2024.
- Ray Le Maistre, Editorial Director, TelecomTV
Email Newsletters
Stay up to date with the latest industry developments: sign up to receive TelecomTV's top news and videos plus exclusive subscriber-only content direct to your inbox – including our daily news briefing and weekly wrap.