Inflation drives global telecom services market growth – report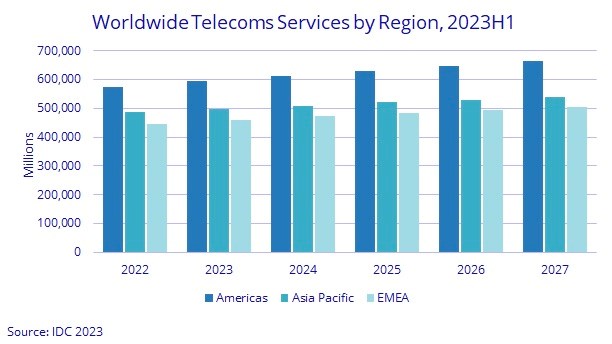 Global spending on telecom and pay-TV services is set to grow 3% to $1.55tn in 2023, according to an IDC forecast
Expected growth is driven mainly by widespread inflation
Each country has a specific "tolerance to price increases" that operators should evaluate, industry analyst urges
The global market for telecom and pay-TV services is on course to grow by 3% this year to $1.55tn, according to market intelligence giant IDC, though that growth is mainly driven by inflation (higher tariffs) than surging demand from end users for communications services.
According to IDC's forecast, which it has just updated for the third time in the past 12 months as macroeconomic forces continue to affect the pricing strategies and revenues of telecom and pay-TV service providers, the Americas is not only the largest global region in terms of telecom and pay-TV service but also the one that is set to grow by the highest rate, at 3.3% year on year, as the table below shows.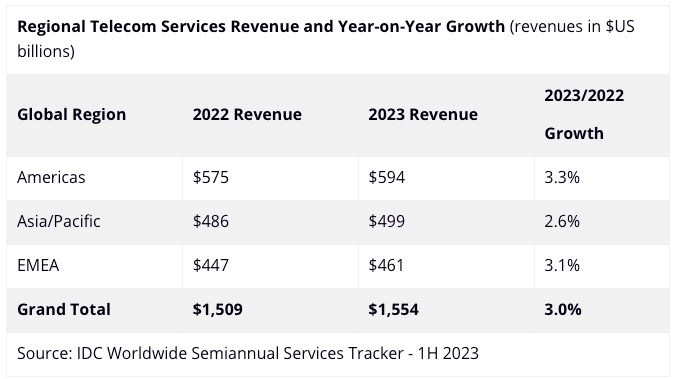 The growth trends that have an impact on the more granular geographic regions varies, with IDC updating its forecast especially for the Middle East and Africa (MEA) and Latin America. The main reason for this is the ongoing impact of hyperinflation in a number of countries, including Turkey, Uganda, Egypt and Argentina, where "it has become normal" to see the quarterly average revenue per user (ARPU) increase by more than 50% compared with a year earlier.
On the other side of the spectrum was western Europe, where IDC's expectations have been slightly lowered due to "a worsened economic environment in a few key countries", such as Germany.
The research house also envisioned that current growth rates will be put under pressure and will slowly decrease towards the end of 2023.
With regards to tariffs and inflation, IDC noted there are wide variations between different markets in the way service providers are allowed to respond to macroeconomic trends. In many countries, operators have been allowed to increase their tariffs (often applying a consumer price index model), resulting in "healthy service revenue growth" on an annual basis. However, in other countries such price increases have led to an accelerated migration of customers to cheaper tariff packages and providers, so the value growth rates ended up being "much lower" than the nominal tariff increases.
A third trend has been seen in some countries, such as Italy, where the level of competitiveness didn't permit telcos to make any tariff adjustments, while in developing countries in eastern Europe and Africa tariff increases were not even considered due to the low disposable income levels.
In terms of the types of telecom services bringing in the most revenue, mobile remains the largest segment, fuelled by an increase in mobile data usage, as well as a greater use of machine-to-machine (M2M) applications. These have been offsetting declines in spending on mobile voice and messaging services.
Fixed data services are also expected to grow in demand in keeping with the need for higher bandwidth services. Spending on fixed voice services is expected to decline further in 2023, as will revenues from the traditional pay-TV market due to the rise in popularity of video on demand (VoD) and over-the-top (OTT) services.
However, according to IDC, despite these services being in decline, they still play an important role as part of the multi-play offerings provided by telcos around the world.
Kresimir Alic, research director for worldwide telecom services at the research house, urged telcos to carefully examine every market's "tolerance to price increases".
"They should continuously assess and compare the product mixes, quality of services, pricing, and customer support capabilities of all supply-side participants. That information should help them find a magic percentage that will not scare the customers away, have [a] positive impact on revenues, and help them maintain healthy margins in these turbulent times," he said.
- Yanitsa Boyadzhieva, Deputy Editor, TelecomTV
Email Newsletters
Sign up to receive TelecomTV's top news and videos, plus exclusive subscriber-only content direct to your inbox.