FTTH/B uptake drives global broadband market to 1.38 billion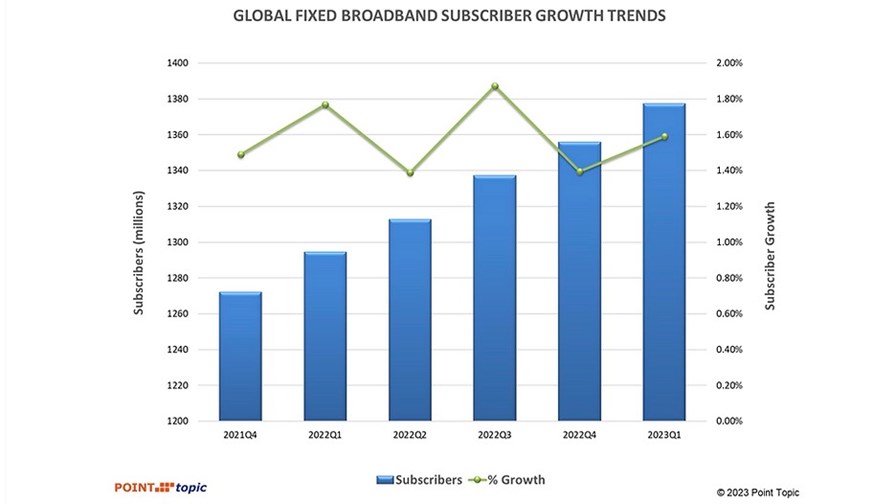 The global fixed broadband sector is growing at just over 20 million connections per quarter
The total reached 1.377 billion at the end of the first quarter of 2023, reports Point Topic
Fibre-to-the-home/building uptake, particularly in China, continues to drive the growth
Despite an international cost-of-living crisis, the global fixed broadband sector continues to grow at about 20 million new connections each quarter, driven by the increasing availability and subsequent uptake of fibre-to-the-home/building (FTTH/B) connections, though other broadband technology options are also proving increasingly popular, according to statistics from research house Point Topic.
In its latest global broadband subscriptions report, the Point Topic team noted that the number of fixed broadband connections worldwide reached 1.377 billion at the end of March 2023, up by 83 million from a year earlier: The number of additional connections varies from quarter to quarter, but it averages out at just over 20 million every three months.
FTTH/B connections now total just over 918 million and account for 66.7% of the global total, and that percentage is slowly increasing – it stood at 66% at the end of 2022 – as fibre-based connections are increasingly available and users opt for the latest technology option. The number of copper-based connections is decreasing and now account for just 8.44% of the global total, and while the number of cable broadband connections is slightly higher than a year ago, that technology (DOCSIS) now accounts for just 15.78% of the world's broadband connections, down from 15.95% at the end of 2022.
The Point Topic team, though, does question whether macroeconomic pressures might put the brakes on FTTH/B uptake for a while: "It remains to be seen whether consumers will continue to gravitate toward fibre broadband offerings, particularly as global economies face potential slowdown and inflationary pressures," the research house noted in its report.
But for the meantime, fibre is the broadband sector's growth engine, with China, as ever, the market behind much of the quarterly increases: In the first quarter of this year, the country's total number of fixed broadband connections grew by 14.6 million to take the total to just over 600 million, and FTTH/B accounted for almost 13.5 million of those additional connections. Brazil added 1.36 million fibre broadband connections during the first three months of this year, while France added 900,000 and India 810,000.
In France, Free (the brand name used by network operator Iliad) has just announced it has reached 5 million fibre broadband subscribers.
While it's mainly additional fibre connections that are driving the overall growth, satellite and and fixed wireless access (FWA) broadband connection numbers are also increasing (albeit by relatively small numbers) and now account for about 3.3 million and 21 million of the overall total respectively, according to Point Topic's research.
"The diverse growth rates among different broadband technologies highlight the dynamic nature of the industry as consumers seek more reliable and high-speed connections. The significant increase in FTTH/B connections and the growth of satellite and wireless broadband underline the ongoing efforts to bridge the digital divide and ensure connectivity for all," added the Point Topic team.
China, of course, still boasts by far the most fixed broadband connections with 600 million-plus, thanks to the massive fibre access network investments by all three main operators (China Mobile, China Telecom and China Unicom). The US is the only other country to boast more than 100 million fixed broadband lines.
The Point Topic team concluded: "The latest fixed broadband subscriber data reveals a clear trend towards advanced, high-speed broadband solutions like FTTH/B, while older technologies such as copper-based broadband (ADSL and VDSL) are experiencing a decline, suggesting that the broadband landscape is continuously evolving to meet the growing demand for faster and more reliable connectivity."
- Ray Le Maistre, Editorial Director, TelecomTV