FTTH/B accounts for 66% of global fixed broadband lines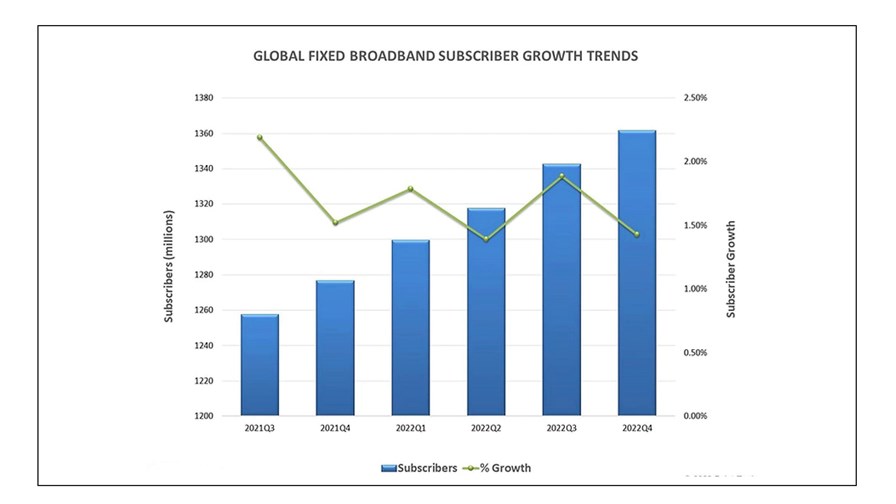 Research house Point Topic has published its latest full-year global broadband connectivity report
At the end of 2022, there were 1.36 billion fixed broadband lines in use
Almost two-thirds, 65.7%, were fibre-to-the-home/building connections
China, the US and Japan are the top three fixed broadband markets
The global fixed broadband sector gained 85 million connections in 2022, taking the total number of active fibre, cable and copper broadband lines worldwide to 1.362 billion at the end of 2022, according to the latest annual statistics from UK-based broadband market research firm Point Topic.
Of those 1.362 billion broadband connections, 65.7% are hooked up to fibre-to-the-home/building (FTTH/B) lines, while cable broadband (DOCSIS) accounted for 16.3% of fixed broadband connections, ADSL-enabled copper lines accounted for 8.8%, and short-distance VDSL-enabled copper lines accounted for 6.8%. Satellite and fixed wireless access (FWA) connections accounted for the remaining balance.
That high percentage for FTTH/B is positively affected by the statistics from China, by far the world's largest fixed broadband services market, where the main telcos have been investing heavily in fibre access lines for years.
China ended 2022 with almost 600 million fixed broadband connections, way ahead of the US with about 120 million connections and the only country other than China to top the 100 million market. Japan, Brazil and Germany round out the global fixed broadband markets top five.
The geographic region with the most fixed broadband connections is Asia - East (which includes China) accounting for 49.1% of all lines at the end of 2022, followed by Europe - Other (western and northern Europe) with 13.58%, Asia - Other (which includes markets such as India, Thailand and Vietnam) with 10.82%, and America - North with 10.67%.
The global fixed broadband line total is set to grow further, with FTTH/B accounting for an increasing share of the total lines as growth rates ramp up in markets only now experiencing major fibre access rollouts. Germany, for example, has only witnessed significant national fibre rollouts during the past few years, with incumbent telco Deutsche Telekom finally joining in and investing heavily in fibre access lines.
In fact, in the final three months of last year, Germany had the highest FTTH/B growth rate in the world at 17.5% quarter on quarter, followed by Peru at 16.2%, Argentina at 13.9%, India at 12.3% and the UK at 10.9%.
India will be an interesting market to watch: It has traditionally been a mobile-centric one with very few fixed lines of any kind historically, but as the country's digital infrastructure is built and fixed data transport networks are built out to support the 5G networks being rolled out rapidly by Reliance Jio and Bharti Airtel, so the supporting infrastructure for FTTH is installed and the potential for uptake grows. In the fourth quarter of 2022, the country's FTTH/B broadband sector grew by just more than one million lines, a number unthinkable only several years ago. In fact, in terms of FTTH/B net additions in the fourth quarter, India was the third highest in the world, behind only China (10.84 million) and Brazil (1.07 million), and ahead of France (970,000) and Germany (670,000).
- Ray Le Maistre, Editorial Director, TelecomTV