CommScope finally offloads its problem child
CommScope has been trying to offload its Home Networks unit for more than two years
It initially aimed to spin out the unit but that plan was abandoned last year
Now it has struck a deal to exchange the division for a 25% stake in French vendor Vantiva (formerly Technicolor)
Vantiva will merge Home Networks with its Connected Home division, but both businesses are in decline
The hope is that the merger of the two shrinking units will create a large profitable division with growth prospects
More than two years after announcing its Home Networks unit was surplus to requirements, CommScope has finally struck a deal to offload the broadband and video customer premises equipment (CPE) division to Vantiva, the French company formerly known as Technicolor that also has a sizeable CPE business: Both companies hope that the combination of their ailing units will create a single business with the scale and scope to deliver profitable growth.
In return for the Home Networks business, which makes and sells modems, gateways, set-top boxes, smart media devices, and satellite and IPTV content delivery products, CommScope will get a 25% stake in Vantiva, plus up to $100m in performance-related cash payments over the next five years. Right now, a 25% stake isn't worth too much, as Vantiva's total current market value is a rather pitiful €65m. If the deal is completed – and the companies believe this is possible before the end of this year – the stake would take the form of a newly issued stock.
In return for a quarter of the company's shares, Vantiva would add considerable scale and more than 50 new customers to its home networking and video products business.
In the 12 months to the end of June 2023, CommScope's Home Networks generated revenues of about $1.5bn, while Vantiva's Connected Home generated revenues of about €2bn – combining the two would create a sizeable, global business serving many of the world's leading telco and cable broadband network operators.
The problem is that both units are suffering from shrinking sales and margins. In the second quarter of this year, Home Networks reported revenues of $329.6m, down by 22.2% year on year, while its operating loss was $37.8m. For the first six months of 2023, Vantiva's Connected Home (which generates more than 75% of the company's revenues) reported revenues of €807m, down by 10%, while its adjusted EBITDA dipped by 19% to €56m.
Both businesses have suffered from supply chain issues and a dip in demand from broadband network operators that had built up inventories of products that they are now using and so have been cutting back on orders this year, so while the broadband and video CPE sectors have been in general decline for a few years, 2023 has been a particularly tough year.
Vantiva's management is confident that bringing the two businesses together will enable it to find a lot of cost efficiencies and give it the scale needed to turn things around, as this investor slide shows.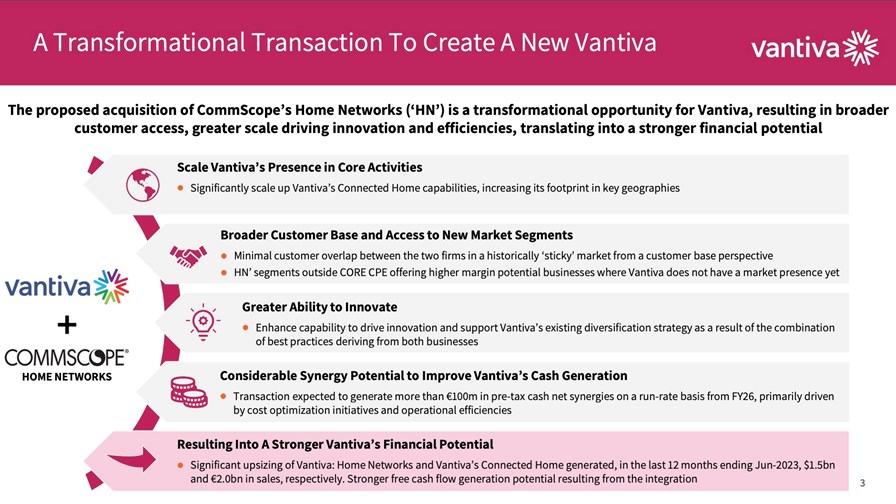 "This planned strategic acquisition represents a unique transformative opportunity for Vantiva. It will enable us to reinforce Vantiva's Connected Home operations, accelerate our innovation roadmap and expand into new markets through additional commercial partnerships," stated the company's CEO Luis Martinez-Amago.
"From a financial perspective, the acquisition of Home Networks will substantially increase the scale of our business while also generating synergies, which will significantly strengthen our free cash flow generation potential. This will result in a value-enhancing transaction benefitting all stakeholders, including end-consumers, customers, employees, shareholders and lenders. Subject to various approvals, we will be thrilled to welcome CommScope as a shareholder in Vantiva and our new colleagues joining us from CommScope Home Networks," he added.
Those "synergies" are expected to reduce the operating expenses of the combined business by €100m per year by 2026.
The big question is whether Vantiva can take two struggling businesses and merge them to make a healthy and thriving business – integrating healthy businesses is tough enough, so Vantiva's management team faces a monumental challenge. The initial reaction from the French company's shareholders, though, appears to be positive, as Vantiva's stock gained 3 cents to reach €0.18 on the Euronext exchange.
There will also be a big question mark hanging over the future of the 1,400 staff currently employed by CommScope's Home networks unit – how many will transfer across? Job cuts are inevitable, as they are at Vantiva's Connected Home operations as the cost synergies are sought.
For CommScope, the move will free it of its non-core business. The remaining 'core' units are at least financially healthier, though some of them, such as the Connectivity and Cable Solutions and Outdoor Wireless Networks units, are also suffering from declining sales currently, though still turning a profit. On the bright side, CommScope's Networking, Intelligent Cellular and Security Solutions and Access Network Solutions units reported improving sales during the second quarter.
- Ray Le Maistre, Editorial Director, TelecomTV
Email Newsletters
Sign up to receive TelecomTV's top news and videos, plus exclusive subscriber-only content direct to your inbox.