What's up with… Orange, Vodafone, NTT DOCOMO, Amdocs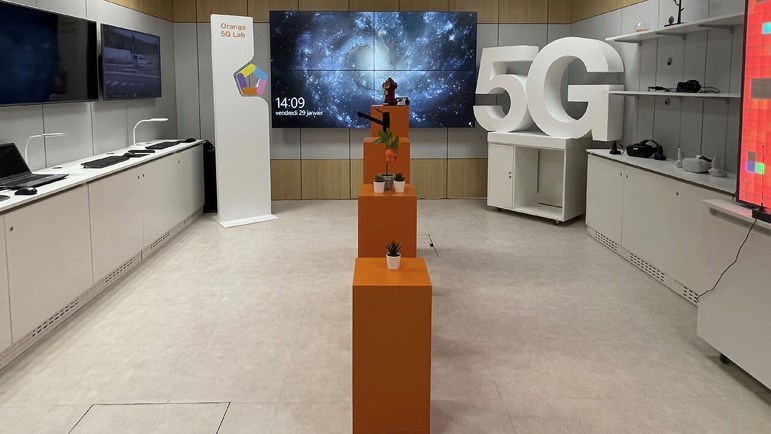 Orange unveils new 5G Labs
Germany holds up Vodafone's numbers
NTT DOCOMO, NEC spread their Open RAN message to Thailand
Amdocs lands major T-Mobile deal
Enterprise 5G R&D outreach by Orange, solid business at Vodafone and the start of a regional Open RAN expansion plan take the top spots in today's news roster.
Orange has announced nine new 5G Lab facilities designed for customers and partners to test and develop 5G applications. The first Lab opens today in Châtillon (Paris region): Six further facilities will be opened in France, based in Lille, Lyon-Charbonnières, Marseille, Paris-La Défense, Rennes and Toulouse. Outside France, the University Politehnica of Bucharest will act as a partner for a facility in Romania, while in Belgium the facility will be located located near the Orange Industry 4.0 campus in the Port of Antwerp. "We believe that 5G will drive business competition and regional development. This is why Orange is involved in a co-innovation approach focused on 5G to create the uses of the future. Having a local presence close to these players is a key part of the Orange 5G Labs initiative, to support the digital transformation of economic players and to help everyone take advantage of 5G's potential," said Michäel Trabbia, Chief Technology and Innovation Officer at Orange. For further details, see this announcement.
Vodafone kept the pandemic impact on its operations and financials to a minimum in its fiscal third quarter, which ended 31 December. Total revenues were only slightly down at €11.75 billion, helped by a strong performance in Germany, and the operator's confidence that it can still hit its full fiscal year financial targets helped give its share price a 5.4% boost to 134.4 pence on the London stock exchange. "Our networks have successfully delivered another quarter of record data traffic as many countries continue to endure COVID-19 lockdowns and customers depend on our services. We have achieved this while further reducing our carbon footprint and we are making fast progress towards our important target of having our European networks wholly powered by renewable electricity by July this year," noted Group CEO Nick Read. Vodafone ended 2020 with 65.4 million mobile contract customers and 25.5 million fixed broadband customers in Europe, with both numbers up slightly from the end of 2019. The operator says its plan for an IPO of its Vantage Towers unit early this year is still on track. For the full trading update, see this stock exchange announcement.
NTT DOCOMO and NEC are at the core of a new industry consortium focused on providing advice and consultation on enterprise 5G deployments and applications, initially in Thailand but later in other Asia-Pacific markets. Tests are due to start later this year with a focus on companies in the manufacturing and construction sectors. At the heart of the proposals and advice will be Open RAN technology to "provide users with highly flexible and optimized private 5G networks." Other companies, including Mavenir, are also talking up the near-term potential of Open RAN architectures playing a role in private wireless networks, with Mavenir's ASEAN region VP Ben Patullo recently commenting that the company has had success with Open RAN tech deals for enterprise networks in Germany, Japan, Taiwan and…. Thailand.
Amdocs continues to be a telco software powerhouse, generating revenues of $1.09 billion, slightly up year-on-year, and operating income of $140.2 million, slightly down year-on-year, for the final three months of 2020. The company also announced a major multi-year deal with T-Mobile USA to provide hybrid cloud managed services and its cloud-based BSS system amdocsONE. The company also announced a host of other business deals, including a hosted and managed billing platform deal with US cable giant Charter and a multi-country 5G charging and policy management systems deal with the A1 Telecom Austria Group. Amdocs stock is up by 2% today to $74.44, giving the company a market value of $9.78 billion.
In an excellent example of pandemic marketing, BT and EE are launching what they're calling an "unbreakable Wi-Fi for the home". BT Halo 3 Plus involves a 'Hybrid Connect' device that can automatically switch to EE mobile if the broadband/Wi-Fi goes is unavailable for any reason. BT also adds a bunch of other security/resilience features to the package, including an upgrade to BT Full Fibre (where available), BT Complete Wi-Fi (a signal extension system), and access to BT's Home Tech Expert support, presumably to provide an answer to the question: "Why not just switch off the Wi-Fi and tether the device to mobile data yourself?"
The Wi-Fi Alliance has released its draft specification for the Automatic Frequency Coordination' (AFC) function, which will enable Wi-Fi at 6GHz to be used outdoors at standard power in the US. The AFC function queries a database to ensure that a specific deployment of outdoor 6GHz Wi-Fi won't interfere with existing users of the band. Wi-Fi supporters hope outdoor Wi-Fi will eventually foster the use of outdoor Wi-Fi for campus networks, sports facilities, and even residential broadband services.
Nokia says it has celebrated the milestone of having shipped 100 million fibre broadband lines to network operators by delivering a golden ONT (optical network terminal) to US operator TDS Telecommunications, which had ordered the 100 millionth line. So where's the picture of the golden ONT then?
Still with Nokia… Singapore's StarHub will deploy the vendor's "cloud native 5G core" platform as part of a standalone 5G network rollout.
Fujitsu Network Communications is working with the TIP Open Optical & Packet Transport (OOPT) project group to "develop the first open and disaggregated 400G-capable transponder for large-scale dense wavelength division multiplexing (DWDM) networks." Read more.
Singtel is the latest operator to forge an edge infrastructure relationship with a hyperscaler giant, in this case Microsoft Azure. Read more.
- The staff, TelecomTV
Email Newsletters
Stay up to date with the latest industry developments: sign up to receive TelecomTV's top news and videos plus exclusive subscriber-only content direct to your inbox – including our daily news briefing and weekly wrap.