What's up with… Ericsson, 5G in the UK, Deutsche Telekom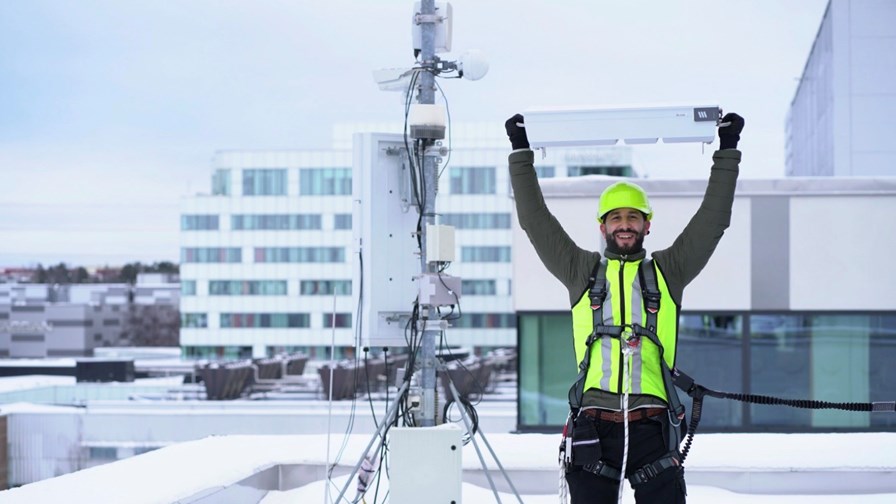 Ericsson unveils new 5G gear
Brits get a 5G speed boost
DT embraces 5G SA
Ericsson's broadening 5G portfolio and early evidence that 5G is giving the Brits more bandwidth for their bucks (so to speak) fuel today's revving news engine.
With mid-band 5G rollouts and sustainability targets in mind, Ericsson has launched three new radios in its Massive MIMO portfolio and added six new products to its RAN Compute product line. The new products are powered by Ericsson Silicon, the company's system on chip (SoC) range, and are lightweights and power-efficient: The new Massive MIMO radios weigh only 20kg, allowing a field engineer to hold one above his/her head and smile at the same time (see pictorial evidence above), making them up to 45% lighter than the previous generation, and 20% more energy efficient, "featuring passive cooling to minimize costly maintenance site visits," according to the vendor. The new RAN Compute products boast up to 50% higher throughput and 15-to-20% lower energy consumption, says Ericsson. For further details, see this announcement.
Still with the Swedish vendor… It has landed a 5G radio access networks (RAN) gear deal at du, the United Arab Emirates (UAE) operator. Find out more here.
The latest UK national mobile networks speed test for the first time adduces empiric evidence showing that 5G is already having noticeable impact in Britain, even though penetration of the new technology remains partial and patchy. Global Wireless Solutions (GWS), the Virginia, US-headquartered wireless benchmarking and testing company, analysed the 5G network performance achieved by the UK's Big Four mobile operators, EE, O2, Three and Vodafone, and found encouraging results. GWS throughput testing ascertained that a 5G signal is now accessible to commercial subscribers, on average, for 40 per cent of the time in an increasing number of British cities, for 16 per cent of the time in large towns and for 11 per cent of the time to drivers travelling on the UK's motorway network. Almost 40 per cent of 5G subscribers expect that the increasing rate of rollout of the technology will help the UK economy to recover quickly when the Covid-19 pandemic is contained and controlled, and life begins to return to some sort of normality. Meanwhile, 25 per cent say 5G has a major role to play in bridging the digital divide between Britain's rural and urban populations. The GWS research also shows that when 5G is deployed (by one or more operator), average access speeds rise to 150 Mbps, whilst similar locations without 5G achieved an average of no more than 33 Mbps. The data also shows that to achieve a baseline average 5G network speed of 100 Mbps, a minimum coverage area of 40 per cent of the population is required. However, whilst 5G was found to be available to 37 per cent of the areas of the cities and towns that GWS tested, 5G signals were being delivered to 5G-enabled handsets for a mere 20 per cent of the time. What's more, 5G availability remains lumpy and inconsistent because there is no overall national plan, and each operator is following its own deployment strategy. So, in summation, the new 5G annual report card would read something like this: "Showing signs of improvement, but could do better."
Deutsche Telekom is advancing its 5G strategy with the deployment of its first 5G standalone (SA) site, in the town of Garching near Munich, that is connected to a cloud-based 5G core. "To ensure that our customers can take advantage of technologies such as network slicing or edge computing in the future, we continue to actively drive the development of 5G and its features," noted Claudia Nemat, Board Member for Technology and Innovation at DT, in this announcement.
The SASE interest surge continues with an apparent uptick in M&A activity likely to continue through 2021, according to observers. SASE (Secure Access Service Edge) is the relatively new kid on the security block, offering an alternative to traditional data centre-oriented security by unifying networking and security services and delivering them to the data centre, remote offices, and roaming users via the cloud. SASE came along at about the right moment to address the yawning security problem induced by the explosion in corporate remote access brought on by the pandemic. Companies getting themselves into position to align with the SASE trend include Amsterdam-based Expereo, a managed Internet, cloud access and SD-WAN solutions provider, which has just acquired next-gen SD-WAN and SASE solutions provider Videns IT Services, bolstering its existing SD-WAN network transformation and management capabilities for its multinational enterprise customers. Find out more about Videns IT Services here; and about Expereo here.
A new report by Vodafone Ireland says 58 per cent of Irish SMEs "face significant barriers" in adopting digital technologies even though they want to invest in new tech and use it to help drive economic improvement. The research for the paper, which analyses 500 small and medium-sized businesses operating across both rural and urban Ireland in various industrial sectors, was undertaken during the Covid-19 crisis and produced in collaboration with Stephen Kinsella, Associate Professor of Economics at the Kemmy Business School at the University of Limerick. Cost looms the largest in the list of obstacles to digitisation, with 37 per cent of SMEs citing it as their main concern. Next, interestingly and worryingly, with 36 per cent of respondents citing it as a major problem, is a lack of trust in vendors and suppliers. Now there's something that needs immediate attention. Integration with older extant systems comes in at concern number three, with 32 percent worried about it, while concerns that they might not have the right in-house capabilities (28 per cent) is the fourth most pressing anxiety. Ireland is well down the field of European countries enthusiastically embracing digitisation, ranking behind the likes of Denmark, Croatia, Malta, Latvia and Lithuania. Only 24 per cent per cent of bigger Irish SMEs are highly digitised and just 19 per cent of smaller ones. What's more, 25 per cent of small businesses say their staff are not fully trained in digital skills and, damningly, this rises to 65 per cent for larger SMEs.
Pan-African data transport network operator Liquid Telecom is raising $820 million ($600 million in bonds, $220 million in loans) to refinance its debts and help further fund its expansion. The move has the support of the Emerging Africa Infrastructure Fund (EAIF), which has committed to buy up to $50 million of the bond issue. Liquid Telecom has built a data transport network running 73,000 km across the continent, connecting more African countries than any other company.
- The staff, TelecomTV
Email Newsletters
Stay up to date with the latest industry developments: sign up to receive TelecomTV's top news and videos plus exclusive subscriber-only content direct to your inbox – including our daily news briefing and weekly wrap.