Standalone NR approved by 3GPP, next stop 5G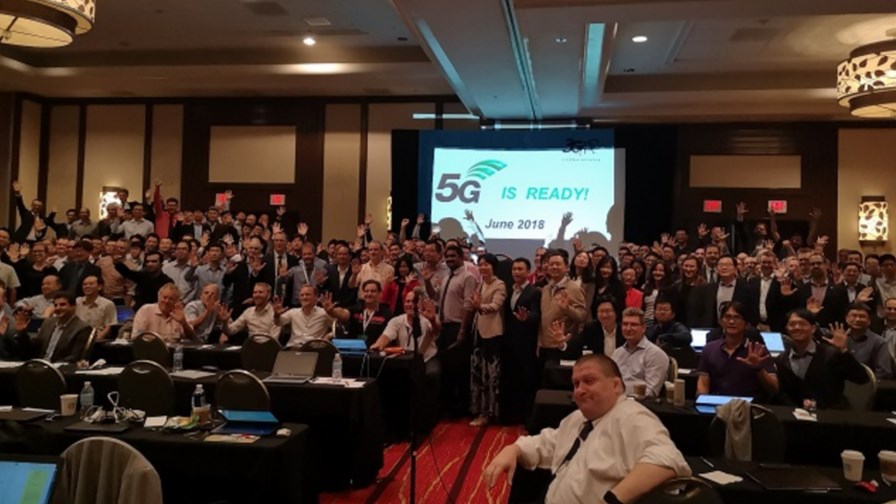 3GPP plenary applies the dots and crosses
Standalone New Radio specification is seen as the critical milestone in progress to 5G
5G defined as "the integration platform for heterogeneous businesses"
As expected yesterday's 3GPP plenary meeting approved the completion of the New Radio (NR) 'standalone' Release 15 5G specifications, to a hearty round of applause after what all seem to agree was a gigantic outlay of effort to meet the deadline. More than 600 delegates from the world's major telecom operators, network, terminals and chipset vendors, internet companies and other vertical industry companies met in La Jolla, USA, to witness what all agreed was an historic moment for mobile.
The all-important 'New Radio' specification is seen as the critical milestone in the development of 5G. Now, the 5G ecosystem and the world's network operators, can push ahead to commercialise the technology as 'proper' 5G, making use of, and winning all the advantages from, a 5G core network to offer slicker, faster and lower-latency services.
The completion of the 'standalone' NR specs means operators can (when they want or need to) move on from 'non standalone' mode (or leapfrog it entirely). Non standalone uses the same physical layer specs as standalone but harnesses itself to the 4G/LTE core network.
In many countries operators are only a few years into the LTE phase of their network development and are understandably wary of diving into another round of network investment in the core. Their preferred option may be to add NR in non standalone mode (4G-dependent might be a better way of putting it) once they've won the necessary spectrum, and use it as a speed and capacity boost to eke out the investment made in 4G. The UK, for instance, completed a round of auctions at 3.5 GHz this year, so it will be interesting to see how operators utilize the non-standalone option as a next step on the road to 5G.
Arriving at this particular solution was not without controversy. There was a minor rebellion staged at the 2017 Mobile World Congress when a range of interested parties won a concession from 3GPP to speed the process for standard setting a non standalone NR, duly completed late last year. The worry from the standards-setting perspective was presumably that a halfway house would dilute the marketing impact of 'full' 5G and allow laggards to hide in the 5G jargon.
Now, however, the starting pistol has been fired and, for good or ill, operators in many markets can be expected to try to get some sort of 5G to market first enabling them to scoop up users ahead of their competitors.
Then there's the longer term vision thing. According to Georg Mayer, Chairman of 3GPP TSG CT, "Two years ago, 5G was seen as a vision or even just a hype - with the closing of Rel-15, 3GPP has made 5G a reality within a very short time. The outcome is an amazing set of standards that will not only provide higher data rates and bandwidth to end customers but which is open and flexible enough to satisfy the communication needs of different industries - 5G will be the integration platform for heterogeneous businesses."
TelecomTV will be publishing an Interview with Adrian Scrase, CTO of ETSI, on the importance of this 5G milestone.
Email Newsletters
Sign up to receive TelecomTV's top news and videos, plus exclusive subscriber-only content direct to your inbox.