SK Telecom achieves interoperability between multi-vendor 5G equipment
Successfully tested interworking between 5G equipment developed by Samsung, Nokia and Ericsson

Multi-vendor interoperability supports improved efficiency in 5G network deployment by enabling the installation of base stations of Nokia and Ericsson within the coverage of Samsung 5G Core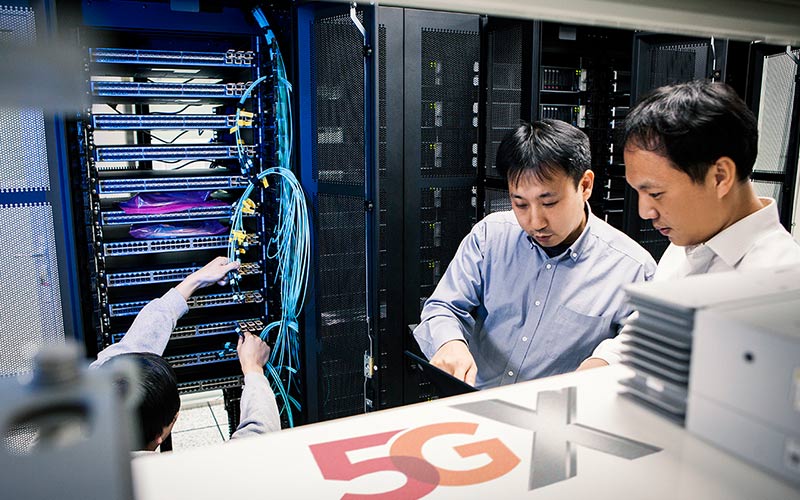 SK Telecom (NYSE:SKM) today announced that it has successfully tested interoperability between 5G Non Standalone (NSA) Core developed by Samsung Electronics and 5G base stations of Nokia and Ericsson. The test took place at the company's 5G testbed located in its Bundang office building.
Since last year, the company has been working closely with global mobile operators, including AT&T and Orange, at 3GPP and NGMN to develop interfaces for interoperability between diverse multi-vendor 5G network equipment. Moreover, after selecting Samsung, Ericsson and Nokia as the preferred bidders for 5G equipment on September 14, 2018, SK Telecom has made aggressive efforts to apply and test the interfaces to achieve multi-vendor interoperability within the shortest period possible.
SK Telecom can now install base stations of Nokia and Ericsson within the coverage of Samsung's 5G Core, which means that it can deploy a more flexible 5G network with greater efficiency.
The 5G NSA Core used for the trial has been specially developed by SK Telecom and Samsung Electronics. Theoretically, 5G NSA standard allows for operators to deploy 5G network by adding 5G features to the existing LTE core equipment. SK Telecom has decided to also deploy new 5G NSA Core to further enhance both stability and quality of its 5G service.
"SK Telecom continues to lead the industry in 5G by successfully achieving multi-vendor equipment interoperability based on 3GPP standard," said Park Jin-hyo, Executive Vice President and Head of ICT R&D Center at SK Telecom. "We will continue to make efforts to launch commercial 5G network that offers the highest quality and stability."
This content extract was originally sourced from an external website (
SK Telecom Media Centre
) and is the copyright of the external website owner. TelecomTV is not responsible for the content of external websites.
Legal Notices
Email Newsletters
Sign up to receive TelecomTV's top news and videos, plus exclusive subscriber-only content direct to your inbox.