Rakuten Mobile outperforms Japanese competitors in several 5G measures, new research shows
Tokyo – Japan's newest and most modern mobile network has overtaken its domestic competitors across a number of key 5G performance measures, independent testing from global analytics company Opensignal has shown.
Opensignal's October 2023 Mobile Network Experience Report*1, published today, shows that Rakuten Mobile is now a leader among Japan's mobile operators in 5G Upload speeds, and is highly competitive across key network indices.
The scores represent significant progress for Rakuten Mobile who launched commercial services three-and-a-half years ago. This is also the result of Rakuten Mobile's efforts to continuously improve network performance to its more than five million customers across Japan.
"Since our launch in 2020, Rakuten Mobile has been committed to operating Japan's best mobile network," said Sharad Sriwastawa, Co-CEO, Rakuten Mobile. "Opensignal's latest report is a validation of our mission and a testament to the hard work and commitment to innovation of the Rakuten Mobile team. We will continue to improve the quality and performance of our network to provide our customers with the best 5G experience in Japan."
The decision to build a cloud-native, virtualized mobile network based on Open radio access network (Open RAN) technologies is continuing to yield a variety of industry transformational results for Rakuten Mobile.
Ranked First in 5G Upload Speed
As with Opensignal's report published in July 2023, Rakuten Mobile customers have access to the fastest 5G Upload Speeds in Japan, with users now experiencing average speeds of 30.4 Mbps, much faster than its closest competitor.

Ranked Top in 5G Download Speed
In terms of 5G Download Speeds, Rakuten Mobile was named a joint winner, with speeds of 180.9 Mbps.

Joint Winner in Live Video Experience
Software upgrades to Rakuten Mobile's nationwide network include the addition of features that have lowered latency. These improvements have in part translated into Rakuten Mobile being named a joint winner for Live Video Experience.

High Marks in Consistent Network Quality
Opensignal also awarded Rakuten Mobile scores on par with other mobile operators in Japan. Rakuten Mobile enjoys high marks for Consistent Quality, ranked second.

Opensignal also scored Rakuten Mobile at 99.1% for Overall Availability, which means Rakuten Mobile customers can more often take advantage of Japan's fastest 5G Upload Speeds when enjoying Rakuten Group's ecosystem of services including online shopping, digital content, fintech and online travel services.
Rakuten Mobile has made substantial performance gains since 2022
Rakuten Mobile's network quality has improved significantly in one year. In addition to the report published today, and compared to 2022, Rakuten Mobile's network has improved across categories such as Games Experience, Consistent Quality and Coverage Experience.*2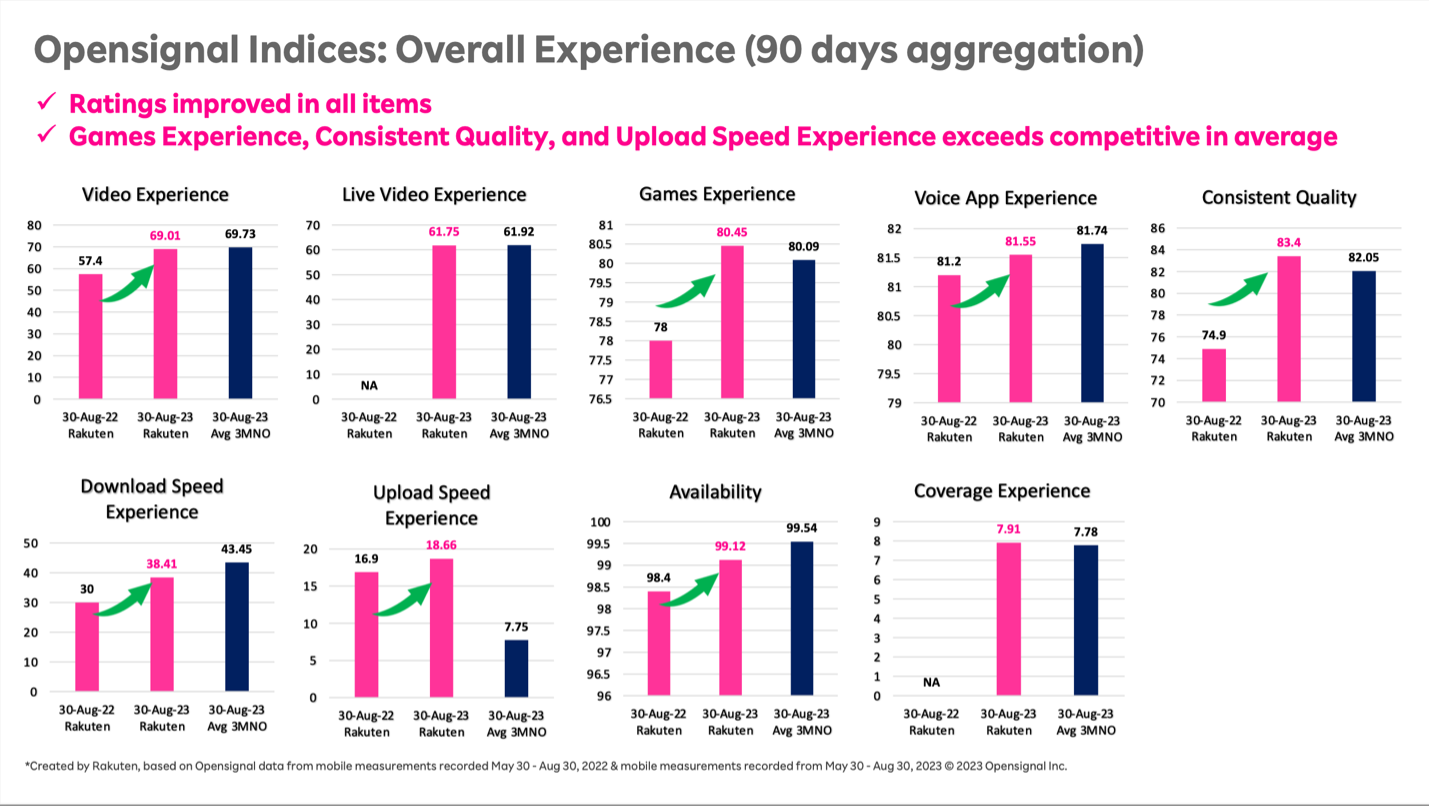 With independent third-party expert data from Opensignal and other industry organizations, alongside numerous industry awards, such as GSMA's most prestigious annual GLOMO Awards three years running*3 granted to Rakuten Mobile and Rakuten Symphony in both 4G and 5G technology, Rakuten Mobile is performing as one of the most acclaimed networks in the world today.
Rakuten Mobile will continue to advance Open RAN technologies while improving network quality to provide mobile customers in Japan with best-in-class mobile services.
This content extract was originally sourced from an external website (
Rakuten Mobile
) and is the copyright of the external website owner. TelecomTV is not responsible for the content of external websites.
Legal Notices
Email Newsletters
Sign up to receive TelecomTV's top news and videos, plus exclusive subscriber-only content direct to your inbox.