Nordics aim to break away (slightly) to do their own 5G thing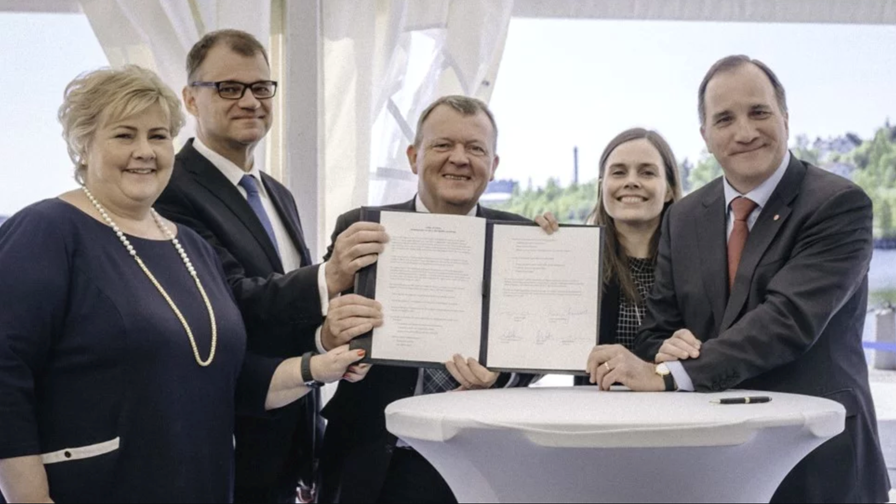 The Nordic Prime Ministers (Sweden, Norway, Denmark, Iceland and Finland) have agreed a 'Letter of Intent' for 5G leadership
Will persue a world-leading 5G program to develop and digitalize "all sectors of society"
Say they aim to create the conditions in the public sector for digitalisation and 5G to flourish
Want to be most integrated 5G region in the world. "We want to create a common Nordic 5G space."
Nordic Prime Ministers unite to prioritize 5G and digitalization
The Prime Ministers of Sweden, Norway, Denmark, Finland and Iceland have signed a Letter of Intent committing all five countries to creating the public sector conditions needed for 5G and digitalization to flourish in the Nordics.
The letter was signed today at Örnsköldsvik in Sweden at the annual two-day meeting of the regional leaders, hosted this year by Swedish Prime Minister, Stefan Löfven.
The Letter of Intent was welcomed by regional industry CEOs, including Ericsson President and CEO, Börje Ekholm.
5G and digitalization in the Nordics was a major part of the summit agenda, dominating the morning session today. Ericsson had an exclusive role as an industry advocate, with Cecilia Atterwall, the Head of Marketing and Communications at Ericsson's Business Area Networks, addressing the prime ministers on how 5G is the foundation for the digitalization of industries and society.
Atterwall's address covered evolved mobile broadband and the Internet of Things (IoT) highlighting business and use cases covering: mobile broadband user experiences, smart cities, transport, and smart manufacturing – and how one 5G network could handle all such cases simultaneously.
DRONE DEFIBRILLATOR DELIVERY
Ericsson also teamed up with service provider, Telia, and Stockholm-based medical university, Karolinska Institute, to outline to the prime ministers how 5G will transform healthcare. A joint team explained how a 5G-enabled drone could be used to save a life by safely transporting a defibrillator directly to the location of a cardiac arrest victim.
Survival rates among cardiac arrest victims who receive treatment within three minutes are 70 percent. Informing that 5G drones could reach victims up to four times faster than an ambulance, the presentation explained how they could safely deliver the defibrillator to the exact location, regardless of how many other drones are in the air at the same time.
Andreas Claesson, from the Center for Cardiac Arrest at Karolinska Institute, said the research project examined how new technologies can improve emergency healthcare. He said 5G overcame some problems encountered with previous trials to deliver defibrillators by drone, including distance and drone traffic.
"We would solve that if we used the system we are currently working on," he said.
Telia Sweden Chief Technology Officer, Mats Lundbäck, said the case was one of many examples where tough technology demands can be answered by 5G.
"Working with something that could mean more people surviving means using technology in the best possible way, which is extremely motivating," he said.
Ericsson Senior Vice President and Chief Technology Officer, Erik Ekudden, said: "With 5G you will be able to allocate and guarantee capacity and high bandwidth, in combination with low latency for societal and industry critical use cases, such as the drone defibrillator case.
"5G will enable these type of use cases to be delivered safely, flexibly and with the highest quality."
NORDIC 5G LETTER OF INTENT
The Nordic Prime Ministers' Letter of Intent declares the five countries' shared goal of taking a leading role in the "next leap" for wireless communication, by building on the 2017 Nordic-Baltic Digital North Declaration.
"As the development of fifth generation wireless systems breaks through, the Nordic countries will be at the forefront of that development to become world leaders in using 5G technology for the development and digitalisation of all sectors of society," it reads.
"At political level, we commit to creating the conditions in the public sector for digitalisation and 5G to flourish. As Nordic prime ministers, we have agreed to the common vision of being the first and most integrated 5G region in the world. We want to create a common Nordic 5G space."
The prime minister signatories are: Stefan Löfven (Sweden), Erna Solberg (Norway), Lars Løkke Rasmussen (Denmark), Juha Sipilä (Finland), Katrín Jakobsdóttir (Iceland).
Ministers with portfolio responsibility for digitalization in the respective signatory countries will drive actions relating to the early adoption of 5G under the declaration and report back to the Nordic Council of Ministers.
CEOs' WELCOME
Ericsson President and CEO, Börje Ekholm, was among the reginal telecoms CEOs to sign an industry reaction statement, welcoming the Letter of Intent.
"We look forward to actively collaborating with the Ministers of Digitalization and Ministers responsible for the key sectors identified as well as other stakeholders on the follow-up to the letter of intent," the statement reads.
This content extract was originally sourced from an external website (
Ericsson News Center
) and is the copyright of the external website owner. TelecomTV is not responsible for the content of external websites.
Legal Notices
Email Newsletters
Sign up to receive TelecomTV's top news and videos, plus exclusive subscriber-only content direct to your inbox.