Mobile operators fall short in enterprise 5G considerations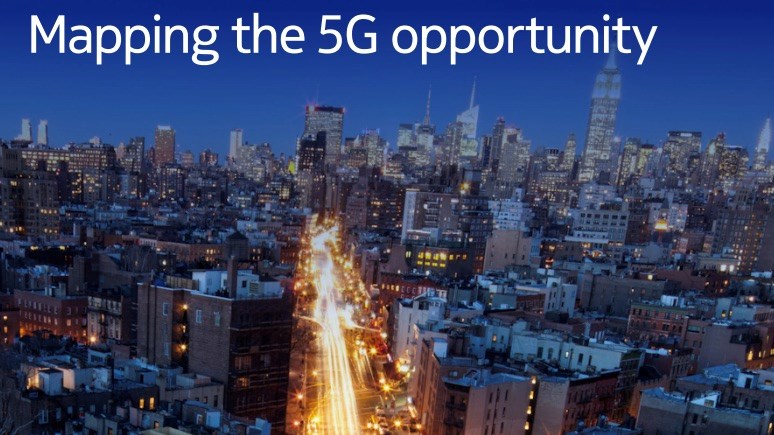 Surveys commissioned by Nokia highlight 5G opportunities
FWA and video services attractive to consumer and enterprise users
Results highlight challenges in enterprise market
Alarm bells should be ringing for mobile operators
Mobile operators have a mountain to climb to dominate the enterprise 5G services market they covet so much, the findings of a survey commissioned by Nokia have revealed.
The giant vendor, one of the leading providers of 5G technology to mobile operators and enterprises globally, commissioned two surveys, both conducted by Parks Associates: One sought feedback from 3,000 consumers (all smartphone owners) across the US, UK and South Korea; the other generated responses from 1,000 enterprise IT decision-makers across the US and UK. (Note: The surveys were conducted prior to Covid-19 pandemic lockdowns and therefore do not reflect the heightened awareness of 5G brought about by media coverage of the numbskulls who are setting fire to mobile towers and abusing field engineers…)
The results of the consumer survey are interesting: There appears to be a strong appetite for fixed wireless access (FWA) broadband services, but one wonders how much that reflects the lack of competitive services available to many consumers, and/or how poor they perceive their current service to be.
Video-based 5G services also register as attractive with consumer respondents: See this page of takeaways for more details.
The research results also suggested that the majority of consumers would be willing to pay more for 5G services than they currently spend on their existing mobile package: See the chart below.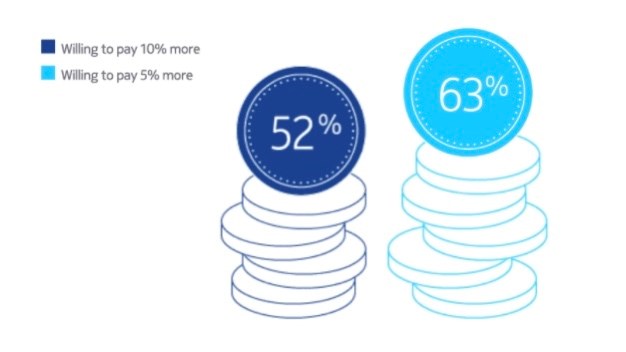 But for me, the really interesting results come from the enterprise sector.
The enterprise survey tackled the 5G "plans, expectations and the biggest 5G WAN and LAN drivers" among the respondents, who represented multiple verticals, including energy, manufacturing, government/public safety, and automotive/transportation.
Nokia drew a number of interesting conclusions from the survey results, such as: 65% of respondents are "familiar with 5G," a finding that, for this editor at least, rings some alarm bells; 47% of IT decision-makers say their organizations have already started planning for the use of 5G services/applications; and 30% would "like to better understand the value of 5G before developing a strategy to use it in their organization."
The survey also found that video-based applications were of great interest to enterprise users, while FWA once again featured strongly (see chart below).
More on this and other findings can be found in Nokia's press release.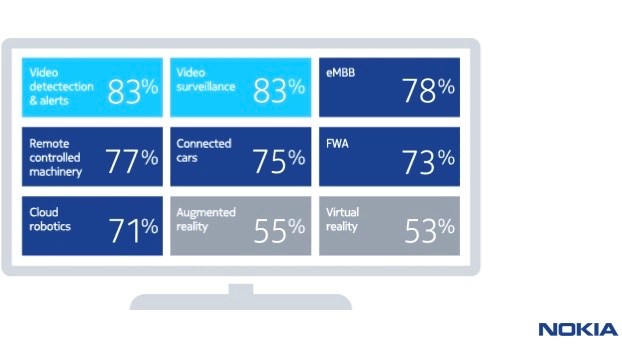 Alarm bells
For me, though, the key takeaway from survey's findings is that despite the incredible advantage held by mobile operators in terms of being able to raise 5G awareness, help educate the market and generally position themselves as the 'go to' organizations for anything 5G, a significant chunk of enterprise users do not consider mobile operators as partners that can help them develop and execute their 5G-related strategies.
The survey asked: "Which of the following company types would you use to guide your 5G plan and provide your organization's 5G solutions?" Among all enterprise respondents, 61% selected mobile operators as an option, and surprisingly that percentage varied very little between small, medium and large businesses (59%, 62% and 61% respectively).
My instant reaction to this – not Nokia's, to be clear – is that 39% of enterprises would not turn to mobile operators to help them plan how to use 5G as part of their businesses. That's a hefty chunk of the 5G enterprise market and, I believe, should set alarm bells ringing at the mobile operators, especially as systems integrators (SIs) appear to be significant rivals for the 5G hearts and minds of enterprises: Among all enterprise respondents, 36% would turn to the SIs to help with 5G plans, and among large enterprises (the ones with the most money) that number shoots up to 48%.
Technology vendors also get some of the enterprise 5G love, as 31% of all respondents said they'd engage with telecom infrastructure companies to develop their 5G strategies.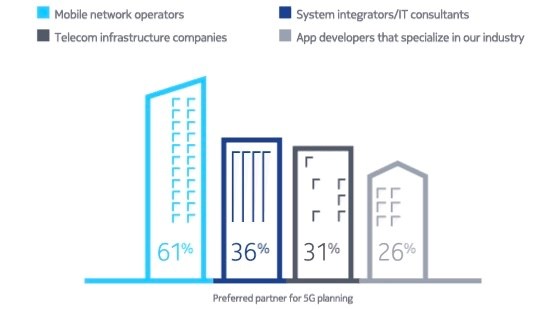 Nokia's take on this is less alarmist, noting that mobile operators are "well placed to succeed… but with more than one third citing a system integrator as their preferred partner, CSPs are likely to run into some strong competition." Nokia adds: "Cost will be a critical factor, but CSPs should emphasize value rather than competing on price."
It adds, importantly, that CSPs "must have the will to align business practices with the diverse needs of companies of different sizes and across different verticals. Historically, systems integrators have been more responsive to the needs of unique industries."
Josh Aroner, VP of marketing for Nokia's service provider business, says he doesn't find that 61% figure surprising as many enterprises look for application expertise that suits their needs – for example, if security is the key application for which they might use 5G services or technology, they will often turn to a security specialist rather than a mobile operator.
That rings true, of course: This simply highlights that the primary challenge for the mobile operators is to build knowledge in key verticals, broker partnerships with applications specialists, and position themselves as the go-to partners that can deliver more than just a fast wireless connection.
The 5G services market is still in its infancy, of course, but these early indicators should act as a wake-up call to the operators, and this Nokia-commissioned survey is not alone in ringing the alarm bells: 5G enterprise market research shared by Omdia (formerly Ovum) last month, which showed how mobile operators are not the lead contractors in most early 5G deals.
There's time for the operators to strengthen their positions, of course, but this appears to be the biggest opportunity that 5G will offer them in terms of new revenue opportunities, so it could be argued that the operators can't afford to let this slip from their grasp.
The first thing they should do today, perhaps, is delve deeper into the survey results and identify where they might be missing a trick.
- Ray Le Maistre, Editorial Director, TelecomTV
Email Newsletters
Stay up to date with the latest industry developments: sign up to receive TelecomTV's top news and videos plus exclusive subscriber-only content direct to your inbox – including our daily news briefing and weekly wrap.