KT Corp. brings 5G to Indonesia
5G Zone Will Be Operated Until Sept. 2 at Stadium in Jakarta
5G, Real-Time Technologies Transform How Fans Interact with Games
SEOUL, South Korea (August 20, 2018) - KT Corp. (KRX: 030200; NYSE: KT), South Korea's largest telecommunications company, is showcasing its next-generation 5G wireless technology and services during Asia's largest sporting event being held in Indonesia.
The technology is being showcased at KT's 5G Zone until September 2 in cooperation with Telkomsel (PT Telekominikasi Selular), Indonesia's top telecom provider. The 5G Zone is located in Jakarta by the Gelora Bung Karno Main Stadium, the primary venue for the sporting event, at the 5G Experience Center.
KT is preparing for the commercial launch of the world's first nationwide 5G network in March 2019. The company's Chairman, Hwang Chang-Gyu, first envisioned the network launch in 2017. KT successfully showcased trial 5G services with the world's first 5G-ready network in February 2018.
"As a telecom leader representing the Republic of Korea, KT will show the world its advanced 5G technology and services at Asia's largest sports festival," said Lee Pil-Jai, head of KT's Marketing Group. "We hope players and people from all around the world get an early taste of various 5G services at our 5G Zone, before KT's commercial launch early next year."
A commercial 5G network in South Korea is expected to create at least 30.3 trillion won (US$ 27 billion) in socioeconomic value in 2025, 1.5 percent of South Korea's gross domestic product (GDP), according to a report released last month by the KT Economic and Management Research Institute (KT EMRI). The report forecasts that number will increase to at least 47.8 trillion won (US$ 42 billion), 2.1 percent of GDP, in 2030.
KT's 5G Zone in Jakarta is providing sports fans with interactive experiences through a variety of next-generation technology, including Free View. Free View is a new technology that allows users to choose from real-time shots and view them from different angles in stereoscopic vision. KT's Free View will be used for viewing badminton, a popular sport among in Indonesia, and basketball, one of three sports in which a joint North-South Korean team will compete during the event.
KT's Sync View and Omni View technology will also be used event for golf. The Sync View technology will allow fans at KT's 5G Zone to see matchups from the gallery's perspective. Omni View will let viewers at the 5G Zone enjoy the game as vividly as if it were experienced on the golf course.
Sports fans at KT's 5G Zone can engage myriad other 5G technologies, including 5G tablets; "Special Force VR: Universal War," a popular game at VRIGHT, KT's virtual reality (VR) theme parks in Seoul; and a super-multi view service synthesizing a viewer's face with a gold medal on a glasses-free, stereoscopic 3D screen.
KT is an official supporter of South Korea's national team for the 2018 Asian Games. The company will participate in diverse activities to cheer sports shooter Jin Jong-Oh, an Olympic gold medalist, and other athletes belonging to KT Sports Co., an affiliate of KT Corp.
KT opened an integrated operations room for emergency services on August 11 and operating through September 2 to help ensure broadcasting. It is also supporting Korean visitors to the sporting event by providing the best possible service for international calls.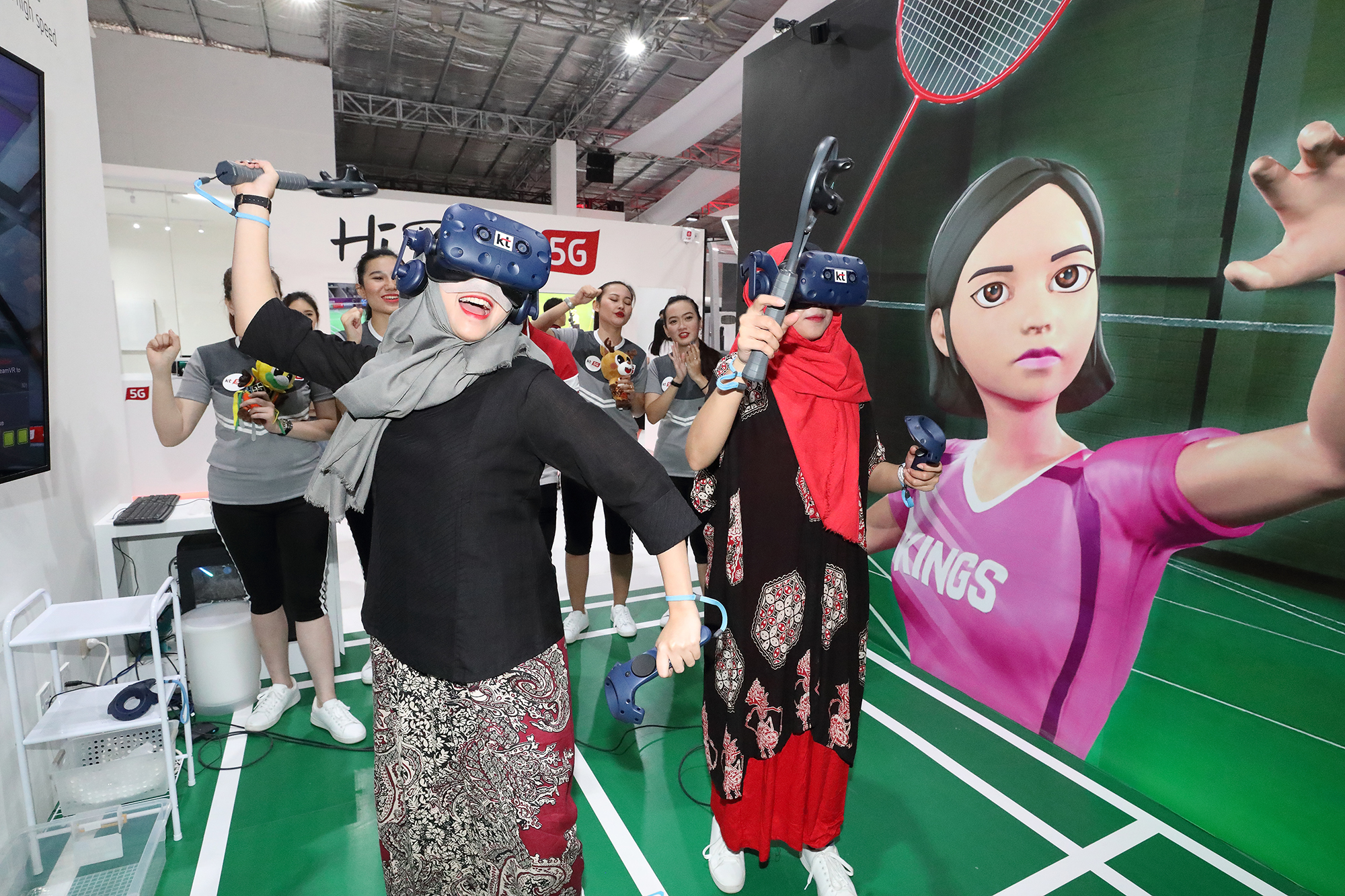 KT's 5G Zone at the main sports venue in Jakarta, hosted in cooperation with leading Indonesian telecommunications company Telkomsel, provides cutting-edge experience for visitors to the multi-sport event.
This content extract was originally sourced from an external website (
KT
) and is the copyright of the external website owner. TelecomTV is not responsible for the content of external websites.
Legal Notices
Email Newsletters
Sign up to receive TelecomTV's top news and videos, plus exclusive subscriber-only content direct to your inbox.