If you blinked, you may have missed the latest UK 5G spectrum auction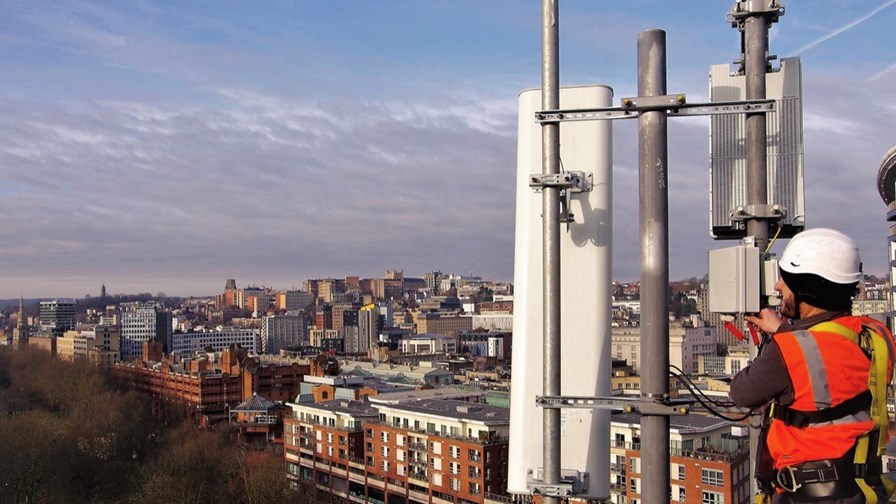 Latest UK spectrum auction was over in just three days
Thankfully, there was no need for crazy spending
In total, just over £1.35 billion has been spent so far by four operators
'Assignment' stage still to go – analyst hopes airwaves will be in use by the summer
The latest auction of 5G spectrum by the UK regulator Ofcom was completed in just three days, with all four operators involved coming away with varying shares of the spoils and spending a total of just over £1.35 billion.
That total was less than anticipated, which spells good news for the operators. Investors were also happy the operators didn't have to spend over the odds too: BT's share price is up by 5% today to 150.5 pence on the London Stock Exchange, while Vodafone's stock is up by 1.1% to 136 pence.
BT's mobile business, EE, spent the most to get the spectrum it wanted, shelling out £452 million in total (see the table for exact assets). It's particularly happy with the airwaves it bagged in the 700 MHz band: "The low frequency spectrum will help deliver quality indoor 5G coverage, from train stations to airports, shopping centres to business parks, while mid-range spectrum will help support our future efforts to deliver industry leading innovation," it noted in a statement sent to the business media.
Telefónica UK (O2) splashed out £448 million on 40 Mhz of 3.6 GHz and 20 MHz of 700 MHz FDD spectrum, described by O2 as "a fair price."
Hutchison 3G UK (Three) focused on the low frequency spectrum, spending £280 million on two 10 MHz blocks in the 700 MHz band. "This triples the amount of low frequency spectrum we own and will have a transformative effect on our customers' experience indoors and in rural areas," stated Three CEO Robert Finnegan. "Coupled with our existing low frequency spectrum and the UK's largest 5G spectrum holding, we are in a fantastic position to deliver a great network experience for our customers now and in the future."
Vodafone UK spent £176.4 million on 40 MHz in the 3.6 GHz band. The operator "now holds 90 MHz of 3.4 – 3.6 GHz spectrum. The new spectrum acquired will enable Vodafone UK to significantly expand 5G network capacity to meet the growing demand for fast, reliable, high-quality data services," it stated in this announcement.
But it didn't bid for any 700 MHz airwaves: CEO Ahmed Essam noted that Vodafone "avoided expenditure on low-band spectrum, where it is our strategy to re-farm over time our significant 900 MHz holdings to carry 5G traffic." Vodafone UK has two 17.4 MHz blocks in the 900 MHz band.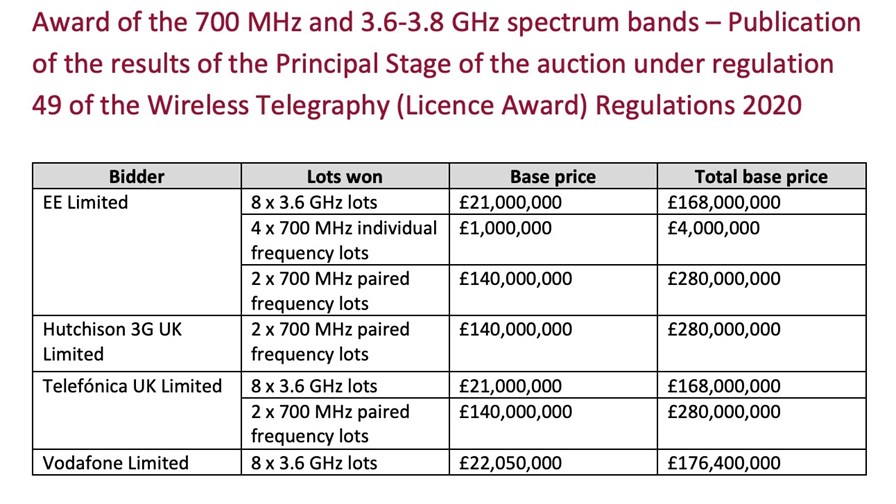 With the initial bidding over, the Ofcom process now moves into the 'assignment' stage, which "involves a single bidding round in which the companies can bid for the frequency positions they prefer for the airwaves they have secured in the principal stage." Essentially, the operators will want, if possible, to line up their spectrum assets in each band so that it is 'contiguous,' in one block rather than fragmented in multiple slices across a band. "After submitting their assignment stage bids in the 3.6-3.8 GHz band, bidders will then have the opportunity to negotiate the frequency positions among themselves," notes Ofcom.
This is the stage that might be less straightforward, notes industry analyst Paolo Pescatore of PP Foresight. "This spectrum auction has been relatively easy… the main process concluded so quickly as all providers were successful in securing the spectrum they needed. Expect to see some haggling behind closed doors in the assignment stage," notes Pescatore, who hopes this new spectrum "can be used by the summer."
He doesn't expect the onboarding of new spectrum assets to change any of the UK operators' 5G service strategies in the near term. "It's highly unlikely we will see a change in approach to 5G deployment. To date, focus has been on cities and data-hungry locations for the rollout of 5G. This will continue, especially with those securing 700 MHz, which will be used for indoor coverage as well in the short term. Ultimately the operators will seek to leverage 700 MHz in rural areas in the future, but not immediately," states the analyst.
- Ray Le Maistre, Editorial Director, TelecomTV
Email Newsletters
Stay up to date with the latest industry developments: sign up to receive TelecomTV's top news and videos plus exclusive subscriber-only content direct to your inbox – including our daily news briefing and weekly wrap.