Huawei boasts 22 5G commercial contracts signed and 50 commercial tests ongoing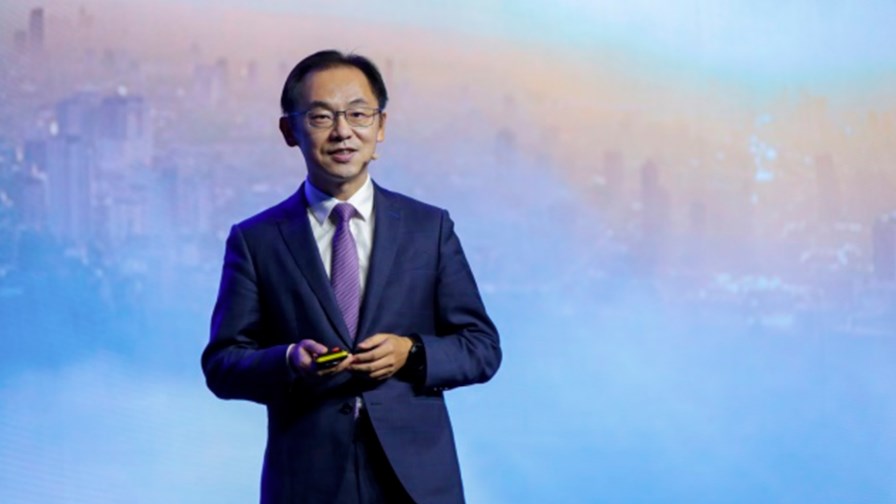 So will many countries now disqualify it on security grounds?
Or will the lure of the 5G winning post overrule those security fears?
Huawei may be under pressure as important markets close it out of 5G contention, but that hasn't stopped the Chinese technology giant from baring its torso and thumping its chest (metaphorically of course) as it bests most of its rivals in the global telecoms infrastructure market.
At this week's Global Mobile Broadband Forum (MBBF) knees-up in London, Huawei wheeled out its Executive Director and President of Carrier BG Ryan Ding who announced that Huawei had signed 22 commercial contracts for 5G and was working with over 50 carriers on 5G commercial tests. Huawei, he might have said, was still in it to win it.
Leading carriers, said Ding, are moving quickly toward 5G commercial deployment and 5G development is picking up speed thanks to two factors. First, major countries are among the first adopters of 5G, and together they represent one-third of the global population – a scale of adoption that is larger than the first waves of commercialization seen in 3G and 4G.
The second enabler of 5G is the device industry. He claimed that 5G smartphones will be available in 2019, including 5G foldable phones that will create whole new experiences for users.
But unlike previous phone generations, Ding expects budget phones (priced around US$100) will arrive soon after the commercial roll-out of 5G networks, driving the 5G industry forward.
"Through heavy investment and continuous innovation, we are committed to helping carriers deploy 5G networks easily, rapidly, and cost-effectively. And we are ready to work with all stakeholders to drive robust development of the 5G industry."
Despite a rearguard action by the US to knock Huawei off course on security grounds, the company continues to win awards and friends, generate patents and churn out products and software at a remarkable rate.
Dipping into the Analysis Report section of TelecomTV Tracker shows how dominant Huawei appears to have been. In terms of total Tracker-worthy announcements over the past year, Ericsson generated 153, Nokia is level-pegging with Ericsson at 150. But Huawei pushed way out in front with 276 for the past year.
On 5G specifically, Ericsson gets close to Huawei, so far making 99, Huawei made 110 while Nokia mustered only 57.
When it comes to NFV (admittedly no longer generating the volume of Tracker entries that it used to), Ericsson registered 5 Tracker-worthy announcements over the past year, Nokia has released 7, but Huawei was still way ahead in NFV with 12.
TelecomTV Tracker totals might be criticised as being more about active PR than real technology achievement, but we're very skilled (years of practice) at filtering out all the retreads and double postings. Any announcements about winning vendor awards or being shuffled into analysts' quadrants are immediately cast into the vortex.
So we think our Tracker is a pretty good guide to activity and achievement levels by companies in the global market.
If there was a way of analysing the telecoms market (apart from our Tracker, of course) which deprecated Huawei's technology lead, we would have heard about it by now. The fact is that Huawei has an enviable grip on mobile radio infrastructure, not, as far as we can tell though bullying or underhand sales tactics, but because it discovered the old trick of providing the best technology at the best price, and staffing itself up with an inexhaustible (relatively) supply of engineering talent - the raw material for all IT endeavour.
This is giving Huawei depth where it will ultimately matter - behind the RAN in the fixed network.
The first phase of 5G - the bit we're currently in - is mostly about standalone New Radio (NR). That involves investing in new radio technology and spectrum to supplement LTE and it's a phase that may last a long time for some players who see it providing enough extra capacity for LTE well into the next decade.
If 5G unfolds as expected, a second phase will involve the virtualization of the fixed segment of the 5G network and Huawei has made big progress in NFV and Cloud (71 Trackers in the past year) to place itself nicely for that spending round too.
Then there's handsets. Two years ago Huawei was pretty-much nowhere. Today with the Mate 20 range of Android smartphones it's challenging both Samsung and Apple's iPhone at the very top of the smartphone market.
Where to now?
The calls to oust Huawei from national infrastructure markets seem to be continuing. The US and Australia have implemented bans and other countries are being urged to act. In the UK a government report into Huawei's broadband and mobile infrastructure found the company represented a security risk.
BT, which is very much a Huawei partner, appears to be pushing back with senior executives warning that if a ban were to be imposed it would hobble the UK's race to 5G. Like the UK, many countries now face a choice. Take a slim risk on Huawei infrastructure security (Huawei of course vociferously denies that it would threaten its market position by weaponizing its infrastructure for the Chinese government) or take a hit by expelling Huawei from its list of approved suppliers.
It feels now like most, perhaps unwilling to follow any Trump line, will go for the former.
Email Newsletters
Sign up to receive TelecomTV's top news and videos, plus exclusive subscriber-only content direct to your inbox.