How to make 5G pay: will Virtual and Augmented Reality become a reality?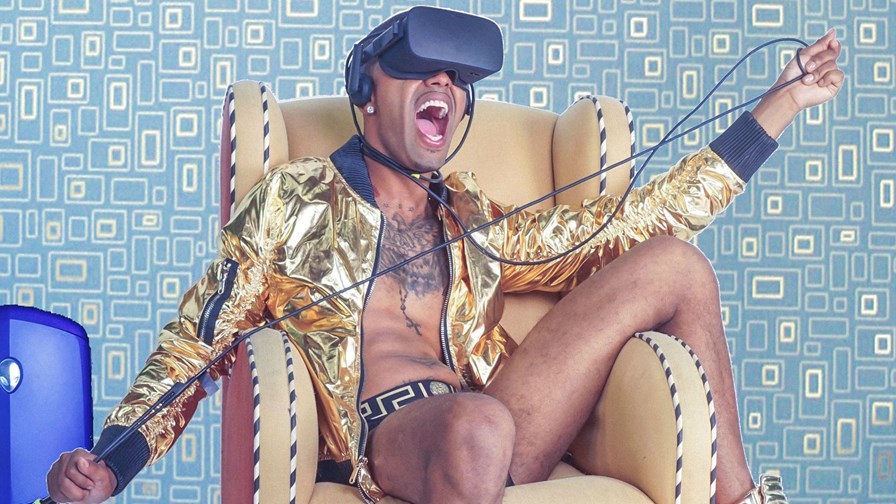 Telcos still looking for use case reassurance for 5G
Virtual and Augmented reality haven't taken off yet but if they do...
... they might be just what the net doctor ordered
Perhaps the major schism in 5G at the moment has opened up around the old cart/horse conundrum - supply or demand, which is the more important? While industry bodies, politicians and equipment vendors (mostly) pump up the amount of prize money waiting at the finishing line of the global 5G race, technology sceptics and some well-placed telco executives question the business model and the number of use cases likely to be unearthed in time to make the effort pay. High bandwidth, low latency applications are particularly welcome.
One of the main candidates in that regard is clearly the Virtual and Augmented Reality segment. Data and Analytics company, GlobalData, acronyms it as 'VRAR' but we think VAAR is better (plus you can say it). GlobalData points out that VAAR might not only bring connectivity revenue, but in so doing places telcos in a good position to monetise their own platforms and services through content innovation.
Which in theory is all very well, but several attempts to make the VAAR concept real have so far come to very little (Google Glass, anyone?). As the company points out in its report 'Telcos and Virtual and Augmented Reality (VRAR): Opportunities, Challenges and Winning Strategies', "despite robust momentum on the supply side, the VRAR market is still nascent, with the penetration of VRAR headsets very low relative to other computing devices."
Virtual shopping
Some observers think the applications may be pulled through in particular market segments. ABI Research thinks the retail and marketing segment is on course to do so. "Consumer demand for a better shopping experience is ever increasing. E-commerce and digital marketing enable consumers to buy products conveniently online and offer consumers the opportunity to rate, review, and share the information of products and services," says ABI industry Analyst Khin Sandi Lynn. Retail and marketing companies have realized that virtual reality technology can be an effective tool to further assist consumers with the purchase process by offering the ability to visualize and personalize the products more realistically.
ABI says automotive companies and travel agencies are effectively using VR as a marketing tool, offering treats such as a virtual test drive. While a 360-degree view of vehicles are an attractive marketing tools for consumers. Similarly, 360-degree video of travel destinations and virtual tours before buying a travel package or airline tickets are great platforms to assist travel ticket sales. These applications, you might note, are not necessarily mobile and might be accomplished better - and more cost effectively - with fixed links and large screens in an in-store transaction rather than via a mobile device driven by 5G.
Online is a different matter. ABI points out VR is deployed by furniture and home improvement centers both in-store and online to provide a better shopping experience to consumers. Swedish furniture company IKEA and North American home improvement company Lowe's are two examples that have successfully done this. Meanwhile, online Chinese e-commerce company Alibaba has also deployed its Buy+ mobile VR platform for better product visualizing. "There is high consumer interest to use VR for making purchase decisions while shopping online or in-store. The availability of low-cost VR headsets is another driver of consumer VR use cases for purchasing products," notes Lynn.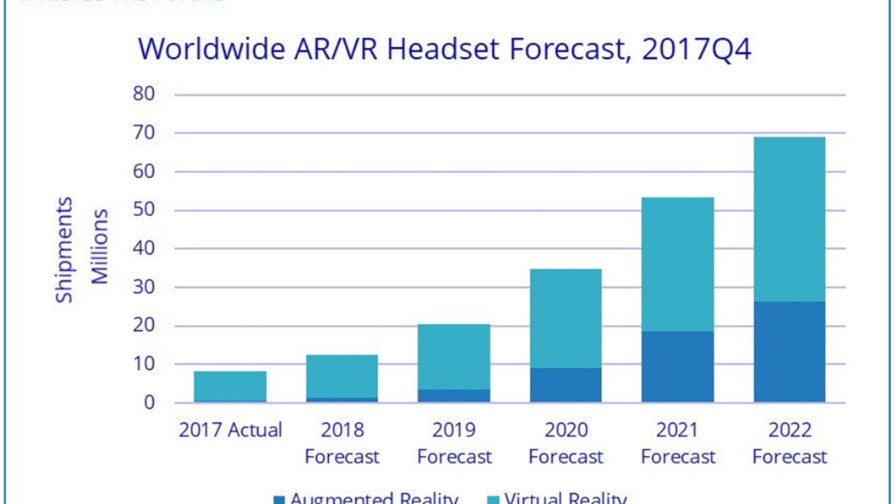 Product visualizing
While 2017 was a flat year for VAAR headsets, IDC expects a bit of a rebound this year and anticipates total combined AR/VR volumes reaching 12.4 million units, marking a year-over-year increase of 48.5% as new vendors, new use cases, and new business models emerge.
The 2017 glitch was apparently primarily due to a decline in shipments of screenless VR viewers. Previous champions of this form factor stopped bundling these headsets with smartphones, says IDC. and consumers have shown little interest in purchasing such headsets separately. While the screenless VR category is waning, Lenovo's successful fourth quarter launch of the Jedi Challenges Mirage headset - a screenless viewer for AR - showed the form factor may still have legs if paired with the right content, it maintains. In addition, other new product launches during the quarter included the first Windows Mixed Reality VR tethered headsets with entries from Acer, ASUS, Dell, Fujitsu, HP, Lenovo, and Samsung.
IDC expects the VR headset market to rebound in 2018 as new devices such as Facebook's Oculus Go, HTC's Vive Pro, and Lenovo's Mirage Solo ship with new capabilities and price points.
Some telcos are convinced
Some telcos seem convinced that the maturation of VAAR is just a matter of time as the end user and business gadgets catch up with the connectivity.
For instance says GlobalData, US telco Verizon has made acquisitions in VAAR content platforms, while SK Telecom is building its own. AT&T is investing to develop compelling VR experiences and AR apps and Orange is taking steps to increase its participation across the board in devices, platforms, services and original content.
However, GlobalData maintains that if this activity comes to fruition the current networks won't take the strain, pointing out that while smartphone augmented reality apps such as Pokémon Go can be handled by the existing mobile broadband infrastructure, immersive experiences demand much more bandwidth capacity. The company's interviews with industry players showed a wide range of expectations on VAAR's impact on telco network traffic, with nearly half expecting a traffic increase by more than 40% by 2025.
Email Newsletters
Sign up to receive TelecomTV's top news and videos, plus exclusive subscriber-only content direct to your inbox.