Anritsu and Bluetest launch joint 5G NR OTA measurement solution
With the integration of Anritsu's Radio Communication Test Station MT8000A and Bluestest's OTA reverberation Test System RTS65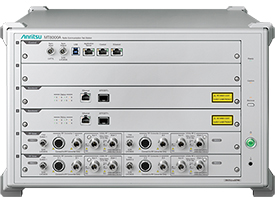 Luton, United Kingdom – October 31st, 2018 – Anritsu Corporation, a global provider of innovative test and measurement solutions for advanced and converged networks, announces following its successful long-term collaboration in LTE OTA measurement solutions, Anritsu and Bluetest AB are extending their relationship to 5G testing. This includes the integration of Anritsu's Radio Communication Test Station MT8000A and Bluetest's OTA Reverberation Test System RTS65.
This collaboration will enable existing customers to upgrade their LTE solutions with support for 5G. Upcoming 5G services will now use the sub-6 GHz and mmWave bands. The 3rd Generation Partnership Project (3GPP) recommends using over-the-air OTA call connections for mmWave band tests, requiring an OTA radio anechoic chamber for stable measurements. To ensure ease of set-up and cost effectiveness for this wide range of frequency bands, Anritsu and Bluetest are collaborating to provide compact integrated solutions with shorter test times.
Anritsu has designed its new MT8000A test platform to support the latest 5G technologies, including wideband signal processing and beam forming required by 5G NR enhanced mobile broadband (eMBB). As well as Protocol tests, the all-in-one platform supports sub-6 GHz and mmWave band signaling RF tests covering the 2.5, 3.5, 4.5, 28, and 39-GHz NR bands.
"Bluetest's flexible and user-friendly Reverberation Test System RTS65 and Flow software platform continues to show its power in handling multiple component carriers and MIMO streams. The updated RTS65 supports 5G NR with more sub-6 GHz measurement ports and frequency options up to 40 or 43 GHz", says Bluetest's product manager, Klas Arvidsson.
Tsutomu Tokuke, General Manager, Mobile Solutions Div. Anritsu Corporation, adds:
"Anritsu and Bluetest continue to develop leading-edge test solutions enabling developers and manufacturers to efficiently and confidently produce 5G devices to meet, and exceed, market demands."
This content extract was originally sourced from an external website (
Anritsu News
) and is the copyright of the external website owner. TelecomTV is not responsible for the content of external websites.
Legal Notices
Email Newsletters
Sign up to receive TelecomTV's top news and videos, plus exclusive subscriber-only content direct to your inbox.