5G could be the answer to 'connection anxiety'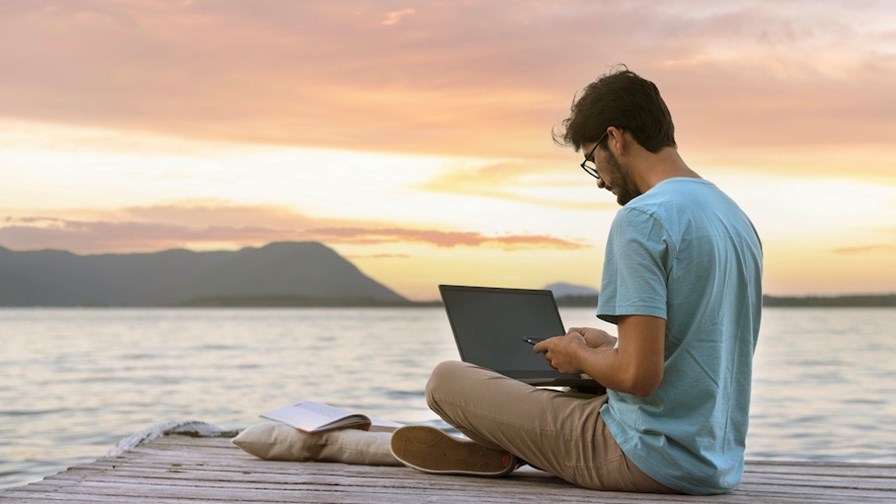 What are the prospects for 5G being packaged in laptops?
Some progress has been made, but it's hardly a flood
What could CSPs do to push embedded 5G adoption further?
So far, attempts to embed cellular connectivity in portable laptop computers have had limited success. There's no obvious disqualifying barrier, it's just that together high embedded technology costs and per-device cellular data charges have tended to make the option unattractive for users, mostly because Wi-Fi has become faster, more pervasive and steadily cheaper in comparison.
Will this ever change? Is there a business opportunity for the mobile operators?
There was a minor flurry of support for embedded cellular in response to the transition to 4G when it was thought that LTE could take on Wi-Fi, but most laptop vendors appeared to have done their user research and decided against a full-scale push into the category which, as a result, remained niche.
In the meantime, many laptop users had found other ways to tap cellular broadband on an as-needed basis when beyond the reach of Wi-Fi by tethering their 4G smartphones to their laptops. So while vendors continued to offer embedded LTE as a laptop option, not much happened in terms of sales.
In fact, all went relatively quiet in the segment until about 2020 when 5G was thought capable of breathing life into the embedded mobile laptop category, especially if Covid-19 and lockdown-enforced working from home was factored in. Surely, it was thought, given 5G's promise of improved connectivity, latency and security, interest could be found amongst power users and more demanding corporate mobile users. Maybe it was time for telcos (and others in the value chain) to re-evaluate the embedded proposition – perhaps with telcos providing some extra incentives for users.
There are high-end business laptops sporting embedded 4G and they will likely offer a 4G/5G option. Dell has done so with the Latitude 9510 2-in-1, but it comes with an eye-watering price tag (around £2,000), so very much an executive statement machine and not something that's going to move the bandwidth consumption dial for telcos.
However, there are some promising signs at the mid-range. Lenovo made an early move with the Yoga embedded 5G laptop that was picked up by major carriers for distribution, including Verizon in the US, EE in the UK, Sunrise in Switzerland and China Mobile in China, all forging exclusive distribution deals with Lenovo.
EE launched that unit in late 2020 on a 24-month contract with an 80 Gbyte per month allowance along with Windows and Microsoft 365, while Verizon launched Lenovo's ThinkPad X13s with 5G in July 2022.
By January this year the pace appeared to be picking up when Samsung announced the Galaxy Book2 Go 5G, which it says will be available with a range of RAM and storage options with prices starting at £647 – a premium of £150 over the £499 cost of the non-5G equivalent. And in India, Infinix has recently announced the Infinix Zero 5G 2023.
So there is a trickle of embedded 5G offerings, but so far it's hardly a flood.
However, the conditions for increasing 5G laptop adoption look promising. Consider that in the UK, for example, nearly all adults have a smartphone and, according to Statista Research, almost all 25-34 year olds owned a smartphone in 2022. Laptop ownership isn't as prevalent, but it is higher in the younger age groups, with 84% of 16-24 year olds in the UK owning a laptop device in 2021. That indicates that it's only a matter of time and generational change before most adults will own both. The situation is similar in the US and much of Europe.
Given this key statistic, there must be scope to squeeze some extra telco value from the ongoing convergence of smartphones and laptops which, after all, tend to share their low-power componentry, such as multi-core processors, memory and, increasingly, software. Google's Chromebook laptops, for instance, can run Google Android Apps, and that sort of device-level convergence looks bound to continue across the major platforms.
Of course, one telco option may be to continue enabling tethering in the belief that the resulting greater mobile broadband consumption will see users paying for more, or (even better) taking higher quality smartphone connections to optimise the performance of their laptops when tethered.
On the other hand, a range of incentives might convince some users to avoid the fuss of tethering and increase their 5G usage by enabling embedded 5G across their key devices.
What might make users or companies adopt 5G in this way?
First, mere tethering tends to reduce the efficiency of their connections. But they might also be attracted by some sort of subscription-sharing between 5G enabled devices (tablets, laptops and phones) in exchange for a price break on their aggregate 5G data consumption.
Then there's the long-term promise of additional and more sophisticated interworking of applications on their devices: Things like message notifications and file synchronisation – already commonplace on the major smartphone platforms – could be extended and enhanced to make the approach more attractive under 5G.
Improved resilience with 5G can certainly be made a factor too. In the strangely aligned field of electric vehicles (EV), there's a syndrome called 'range anxiety'. At this point in the EV story, charging stations can be few and far between, difficult to find and prone to being out of order when finally tracked down. So electric car owners have a tendency to worry about how far they can safely range from home before they run out of juice.
Similarly, 'connection anxiety' can be a nagging worry when laptop-equipped business users are away from the office when travelling or working from home. What, they ask themselves, if the relied-upon connection doesn't work (or the device battery flattens). So, one advantage for users in adopting embedded 5G over multiple devices (even if just laptop and smartphone) is that they will have back-up when one is run-down, lost or stolen with the ability to complete nearly any interrupted task by enlisting the second device.
Clearly the success of any such marketing strategy – should it develop – will depend on how quickly the cost of embedded 5G comes down. At present, the vendors appear to be loading £100 to £200 onto their 5G versions, but it's not that long ago that Wi-Fi was a premium feature on pre-iPhone smartphones and today it's long become a standard, while the bill of materials (BOM) cost is minimal. Things can only be better.
Telcos must also be willing to enable bandwidth pooling for multiple devices on a single subscription. At present, some telcos still insist on charging extra for tethering on some tariffs. Others make a big thing of allowing it. But multiple 5G device support could see telcos close the gap between the classic Wi-Fi/fixed link and the cloud proposition for multiple devices, with the added benefit that it can obviously be used when out of Wi-Fi range.
As is often noted, it's still early days for 5G, and marketing strategies, as well as 5G coverage zones, are not yet fully developed: The era of the 5G-connected laptop might yet arrive.
Email Newsletters
Stay up to date with the latest industry developments: sign up to receive TelecomTV's top news and videos plus exclusive subscriber-only content direct to your inbox – including our daily news briefing and weekly wrap.