Singtel boasts five carrier aggregation as Apple supports LTE Advanced on new iPhones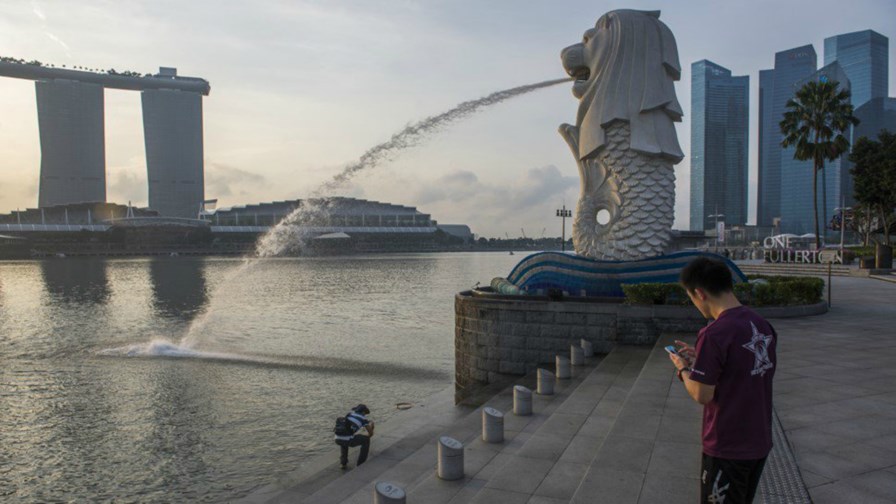 5G is all the rage and all the hype, as we all know
But there's still plenty of life left in good old LTE
Singtel is slinging multiple LTE carriers to get to around 1.5Gig, at least in the lab
And Apple is happy launching LTE Advanced on its new iPhones with no mention of 5G
One question which immediately comes to mind in the wake of Apple's iPhone announcements last week is: what about 5G? At about the same time that Apple was announcing new iPhones, the GSMA was putting on a huge 5G hype-fest - Mobile World Congress Americas - in Los Angeles, but not a mention of was made of 5G at the Apple launch.
Of course, talking about the next big (and distant) technology jump when you're busy rolling out a current product or two is not a good plan. But even so, the reasonable conclusion is that Apple will wait.
Reasonable because that's what Apple has done before. It waited a year or two before introducing 3G (it was amazingly absent at the launch of the iPhone in 2007, remember). Apparently this was down to Jobs' perfectionist fear of new, potentially buggy technology (and possibly the difficulty of getting good terms for the new chips). As a result he was intent on making sure that his phones would work perfectly and have adequate coverage in 3G - a reserve that continued under Cook and the transition to 4G.
So will the same thing happen on the 4G to 5G transition?
One reason for passing up on an immediate scramble to 5G could be the calculation that there is still plenty of life left in 4G/LTE, which Apple is continuing to develop in its iPhone progression.
The three new Apple iPhones all support LTE advanced. The iPhone XS and XS Max support gigabit LTE with 4x4 MIMO and Licensed Assisted Access (LAA); the iPhone XR supports 'just' LTE-A.
Apple calculates that speeds of up to 1 gigabit - the speeds offered by carrier aggregation in LTE - are more than enough for nearly all iPhone customers. With 3 or 4 years being a long time in technology, even faster speeds are certain to be engineered by telcos for LTE well in advance of any ultra-speedy 5G services.
Right on cue Singtel Singel has announced that it's managed a peak speed of 1.5Gbit/s in its labs using five-carrier aggregation.
See press release below
Ericsson and Singtel achieve Asia's fastest five-carrier aggregation on LTE
Singtel and Ericsson today said they have achieved peak LTE speed of up to 1.5 Gbps in a lab environment using five-carrier aggregation. This is the fastest in Asia in this setup and 50 percent faster than the prevailing 1Gbps speed that the two companies announced in February this year.
Singtel will gradually deploy the new speed across the island as more spectrum bands are allocated for the LTE network. Smartphones supporting 1.5 Gbps speeds are scheduled to be launched in 2019.
"We are constantly investing in innovative technologies to boost network speeds, enhance coverage and expand capacity to give our customers the best network experience," said Mr Yuen Kuan Moon, Chief Executive Officer, Consumer Singapore and Group Chief Digital Officer at Singtel. "As our customers' lifestyles increasingly revolve around their smartphones, we do our best to ensure they enjoy fast, reliable, comprehensive and secure connectivity."
The enhanced network speed was achieved in collaboration with Ericsson with a first-of-its-kind carrier aggregation of five carriers, which boosts network bandwidth. A combination of two 1800 MHz frequencies, together with 2100 MHz, 2600 MHz and TDD 2500 MHz spectrum bands and technologies such as FDD & TDD, 256QAM and 4X4 MIMO was used to achieve the peak speed of 1.5 Gbps. When introduced in the live network, such capability improves user experience and enhances network capacity. For instance, customers can download a two-hour 4K video in eight minutes.
"Ericsson has been a leader in pioneering technologies," said Mr Martin Wiktorin, Head of Ericsson Singapore, Brunei & the Philippines. "By leveraging five-carrier aggregation across both FDD & TDD, we continue to lead the way to meet customers speed and capacity demands. We are proud to be working on new capabilities and advancements on LTE."
Singtel and Ericsson will launch a pilot 5G network in Singapore in the fourth quarter of 2018. Singtel was recently named Asia's Best Mobile Carrier by Telecom Asia and was recognised by global metrics leader, Ookla, for having the fastest mobile network speeds in Singapore.
This content extract was originally sourced from an external website (
Ericsson
) and is the copyright of the external website owner. TelecomTV is not responsible for the content of external websites.
Legal Notices
Email Newsletters
Sign up to receive TelecomTV's top news and videos, plus exclusive subscriber-only content direct to your inbox.