Global Pay TV runs out of steam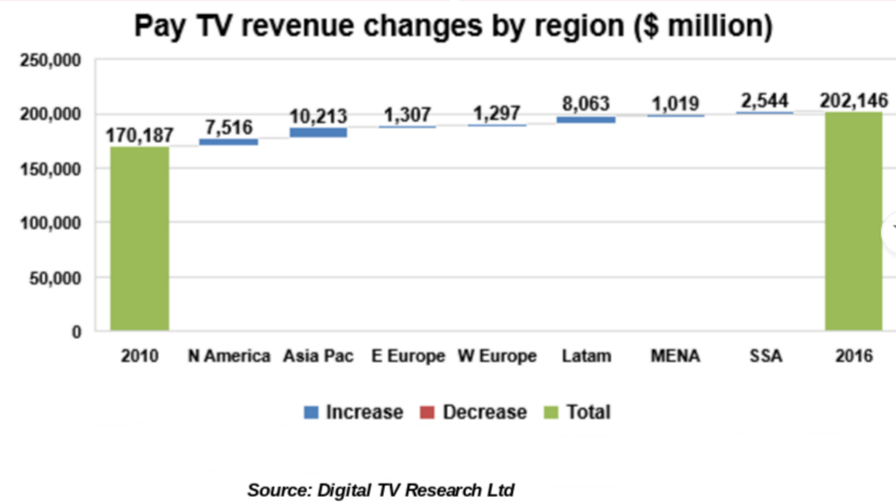 Pay TV revenues appear to have peaked
Just $1.23 billion added worldwide in 2016 ($202 billion total)
Meanwhile Neflix outguns combined US cable TV
While Pay TV revenues showed a reasonable, if unspectacular, growth track between 2010 and 2016, increasing by $32 billion over the period to reach $202 billion, even that relatively anemic performance has ended in a whimper with only $1.23 billion in revenues added to the Global Pay TV total in 2016 - or, to put it another (and more depressing) way, 2016 saw a Pay TV revenue growth rate of just over half of 1 per cent.
That revenue growth was flattening was hardly news - it's been steady a trend for some time. But it nevertheless must come as an unwelcome reminder to those large telcos which have made big bets on TV, such as BT, with BT Sport, AT&T with DirecTV and many more… we may actually be at 'Peak Pay TV' with the only way now being 'down', a direction that has already been noted in the US. To stay in the game, the big determined players will need to take share from rival Pay TV players and to innovate with new formats and delivery strategies.
According to Simon Murray, Principal Analyst at Digital TV Research, "despite its pay TV revenues being higher in 2016 than in 2010, North America peaked in 2015. Its 2016 total was $1.77 billion down on 2015. Although no decline was recorded, European pay TV revenue growth has slowed down considerably," he said.
Asia Pacific did better. It added $10.21 billion between 2010 and 2016 – up by 42 per cent to $34.38 billion while Latin America increased by 78 per cent to $18.44 billion. Sub-Saharan Africa more than doubled its total to $4.20 billion.
According to Digital TV Research, the US accounted for 49.5 per cent of global pay TV revenues in 2016; down from 54 per cent in 2010 and slipping below the halfway point for the first time.
The US is followed by China, the UK, Japan, and Canada, which generated two-thirds of global pay TV revenues in 2016.
Digital TV Research says half of the $32 billion extra revenues generated between 2010 and 2016 came from the US ($7 billion) China ($4 billion), Brazil ($3 billion) and India ($2 billion). However, revenues declined in nine countries, mainly due to subscribers converting from standalone TV to bundles (which are less lucrative for TV). Pay TV revenues more than doubled in 59 countries between 2010 and 2016.
So where has the viewing and the viewers gone? More competition and a greater choice of bundles may have meant that viewers have effectively negotiated their subscriptions down in price. Then there's the Internet.
It's no coincidence that in the US streaming service Netflix (online video viewing on demand) has this month surpassed the subscriber totals of all the US cable companies put together. Cable now has a combined 48.6 million subscribers while Netflix has squeezed past them with 50.9 million, according to data from Statista and Leichtman Research Group, which proclaims that the reign of cable television (in the US at least) is officially over.
Email Newsletters
Sign up to receive TelecomTV's top news and videos, plus exclusive subscriber-only content direct to your inbox.