Disney chops Netflix, goes for direct video relationship with fans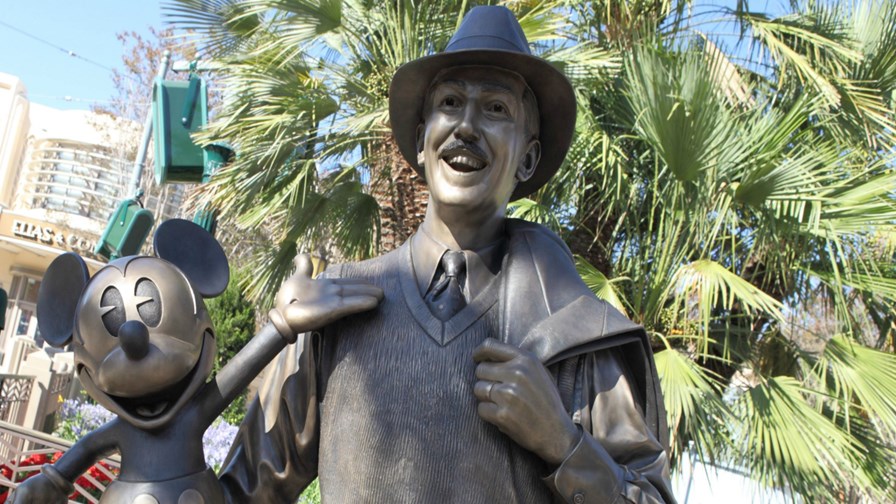 Disney moves to stream video direct to users
Ends relationship with Netflix
Move highlights the upsurge in streaming
In normal circumstances an announcement by the Walt Disney Company wouldn't necessarily stir much interest for network operators. But Disney's decision to set up its own video streaming company for the direct delivery of its video 'properties' over the Internet, and to drop Netflix as its delivery man, should ring alarm bells.
Many telcos - BT, AT&T, Verizon and many more - are convinced that their future is bound up with video delivery. They see content replacing bandwidth scarcity as the quickest way to the consumer's wallet, but if Disney's foray into Internet streaming were to be followed by other leading content providers, it starts to make that business model look shaky to say the least.
As always, in the long run greed and the Internet tend to work together to drive out those holding intermediate positions. Following the Disney announcement, the long run to the disintermediation of video streaming may just have become a little shorter.
So, instead of having a distribution agreement with Netflix (which naturally carves out a proportion of the revenues) Disney has decided now is time to go direct so that it can control the content end to end, force a direct relationship with its customers etc etc (and extract the most value). Disney says it will launch its ESPN-branded multi-sport video streaming service in early 2018, and the new Disney-branded direct-to-consumer streaming will follow on in 2019.
"Disney has been a relatively late player to the online video landscape and though its arrival was expected, this is still big news, " says Paolo Pescatore, Vice President, Multiplay and Media, CCS Insight. "Not even a media giant like Disney can ignore the opportunity to distribute its wealth of franchises and content to new audiences via the Internet. Video is proving to be a battleground for all providers as underlined by recent announcements from the likes of Amazon et al and it is apparent that the future of delivering video will be via the Internet. Furthermore, we believe that the move to internet delivery of TV programming will see a return to large bundles of content."
In fact the decision probably marks the moment when the balance of advantage changed for Disney and perhaps for much of the rest of the content industry. Where before Disney saw streaming as a marginal 'nice to have' - another distribution channel for its content but one which should be carefully controlled so as not to cannibalise its existing media distribution, now, with the rise and rise of streaming across an increasingly capable, and for the most part neutral, Internet, that calculation may have changed. The likes of Netflix, HBO, and Amazon have been growing fast on streaming and the content owners just have to take a share.
So what could happen next? Other powerful content franchises must surely include big sports organisations, like the UK's Football Premier League. If Disney can sprinkle some magic dust around to found its own streaming business, why not others?
Email Newsletters
Sign up to receive TelecomTV's top news and videos, plus exclusive subscriber-only content direct to your inbox.