Welcome to Alexander Black, the world's most exclusive retailer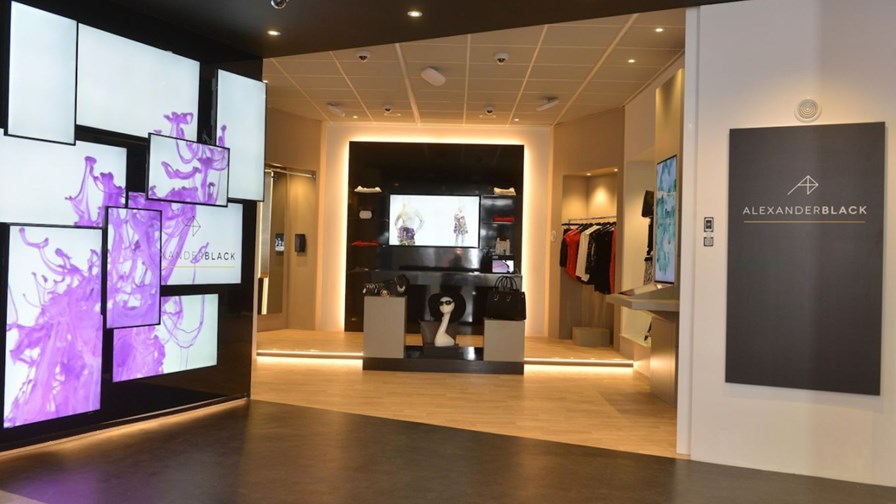 BT showcases the perfect digital retail store
Personalisation is the key to attracting "digital consumers"
90 per cent of retail sales still occur in physical stores
Retailers must transform consistently, securely and at scale
Alexander Black. The name drips exclusivity, high class and luxury. Forget John Lewis, Alexander Black is the leading high street destination for fashion, homewares and groceries. If you're not shopping at Alexander Black, then we are going to have to un-friend you. Only the best is good enough for Alexander Black.
Except did we mention it was exclusive? In fact, it's so exclusive that there is only one store, and what's more, nothing is for sale. That's because Alexander Black doesn't really exist – other than as a concept store housed deep within the concrete bunkers of BT's research and development facility at Adastral Park. This is the UK telco's latest "digital store experience", designed to show to show retailers how they can transform their physical stores to meet the needs of digital consumers.
BT is rather good at this and having been using simulated environments for some time (there's a video on TelecomTV that kicked off our Inside the Lab series a few years ago that shows the scope of BT's "experience" zones). Its latest construction is much larger than previous demos and is rather timely, coming at a time when even the most forward-looking high street retailers, such as John Lewis, are struggling to balance physical and online needs.
"People still really like shopping in physical stores but they want it to be much more like it is online: easy, personalised and entertaining," said Hubertus von Roenne, VP Global Industry Practices at BT's Global Services Division. That's certainly true – especially in modern shopping malls that feature the world's leading brands. But we ought to be careful about the use of the word "shopping" here – walking around looking at goods is one thing, actually buying them there and then (rather than going away and buying more cheaply on Amazon) is another.
BT notes that many retailers have prioritised investments in internet and mobile shopping, and in the process they have transformed customer expectations of service and created what he marketing folk like to call "the digital consumer". In the hyper-categorised world of retail analysts, these are people accustomed to the personalised service and rich information they get online and who expect a similar and consistent experience when shopping in retailers' physical stores. You would have thought that would be everybody.
Interestingly, BT says all this is driving retailers' investments in digital technology for physical stores, which still account for around 90 per cent of retail sales, according a survey by Boston Retail Partners last year. That's a surprisingly high figure at first glance, but when you consider it includes all retail locations, down to the smallest kiosk and corner shop, then perhaps not so. But for the large retailers (are there any medium sized retailer in this day and age?), not embracing technology is a huge risk.
Personalisation is now critical, says BT. Digital consumers expect retailers to recognise them and offer tailored content and relevant special offers. According;y, BT is working with specialist solutions partners, including the Acuitas Digital Alliance, to integrate their technologies behind the scenes at the Alexander Black concept shop. This will create a platform to allow retailers to mobilise their sales teams, check inventory in real time and bring together multiple data sources that they can analyse for new business insights.
"What to do is not the question," said von Roenne. "How to do it consistently, securely and at scale — which demands fully integrated solutions — is the tricky bit."
Departments in Alexander Black include fashion, homeware and grocery, with more than 40 practical solutions on show that retailers can introduce to transform customer and employee experience and improve operational efficiency.
BT's advice to retailers is that they need to follow a five-step process for a successful digital transformation of their physical stores:
Seamlessly engage digital consumers
Mobilise digital store teams
Digitise store operations
Secure the digital transformation
Use data analytics to drive business insight
"Alexander Black looks and feels like a real store and even includes a café to complete the shopping experience," said von Roenne. "It allows our retailer customers to get their hands on digital touch points such as a shop window display to show how they could interact with shoppers out of hours, a memory mirror with a 360-degree view for trying on new outfits, intelligent merchandise labels and a mobile app for the café. It integrates these solutions to blur the lines between shopping online and in-store, creating the seamless brand experience that digital consumers expect."
Email Newsletters
Sign up to receive TelecomTV's top news and videos, plus exclusive subscriber-only content direct to your inbox.