US telcos in race to offer VNFs to business customers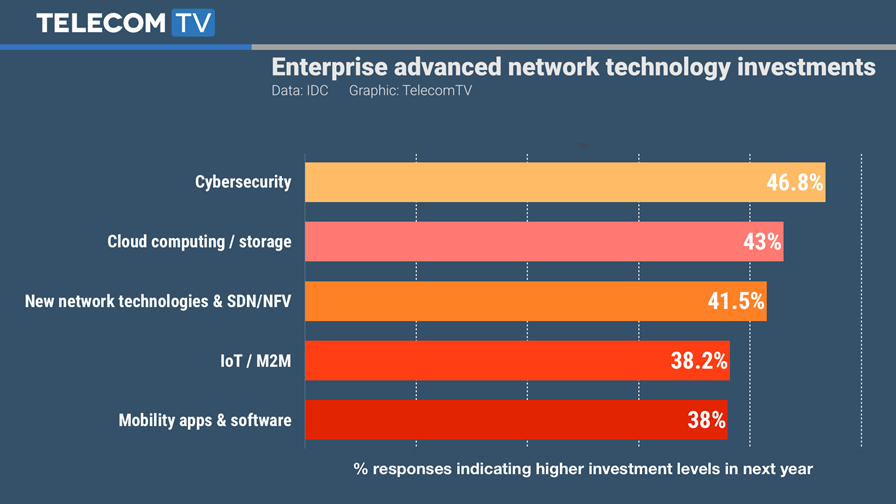 AT&T announces its Network Functions on Demand service
Verizon announces its Virtual Network Services
Digital transformation to drive connectivity levels 50 per cent higher across industry sectors
You wait years for flexible network services and then two come along at once. Typical. At the beginning of the week, AT&T announced its "Network Functions on Demand" service, allowing businesses to deploy a single piece of equipment, choose virtualized functions and set them up in different countries (76 countries and territories are currently supported). Now at the end of the week, rival US-based Verizon has announced its "Virtual Network Services", delivered as an "as-a-service" model with appropriate pay as you go pricing.
AT&T says its Network Functions on Demand simplifies the process of buying and adding network functions, reducing hardware requirements so businesses can create a simple, more agile network experience.
"Building networks by deploying network functions in software is a major shift in network design," said Ralph de la Vega, Vice Chairman of AT&T and CEO of AT&T Business Solutions and International. "We've broken through traditional, cost-prohibitive barriers. Our software platform delivers a simple, flexible and efficient experience for any business, virtually anywhere and anytime they need it."
The technology is behind the service is based on the AT&T Network on Demand platform that launched in 2015, which offers a secure and scalable network built to meet customers' individual needs, and Network Functions on Demand is the third service the telcos is rolling out on the platform. The fact that it is platform-based is the major differentiator between AT&T's offering and that from Verizon.
The first AT&T Network Functions on Demand capabilities that customers can choose from include: Juniper Networks virtual routing, Cisco virtual router, Fortinet virtual security and Riverbed virtual WAN optimisation.
Verizon's virtual network service
Verizon Enterprise Solutions' new Virtual Network Services is part of the telco's Software Defined Networking (SDN) and Network Functions Virtualization (NFV) strategy and is available globally. Verizon says it will enable clients to operate a dynamic network that can be changed quickly to address the number of company locations and users, bandwidth requirements and application use by employee to enable enterprises to transition to a virtual infrastructure model, providing greater agility and on-demand resources.
"The way in which network services are delivered is going through an unprecedented shift – the biggest we've seen since the broad adoption of MPLS," said Shawn Hakl, VP of networking and innovation, Verizon. "Today the network is transitioning to a virtualized model using similar technology that drove the disruption in the data centre market. With our new solution set, enterprises will be able to balance agility, performance, cost and security necessitated by the growth of mobile-to-cloud applications and IoT."
Verizon's initial Virtual Network Service packages are: security, WAN optimization and SD WAN services. Technology partners delivering these services are: Cisco, Fortinet, Juniper Networks, Palo Alto Networks, Riverbed and Viptela. Services can be delivered across public, private and wireless networks from Verizon or other service providers, or a combination of multiple providers across multiple networks. Verizon will offer three VNF deployment models to clients: premises-based universal CPE, cloud-based virtual CPE services and a hybrid of the two. The telco offers a consultancy service to help customers with a networking assessment and networking design for their implementation.
Digital transformation
Industry analyst firm IDC predicts digital transformation will drive connectivity levels 50 per cent higher across all industrial sectors in 2016 alone.
"Digital leaders unanimously agree on the importance of the network to digital initiatives, but a majority express uneasiness about their organisations' digital execution, pointing to security concerns, inadequate network resources, a complex technology and partner landscape, and inadequate skills as primary obstacles to digital progress," concluded the IDC report. "At the same time, a majority indicate plans to increase investment in complex new technologies such as SDN/NFV, cloud and hybrid IT, cybersecurity, and IoT solutions in support of their organisations' digital strategies. CSPs are the enablers of network transformation without which the full potential of digital transformation cannot be achieved. Organisations with digital transformation agendas should prioritise those CSPs that "walk the digital talk" as trusted digital partners."
Email Newsletters
Sign up to receive TelecomTV's top news and videos, plus exclusive subscriber-only content direct to your inbox.