The march of the Telcobots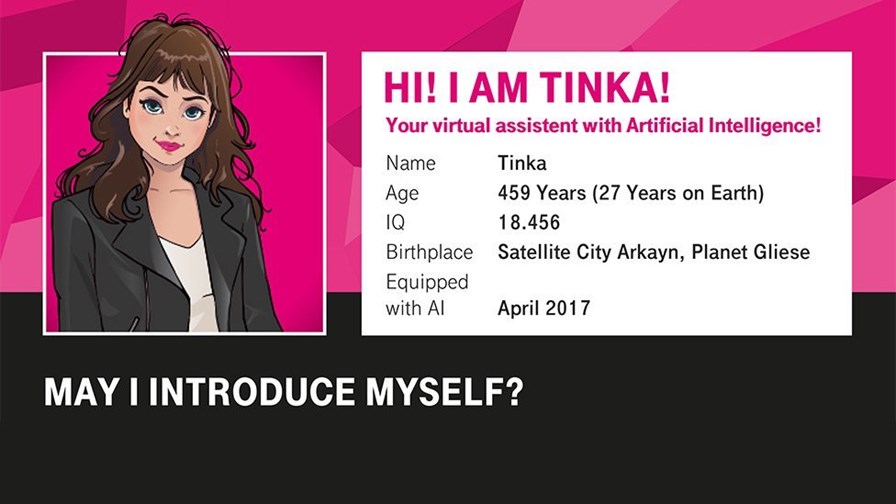 Happier customers - and telco savings of US$1.2 billion a year by 2022
Taking on the webscale giants at their own game
Realisation that AI-enabled virtual assistants are not a fad but the future
That little Tinka, Deutsche Telekom
A new report from ABI Research forecasts that the very widespread use of AI-enabled virtual assistants, or 'Telcobots" will enable network operators and CSPs to save upwards of US$1.2 billion a year on customer care management by 2022. The Telcobot sector will enjoy a compound annual growth rate (CAGR) of 17 per cent over the next five year period.
Telcobots are on the rise as telcos increasingly start to adopt artificial intelligence to improve their customer services. ABI says that while telcos are currently prioritising Telcobot virtual assistants primarily to improve customer engagements and thus increase subscriber satisfaction levels and reduce churn rates, they are also positioning themselves to compete directly with the Siris and Alexas of the world of the webscale giants.
What is particularly interesting and relevant about the ongoing uptake and deployment of AI Telcobots is that the telcos have been very late adopters of virtual assistant technologies. In fact many carriers initially dismissed them them as a fad and a gimmick typical of the webscale world but of little relevance to the traditional telephony industry. However, that attitude changed as it has become apparent to them that AI-enabled virtual assistants can be of great use in fostering and nurturing of good customer relationships and customer care management.
Commenting on the publication of the new research, Sarju Vasavada, Industry Analyst at ABI Research said, "The recent introduction of virtual assistants in customer service signifies the level of urgency within telcos to start emphasising the importance of customer relationships and customer care management, something they have been taking for granted for decades."
Very true, it has taken a long time, far too long for the penny to drop for the world's big telcos who have taken their market dominance so much for granted for so many years and seriously underestimated the the importance and potential value of properly and proactively looking after and managing their greatest asset: the customer base.
The world has long been awash with negative publicity about telcos disregard for their customers and how hard they can, and have, made it for individuals to complain and gain redress for slipshod service, over-pricing, wrong bills and slamming.
As Sarju Vasavada says, "Case in point? Vodafone released TOBi, a virtual assistant to address their customer service woes after being fined £4.6 million by UK regulator Ofcom for falsely charging more than 10 thousand pay-as-you-go customers for top-up credit. They also had a record-breaking number of customer complaints until TOBi stepped in."
So now it is increasingly common for Telcobots to be deployed to help customers with a variety of issues ranging from basic account inquiries to SIM purchases, service troubleshooting, and technical settings. Several telcos are leveraging AI and the likes of including IBM Watson, Nuance, LivePerson, and IPsoft or are all building Telcobot technology in-house. For example, Telefónica has developed its digital chatbot, "Aura" and it will be introduced early in the New Year. Meanwhile, in Austria, the user-base of Deutsche Telekom's "Tinka" is increasing by 50 thousand subscribers every month.
It seems that, at long last, telcos are realising the advantages and benefits of adding virtual assistants to the array of solutions that have available to improve and streamline customer service delivery and are rolling out Telcobots across the breadth and depth of their networks. Better late than never.
ABI's Research's "Artificial Intelligence in Telecom Networks" report is part of the company's Telco Cloud Platforms & Digital Transformation research service. The new paper forecasts that telco investment in AI will hit a value of $14 billion by 2022 with a CAGR of 22.4 per cent. The report also points out that fruits of early AI investments by Tier I telcos are beginning to grow with Orange (there's a fruit for you) and SK Telecom, both announcing the release of their chatbots, Djingo and Nugu, respectively for early 2018.
As Sarju Vasavada says, "Telcos are slowly but steadily getting ready for prime time. We are bullish on telcos making this "Next-Gen" leap within next five years."
Email Newsletters
Sign up to receive TelecomTV's top news and videos, plus exclusive subscriber-only content direct to your inbox.