Smartphones become 'cheap as chips' to usher in global ubiquity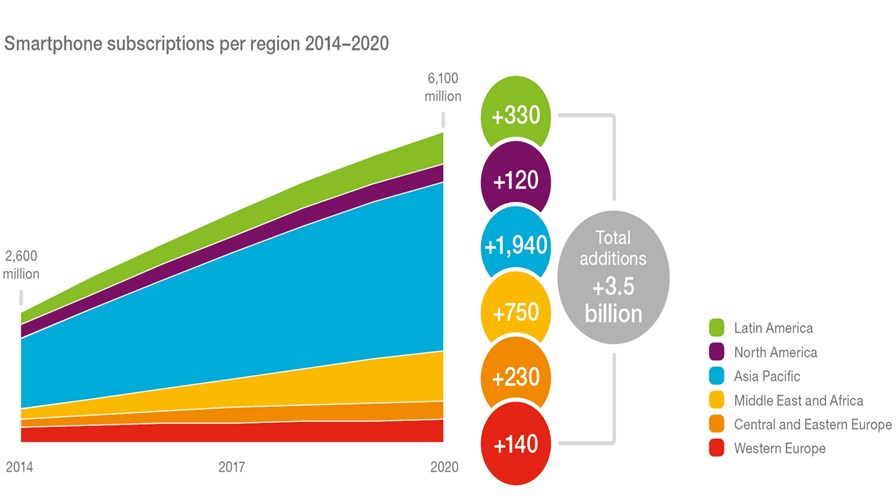 Ericsson's Mobility Report is out. You can read the whole thing in handy PDF format here but here are the main takeaways. The report charts the continuing triumph of mobility in general and the smartphone in particular, noting that it expects what it calls 'advanced mobile technology' to be ubiquitous by 2020.
By then, it projects, 70 per cent of the entire global population will be armed with smartphones and 90 per cent will be within coverage - so they could use one if they had one.
That is a stunning achievement.
Just 5 years ago (the way I remember it) cautious voices were pointing out that despite all the Apple-style hype, smartphones were still a minority sport and likely to stay that way for the foreseeable future because of their cost. In response, efforts like the Firefox $25 phone project (now apparently stopped) were initiated to provide budget platforms to overcome the cost problem for citizens in emerging and developing economies in particular.
What happens? Good old IT scale with its ever-diminishing incremental costs, rides to the rescue to make Android and its forked devices (now far and away the dominant smartphone platforms) not only numerous, but cheap as chips at the budget end of the market - now well under $100 and diminishing fast.
As a consequence (back to the report) smartphone subscriptions will more than double by 2020, reaching 6.1 billion and almost 80 per cent of these new subscriptions will come from Asia Pacific, Middle East and Africa.
The consequence of that is to make the smartphone, not the PC or tablet, the dominant route to the internet. Smartphones mean data access and lots of it.
Which brings us to the next stat. By 2020 80 per cent of all mobile data traffic will come from smartphones and North America and Europe will continue to have the highest data usage per smartphone.
Within that stat is video. It's expected to grow by 55 per cent per year until 2020, driven by video streaming services and online content.
Ericsson doesn't hold back on the implications. Rima Qureshi, Senior Vice President, Chief Strategy Officer, Ericsson says: 'This immense growth in advanced mobile technology and data usage, driven by a surge in mobile connectivity and smartphone uptake, will make today's big data revolution feel like the arrival of a floppy disk. We see the potential for mass-scale transformation, bringing a wealth of opportunities for telecom operators and others to capture new revenue streams. But it also requires greater focus on cost efficient delivery and openness to new business models to compete and remain effective."
Loads of granular detail can be found in the report, downloadable here.
Email Newsletters
Stay up to date with the latest industry developments: sign up to receive TelecomTV's top news and videos plus exclusive subscriber-only content direct to your inbox – including our daily news briefing and weekly wrap.