Gartner highlights a more challenging smartphone sector for Nokia than when it "quit" in 2013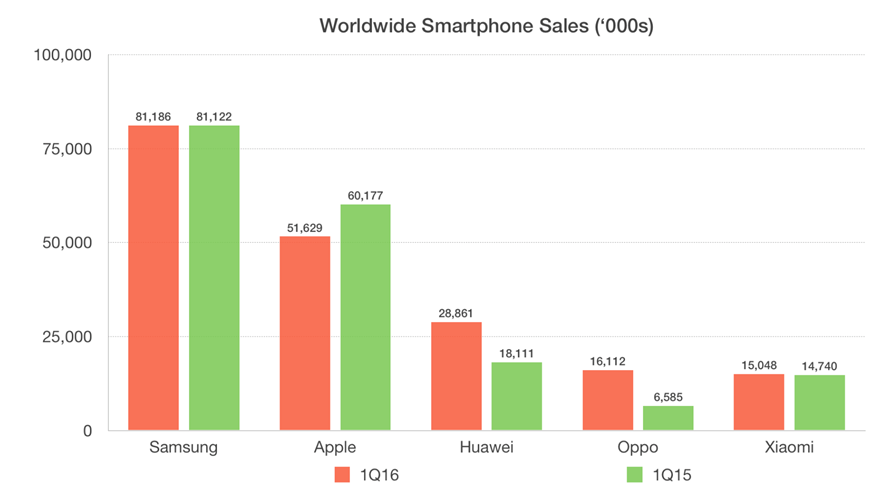 349m smartphone sales to end users in the first quarter of 2016
Annual growth rate of 3.9 per cent
Smartphones account for 78 per cent of all mobiles
Android now accounts for 84 per cent of the OS market
Welcome back Nokia, it's as if you never went away (except for my own terrible experience of a Windows Lumia device that carried your name, but let's move along swiftly). As my colleague Ian Scales reports today, Nokia's smartphone journey has been strange, to say the least, and caused many heartaches and woes along the way. And much has changed in the past two and a half years since Microsoft took charge of Nokia's device business – smartphone growth is slowing, business models are changing, and competition is fiercer than ever. Good luck, HMD.
The latest quarterly statistics on smartphone sales have just been published by research firm Gartner, and they show an annual growth of just 3.9 per cent. Global sales of smartphones to end users totalled 349 million units in the first quarter of 2016, representing 78 per cent of total mobile phone sales.
The firm says that sales were driven by demand for low-cost smartphones in emerging markets and for affordable 4G smartphones, led by 4G connectivity promotion plans from service providers in many markets worldwide.
"In a slowing smartphone market where large vendors are experiencing growth saturation, emerging brands are disrupting existing brands' long-standing business models to increase their share," said Anshul Gupta, research director at Gartner. "With such changing smartphone market dynamics, Chinese brands are emerging as the new top global brands."
In fact, three Chinese brands now rank within the top five worldwide smartphone vendors, up from two this time last year. Their market share also increased, with the three vendors – Huawei, Oppo and Xiaomi – accounting for 17 per cent of the market, up from 11 per cent in Q1 2015.
Samsung holds on to first place
Samsung stills reigns supreme with 23.2 per cent market share of global smartphone sales in Q1, shipping over 81m units. This share was up slightly year-on-year, although volumes remained constant. Apple was the clear second-place vendor with 14.8 per cent and 52m sales, down from its 18 per cent share and 60m sales a year ago. However, Apple had its first double-digit decline year on year, with iPhone sales down 14 per cent.
Huawei consolidated its third place with an increase in both market share and volume – 8.3 per cent and 29m sales. It had reported strong smartphone demand in Europe, the Americas and Africa. Oppo had the best performance in the quarter, moving into the number four spot with unit sales growth of 145 per cent. Like Huawei and Xiaomi (who ranked fifth) Oppo saw strong growth in China, taking share from players such as Lenovo, Samsung and Yulong. Both Xiaomi and Oppo saw their smartphone sales in emerging Asia Pacific markets rise by 20 per cent and 199 per cent respectively.
Bad news for Lenovo, though, which disappeared from the top five smartphone vendor ranking as well as the top 10 mobile phone vendor market in the first quarter of 2016. "Lenovo had another challenging quarter with its worldwide smartphone sales declining 33 percent," said Gupta. "Its smartphone sales fell by 75 percent in Greater China, where it faced strong competition from local brands. Lenovo is also struggling to bring synergies with Motorola's device business, managing lower costs and overheads of the two brands."
It's an Android world
In terms of the operating systems, Android now accounts for a dominant 84 per cent, followed by iOS with 15 per cent. Windows has seen its share plummet from an already low 2.5 per cent a year ago to just 0.7 per cent in the first quarter of 2016. For what it's worth, Blackberry halved its share to 0.2 per cent.
"Despite the Android platform's advancements and its dominant market share, the challenges of profitability remain for a number of Android players," explained Roberta Cozza, research director at Gartner. "This will have an impact on the vendor landscape where new or more innovative business models will increasingly become key to succeed."
So where does this leave Nokia? The fact that the smartphone market is slowing down makes it difficult for mobile phone vendors to reach previous levels of growth.
"Nokia's announced return to the smartphone and tablet markets will not be an easy mission," added Gartner's Anshul Gupta. "In today's market it takes much more than a well-known brand to sell devices. Making good hardware won't be an issue for Nokia, but users need a compelling reason to remain loyal to the same brand. New company HMD is entering the market at a less prosperous time, making it even more difficult for the vendor to do well in the short term."
Email Newsletters
Stay up to date with the latest industry developments: sign up to receive TelecomTV's top news and videos plus exclusive subscriber-only content direct to your inbox – including our daily news briefing and weekly wrap.