Cranes building cranes: Nokia marries drone delivery and small cell installation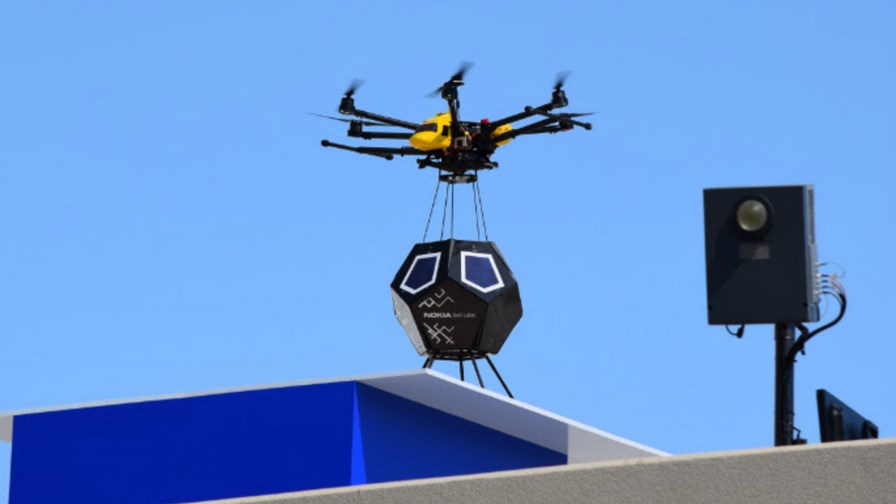 Small cells deployed by drone
No wires required, power source solar
Nokia Bell Labs claims "drop and forget"
Nokia Bell Labs (the respected research bit that came to Nokia with Alcatel Lucent) claims it's in the process of revolutionising small cell deployment by using drones to install small cells at scale without (much) human intervention.
The new approach, called F-Cell technology, is not only capable of dehumanising the installation part of the process using drone delivery, but also takes the wire cutters to the vexed problem of backhaul by simply not requiring any.
Instead, F-Cell is designed to use what it calls 'wireless wireless' by using radio for the backhaul and even doing away with the need for a wired power source by using solar.
The result is what Nokia Bell Labs is calling "drop and forget" small cell deployment - all without as much of the usual time-consuming and expensive pre-planning and civil works.
On paper at least, it's an approach that tackles around five expensive small cell problems in one hit.
Bell Labs recently demonstrated the F-Cell's capabilities by flying a unit onto a Nokia office rooftop in Sunnyvale (above). It claims the F-Cell wirelessly self-powered, self-configured and auto-connected itself and instantly began to stream high-definition video.
Reimagination
According to Bell Labs the underlying the F-Cell breakthrough is really a re-imagining of the network architecture to place key functional elements in optimum locations. The unit, it says, is comprised of a closed loop, 64-antenna massive MIMO system placed in a centralised location that is used to form 8 beams to 8 energy autonomous (solar powered) F-Cells, each of which has been redesigned to require minimum processing power so that the solar panel is no larger than the cell itself.
In this way, F-Cell technology sustainably solves today's small cell and backhaul cabling, deployment and expense challenges for service providers and enterprises.
The architecture supports non-line-of-sight wireless networking in frequency division duplex (FDD) or time division duplex (TDD) mode, and the parallel operation of up to 8 individual 20 MHz channels allowing for a system throughput rate of ~1Gbit/s over existing LTE networks. In future, this architecture will scale to enable up to tens of Gbit/s using higher spectral bandwidth, new spectral bands and a larger number antenna arrays.
Email Newsletters
Sign up to receive TelecomTV's top news and videos, plus exclusive subscriber-only content direct to your inbox.