Net Neutrality: TelecomTV readers say telcos must 'move on'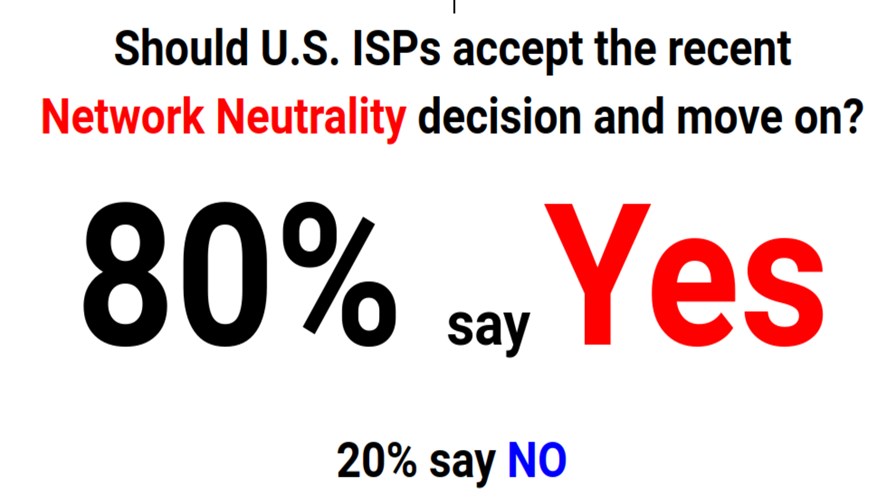 With the emphatic victory scored by the US Federal Communications Commission (FCC) in the courts this week (see Game over? Court challenge to US net neutrality rules thrown out) you could be forgiven for thinking that, as we asked in the headline, it has to be 'Game Over'. Surely now, in the cold light of day, the big US telcos will look to their long-term strategic interests rather than to their armies of lawyers, gracefully concede and accept network neutrality? After all, as they build themselves into content powerhouses they'll want to stream their stuff, unhindered, over their rivals' networks otherwise their content model starts to fall flat.
So what's the opinion of our readers who, remember, are far more telecoms industry oriented than your usual sample of global citizens?
We asked them: " Should telcos and ISPs accept the latest US court decision to uphold the FCC's net neutrality rules, and finally put the issue to bed?"
80 per cent of those who responded replied yes, the issue should be put to bed
20 per cent said no
So will they bow to your wishes put away their lawyers?
So far there is little sign of that happening. A careful scan of the newspaper headlines shows that the claims and counterclaims over net neutrality (or its lack) that had already become boring at least three years ago, are now even more vociferous.
AT&T says it always thought the issue would end up in the Supreme Court and it will fight on. Others are looking to the imminent changing of the guard at the Whitehouse in the belief that Trump will take time off from building his wall to somehow strike down net neutrality, probably with the help of Congress,
Now, of course, the objections to the FCC's move are centred on broadband being classified as a utility service and the attendant 'regulation' that will threaten, ignoring the fact that FCC boss Tom Wheeler was essentially forced to reclassify to get his net neutrality rules through.
But in the end none of the arguing over who should charge who for what, or whether Google or AT&T should get their way, or any of the other (often weird) issues such as corporates' first amendment rights, should matter.
The only thing that matters is what users want. And very clearly users want neutral Internet access. That's what we all signed up for. If there were a proper, free market choice for different access providers (difficult to achieve) then the issue would resolve itself - the providers who offered and stayed neutral would win, those who didn't would be history. But when markets fail we have regs. And in this case very simple regs to regulate business behaviour, just as it's regulated in many other utility or sensitive industries.
It's about time those at the top of the telecoms industry saw sense.
Email Newsletters
Sign up to receive TelecomTV's top news and videos, plus exclusive subscriber-only content direct to your inbox.