Small but perfectly formed: Telenor buys Finnish telco DNA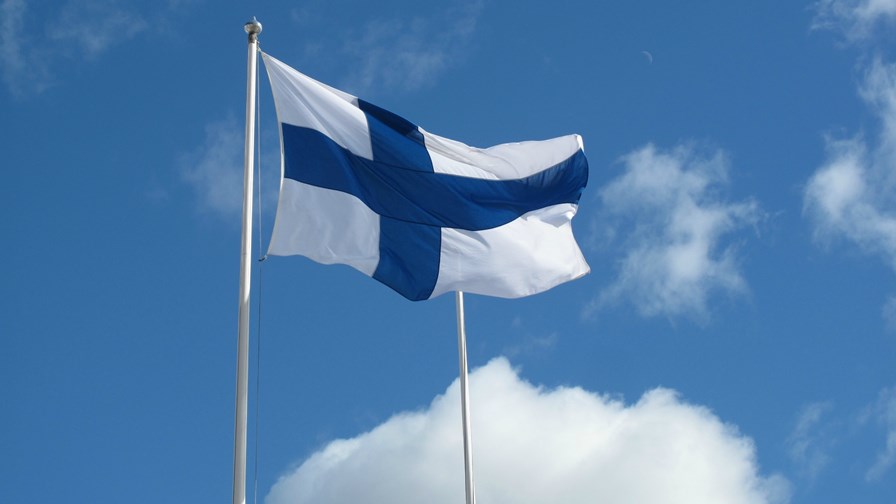 Telenor increases its Nordic holdings

Gains strong position across fixed and mobile in Finland

DNA's service revenues still growing strongly
It's been a while since we've had a good old barney over network consolidation in Europe and the likelihood is that Telenor's move to buy Finnish telco, DNA, won't give us one either.
Telenor is to buy a controlling interest - 54 per cent at €1.5 billion - in DNA for apparently solid business reasons. Once that transaction is completed - the shares are being purchased from DNA's two largest shareholders - Telenor will trigger a mandatory public tender offer for the remaining outstanding shares. That, according to Reuters, would value DNA at around €2.78 billion.
The buyout doesn't involve "in-country consolidation" to reduce competition. Rather Telenor, which has long-standing regional ambitions, says buying DNA gives it a strong position across fixed and mobile in Finland. It's a market, it says, which is growing strongly and is widely considered to be one of the, if not the, most advanced in Europe.
According to Antonios Drossos of Finnish advisory firm Rewheel - which specialises in competition policy - there's nothing major to object to in the deal from a competition law and conventional merger analysis perspective.
"Of course," jokes Drossos, "every single time an incumbent buys a challenger, competition suffers, but that's probably a matter for the 22nd century competition policy."
So no immediate concerns.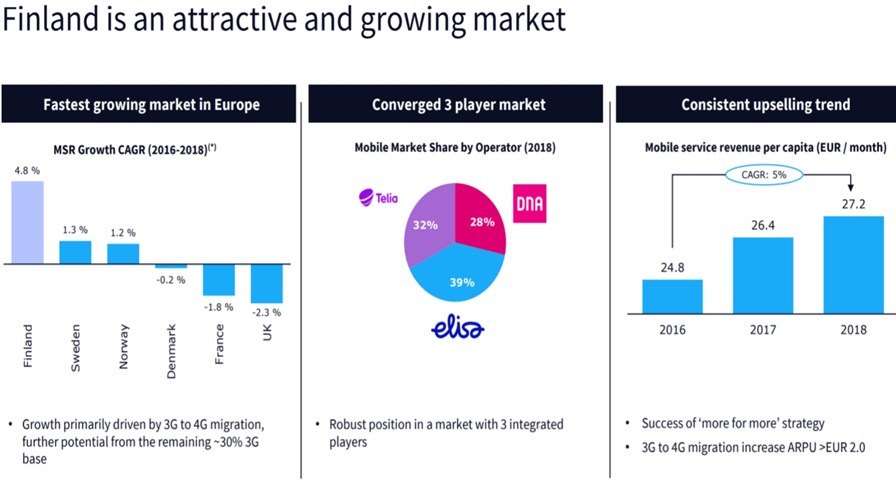 The Finnish market is small but almost perfectly formed. The three operators - Telia, Elisa and DNA - each have non-dominant market shares (32%, 39% and 28%, respectively) and DNA's lower market share means it has headroom to grow.
Telenor is counting on it continuing to produce attractive products; upselling its customers to 4G; and strengthening its position in the business market where its parent can give it extra heft for things like procurement, roaming, and best practice sharing.
DNA has a tiny subscriber base by European standards - just 2.9 million - but its service revenues are actually growing strongly (unlike many others in Europe - see charts above) ballooning by around 9.3 per cent a year over the last three years.
Why? Here's a few reasons why DNA is doing so well, according to Telenor:
DNA's customers are enjoying the fastest mobile network in Finland

It is the second largest fixed broadband provider and the largest cable TV provider in Finland

It has been ranked as the most attractive employer in Finland

The DNA brand is among the top ranked brands in Finland
Telenor says its intention is to keep DNA listed on the Nasdaq Helsinki exchange.
Email Newsletters
Sign up to receive TelecomTV's top news and videos, plus exclusive subscriber-only content direct to your inbox.