MEF aims to help telcos scale up for SD-WANs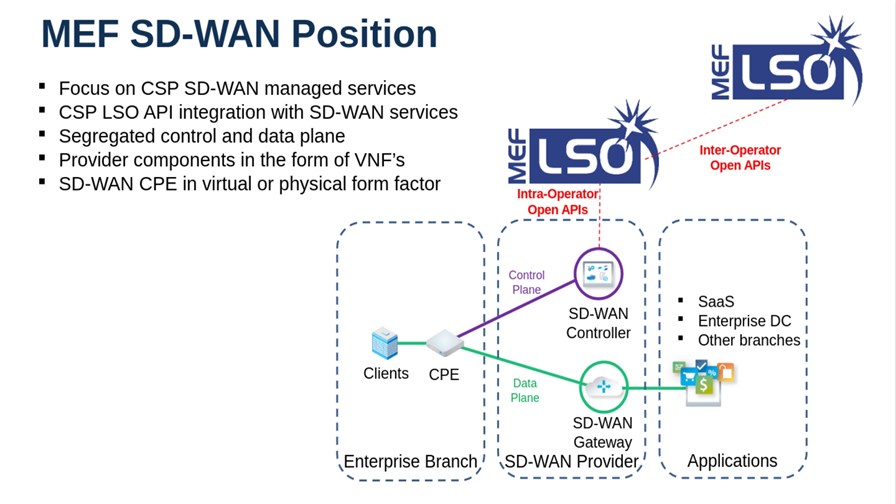 MEF the organisation that's leading the industry in defining SD-WAN terminology
SD WAN is being moved out of the enterprises to be managed by the service providers
Forum agrees the first six major SD-WAN managed services use cases
The MEF has announced today that it's extending its current work to standardize SD-WAN (Software Defined Wide Area Network) managed services. It expects to define SD-WAN service terminology, components, and implementations according to its existing LSO (Lifecycle Service Orchestration) Reference Architecture and Framework.
"The MEF has built its activities around the idea of it being the 'Third Network', explained Pascal Menezes, CTO ot the MEF. While its early roots were in Carrier Ethernet it's moved well beyond Layer Two and is now all about network as a service, its life-cycle service orchestration work and the importance of automation. "Therefore as part of that vision we recognise that SD-WAN is a very important part of the technology," says Pascal. "So the MEF has taken on the work now to become the organisation that's leading the industry in defining SD-WAN terminology."
From enterprise to service provider
SD-WAN offerings have arrived with a distinct 'enterprise' flavour to them, tending to be vendor offerings or services built using those offerings.
The problem with that is "that what we have with SD WAN today is that there is no standardisation, no body to lead it and no body defining the terminology or any other definitions of what an SD-WAN is," says Pascal. "There are no APIs even, but businesses are demanding WAN flexibility to control costs as they migrate applications to the cloud. They see SD-WAN as an option to address this,"
All understandable. "If you look at where SD-WAN came from, it was enterprises taking vendors' products and implementing them themselves to get cost savings and efficiencies," says Pascal. "But the carriers looked at it and said, 'this is good'. So what's happening now is that SD WAN is being moved out of the enterprises to be managed by the service providers as part of their whole WAN offer."
According to Pacal, the MEF service provider members are enthusiastic for the forum to take a lead and provide a carrier-friendly framework to manage and integrate SD-WAN so that services can be scaled up and deployed "in the millions".
Despite all the excitement SD WANS currently represent a fledgling market
According to IHS Markit the world-wide SD-WAN segment turned over just $36 million in the first quarter of 2017 and the top three players - Viptela, VeloCloud and Talari - accounted for 46 per cent of the that market. The SD-WAN as a managed service segment, dominated by the service providers, therefore probably has a lucrative space in front of it to occupy if the carriers can get their agile act together.
So the MEF will set out to define and orchestrate SD-WAN Managed services with a view to standardizing multi-provider, multi-vendor SD-WAN service implementations.
The community has agreed on the first six major SD-WAN managed services use cases. The OpenCS SD-WAN project also will deliver a rich set of LSO APIs to enable consistent SD-WAN assurance, application performance, and security policies, which include telemetry data feeding back into LSO analytic platforms for various AI automated use cases.
The OpenCS SD-WAN project is led by Riverbed and VeloCloud with contributions thus far from Amartus, Cox, Fujitsu Network Communications, GBI, Huawei, and Nokia/Nuage. Silver Peak and Versa Networks recently have joined as MEF members to contribute to the SD-WAN work as well.
Email Newsletters
Sign up to receive TelecomTV's top news and videos, plus exclusive subscriber-only content direct to your inbox.