Anritsu adds RF and PHY Layer throughput measurement support for 6CA Terminals to LTE-Advanced/LTE-Advanced Pro Radio communications tester
New software extends support for testing Carrier Aggregation (CA) technology that enables higher speeds on LTE-Advanced/LTE-Advanced Pro networks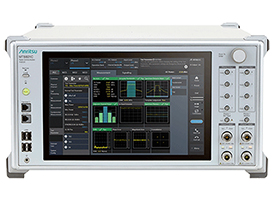 Luton, UK – 25 October, 2017 – Anritsu Corporation announces the rollout of two new software upgrades that enable testing of RF Transceiver (TRx) characteristics for 6CC CA using the company's popular MT8821C. The upgrade enables mobile terminal, chipset manufacturers and communications operators to test key technologies that support faster LTE-Advanced/LTE-Advanced Pro network speeds: Carrier Aggregation (CA), which aggregates multiple component carriers (CCs).
The MT8821C is an all-in-one tester with built-in LTE-Advanced/LTE-Advanced Pro terminal RF TRx test functions as well as base-station simulation functions. The upgraded support for RF and PHY layer measurements extend the existing capabilities from DL CA 4CCs 4x4 MIMO and DL CA 5CCs 2x2MIMO to 6CA SISO and 6CA 2x2 MIMO. The new software also supports 6CA linked with Licensed Assisted Access 3 (LAA3).
Operators worldwide are deploying the LTE-Advanced/LTE-Advanced Pro standard to speed-up the older LTE standard and help cope with the explosive growth in services using large data volumes, such as mobile video streaming. In addition, to facilitate a smooth transition to next-generation 5G communications systems targeted for service deployment in 2019, there are plans to introduce LTE-Advanced/LTE-Advanced Pro offering gigabit-class speeds by using even more CCs.
Key Features
With the new software, the MT8821C supports all cellular technologies compliant with 3GPP/3GPP2 UE RF TRX tests including LTE/LTE-Advanced, Cat-M1/NB-IoT, W-CDMA/HSPA, GSM/EGPRS, TD-SCDMA/HSPA and CDMA2000 1X/1xEV-DO. The MT8821C also supports LTE-Advanced/LTE-Advanced Pro Downlink Carrier Aggregation, LTE-U/LAA and VoLTE voice/video echoback tests, at frequencies up to 6 GHz with a bandwidth of 160 MHz (both Tx and Rx).
This content extract was originally sourced from an external website (
Anritsu News
) and is the copyright of the external website owner. TelecomTV is not responsible for the content of external websites.
Legal Notices
Email Newsletters
Sign up to receive TelecomTV's top news and videos, plus exclusive subscriber-only content direct to your inbox.