Service innovation should be main focus for DSPs – poll result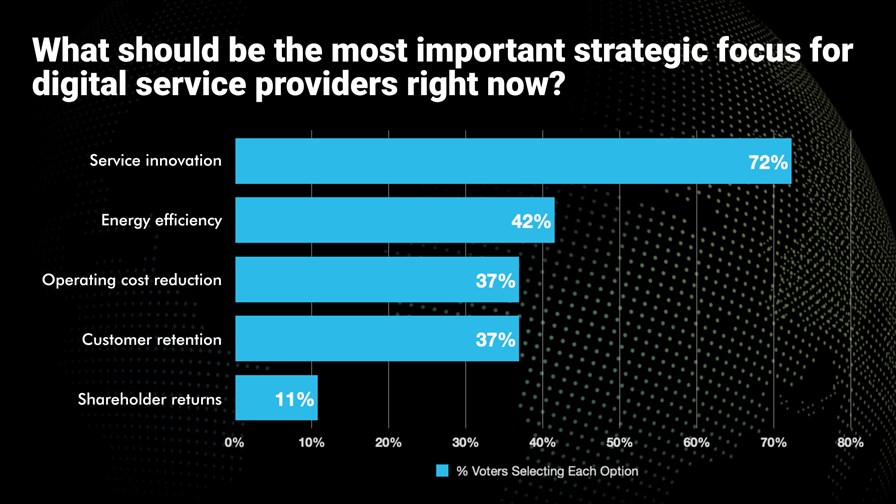 As telcos transition to become digital service providers (DSPs), they are facing a number of tough decisions
Should cost reduction be their main strategic focus?
Not according to our recent poll results
As telcos invest in more virtualised, cloud-oriented systems and networks, change the way they operate, and engage differently with their customers, they face some major conundrums, particularly related to their strategic focus. The big pressure right now is for network operators to focus their efforts on becoming more energy efficient, but is that more important than anything else?
According to the results of a poll conducted during the fourth session of the recent DSP Leaders World Forum 2023, which was held in-person in Windsor, UK, and streamed live, reducing power consumption should not be their number-one goal.
That session, co-hosted by BT Group's chief security and networks officer, Howard Watson, and entitled "The latest carrier conundrum: How to enhance service innovation and delivery while improving energy efficiency", highlighted some of the many challenges and tough decisions facing network operators today – see BT's Watson: Telcos need to address the 'overprovision paradox'.
The associated poll asked, what should be the most important strategic focus for digital service providers right now?
Respondents were able to select all options they deemed relevant.
The answer from our voters was resounding: Service innovation is the most important strategic focus right now for DSPs, attracting votes from 72% of respondents.
Energy efficiency is important, of course, but only garnered votes from 42% of respondents, only just ahead of operating cost reduction and customer retention, which both attracted votes from 37% of respondents.
The poor old telco shareholder hasn't had too much to cheer about lately, and our poll result didn't help either, as only 11% of respondents thought shareholder returns should be the most strategic focus for DSPs right now.
The importance of service innovation to DSPs was discussed broadly during the session co-hosted by BT's Watson – you can watch it on demand right here.
- Ray Le Maistre, Editorial Director, TelecomTV