Also-ran Jawbone clenches its teeth as the market bites back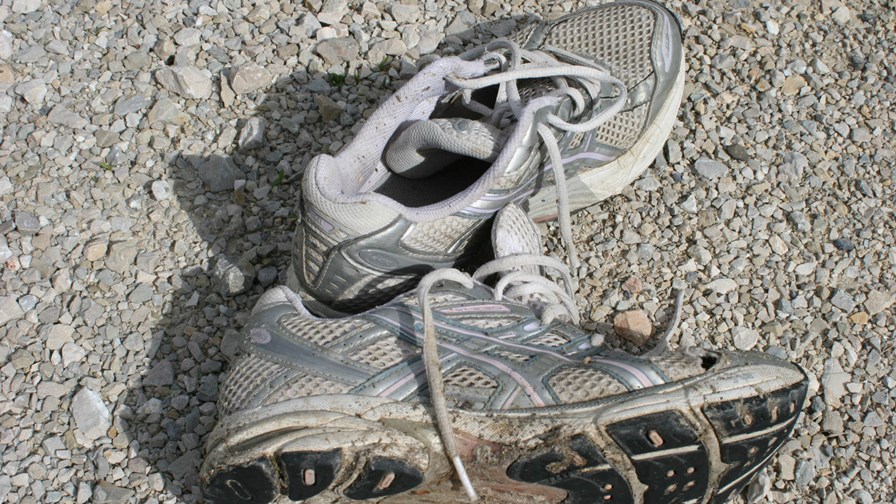 Fitness-tracker company not fit at all.
Company value halved in nine months

Products delayed and consumers go elsewhere

Bluetooth speaker business also in trouble
According to the Old Testament Book of Judges, hairy strong-man Samson smote the Phistines "hip and thigh" with the jawbone of an ass (like you do) and killed a thousand of them with it. Messy business. And now, Jawbone, the San Francisco-headquartered manufacturer of the eponymous fitness-tracker is having a similarly torrid time of it. Basically, it has lost its market battle against rival Fitbit and has ceased to make its Jawbone devices, has sold off the remaining inventory of them to a third-party reseller at a fire-sale price and is in deep trouble. Jawbone is refusing to answer questions about or comment on the story - which pretty much guarantees that it is true.
It seems that once the stock of heavily discounted fitness-trackers is exhausted there are unlikely to be any more made. In a very fast-moving and competitive sector dominated by Fitbit and Apple, Jawbone was also-ran, and despite having been around for more than five years now it was nevertheless late to the scene and it failed to gain any meaningful market share as it burned through its cash reserves. The company has not released a new device for over a year now and it looks as though the kiss of death is upon it.
Back at the beginning of this year Jawbone raised US$165 million in a new funding round and the company's CEO, Hosain Rahman announced that the cash injection would be used to develop and market "clinical grade" fitness trackers. However, Mr. Rahman has a history of both ignoring what his competitors are up to and also of promising consumers lots of jam tomorrow but the same old dry bread today and the new devices never appeared. That's why at its peak Jawbone accounted for just over four per cent of the wearable fitness tracker market while Fitbit, with a very successful IPO under its belt, commands 34 per cent and rising.
Mr. Rahman was convinced that Fitbit is a far inferior bit of kit when compared to a (potential) Jawbone device and got seriously hung up on developing a product that would measure heart rate to clinical tolerances and so preferred to wait for new technology to mature whilst Fitbit went along its merry way introducing new products, garnering consumer support and market share.
He also came a cropper in the PR battle when he continued to claim that the heart rate monitor that Fitbit built into its products wasn't as accurate as those Jawbone was planning. That argument fell apart in spectacular fashion when the influential US website and journal, Consumer Reports, tested the Fitbit devices against professional heart rate monitors as deployed in hospitals and clinics and found them to be "very accurate."
Jawbone's senior management has also been distracted by the company's ongoing legal suit against its rival which alleges that Fitbit stole Jawbone's intellectual property and, (horror of horrors) poached some of its personnel. Jawbone was trying to get the court to order Fitbit to stop importing into the US components and products from overseas. The company never did stand much of a chance of that happening and now it never will.
Jawbone a big Jambox jam too
Jawbone actually started out in 2010 selling Bluetooth telephone headsets (hence the company name) and then moved into the Bluetooth speakers market where, for a time, its Big Jambox and Mini Jambox products became comparatively popular. However, a visit to the company website 'shop' shows that what seems to be left of the Jambox stock is also being sold off at deep discounts.
This time, despite being early to market with readily available products Jawbone found itself up against premium brands such as Bose and its market share, never very high, began to dwindle. At the end of 2015 it was down to just five per cent of the US market and prompted Jawbone's co-founder and chairman, Alex Asseily, to opine publicly that "selling the non-wearable business would be painful but prudent". Nothing happened then but circumstances now seem to have conspired sufficiently for the Bluetooth unit either to be put up for sale or out of its misery.
Times have been tough for Jawbone for a while now. Competition in its spheres of interest and competency has intensified, products have either been delayed or simply abandoned, senior executives have voted with their feet and left the company, there have been many rank and file redundancies and the company's valuation has tanked. At the time of a previous funding round held in April 2015, Jawbone was valued at $3 billion. This time, in January 2016, with that valuation halved to $1.5 billion, Jawbone was forced to go cap in hand for a so-called "down round" of funding that raised $165 million and showed the market that the company is damaged goods.
In happier times Jawbone raised hundreds of millions of dollars in investments from the likes of Khosla Ventures, Andreessen Horowitz, Sequoia Capital and Kleiner Perkins, but not any more. If Jawbone survives the current crisis, rumours are that the diminished company it will focus exclusively on the healthcare and wearables sectors where, yet again, competition is as cut-throat as it is relentless and where some established and innovative big hitters will use all their power to make sure an upstart entrant doesn't get very far.
On the upside though, Marissa Mayer, the CEO of Yahoo. is also a board member of Jawbone, a role she presumably performs on the Fourth of July. With talent like that to draw on, what could possibly go wrong?
Email Newsletters
Stay up to date with the latest industry developments: sign up to receive TelecomTV's top news and videos plus exclusive subscriber-only content direct to your inbox – including our daily news briefing and weekly wrap.