AT&T and IBM stretch the elastic cloud with SDN technologies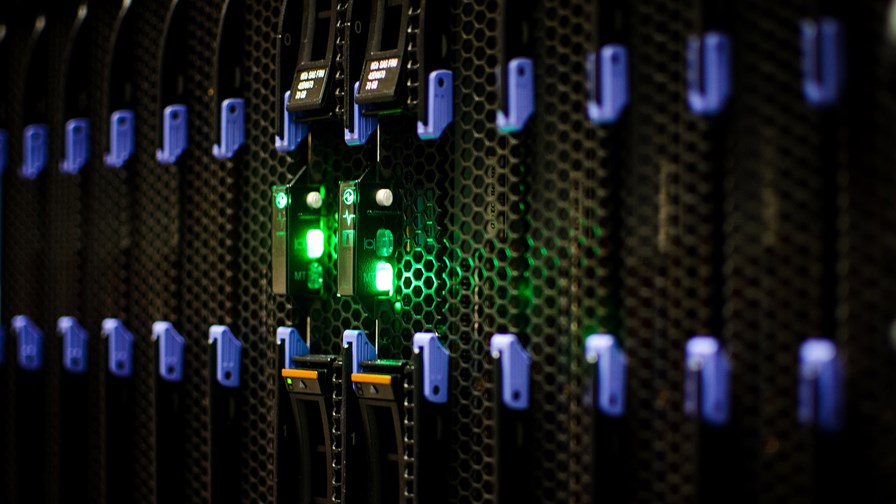 Scientists from AT&T, IBM and Applied Communication Sciences (ACS) have released details of a proof-of-concept technology that reduces set up times for cloud-to-cloud connectivity from days to seconds. The implication of this is that it enables elastic bandwidth between clouds at high connection request rates using intelligent cloud data centre orchestrators, instead of requiring static provisioning for peak demand.
Very technical, but of great importance when used with next generation optical networking equipment. Today's cloud computing model is built on the premise of automation and lower operational costs, which requires dynamic provisioning of resources. However, the traditional cloud-to-cloud network is static and creating it is labour intensive, expensive and time consuming.
Cloud Service Providers are now installing intelligent resource management systems within their data centres, both for load balancing and to manage massive transfers of data among multiple data centres.
"These shifts have driven the need to develop rapid and high rate bandwidth-on-demand in the WAN," said Robert Doverspike, executive director of Network Evolution Research at AT&T Labs. "By combining SDN concepts with advanced, cost-efficient network routing in a realistic carrier network environment, we have successfully demonstrated how to address this need."
AT&T was responsible for developing the overall networking architecture for this concept, using its bandwidth-on-demand (BoD) technologies and advanced routing concepts. IBM provided the cloud platform and intelligent cloud data centre orchestration technologies to support dynamic provisioning of cloud-to-cloud communications. ACS contributed network management and optical-layer routing and signalling.
The prototype was implemented on OpenStack and built under the guidance of the US Government's DARPA CORONET programme, which focuses on rapid reconfiguration of terabit networks.
"The DARPA CORONET programme has created a truly innovative solution that will enable dynamic cloud services of the future," said Matt Goodman, DARPA Program Manager. "By delivering highly efficient bandwidth sharing, this technology will significantly reduce costs for both carriers and cloud providers. It truly is a major step forward for the industry."
The use of flexible, on-demand bandwidth for cloud applications, such as load balancing, remote data centre backup operation, and elastic scaling of workload, provides the potential for major cost savings and operational efficiency for cloud service providers and telcos.
"This technology not only represents a new ability to scale big data workloads and cloud computing resources in a single environment but the elastic bandwidth model removes the inefficiency in consumption versus cost for cloud-to-cloud connectivity," said Douglas Freimuth, IBM Research Master Inventor.
In the demo, set-up times of 40 seconds were achieved, with sub-second provisioning times possible with next generation DWDM equipment.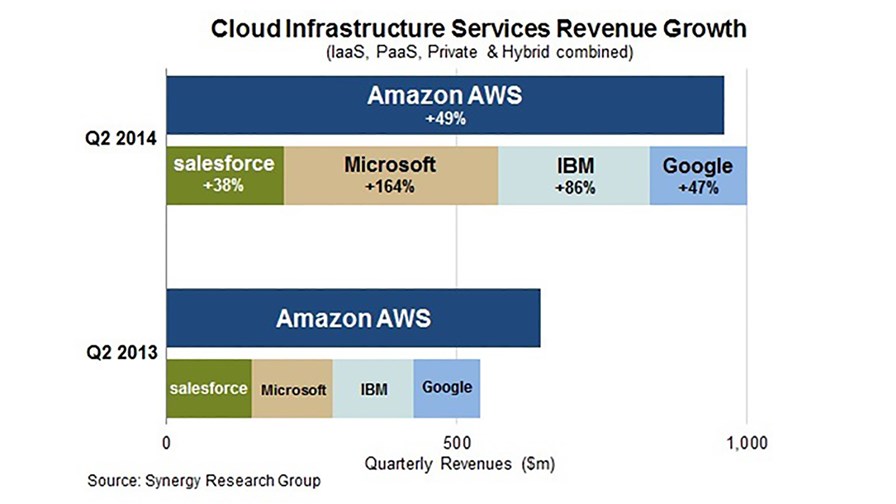 Meanwhile, IBM should be pleased with the news that it is leading the growth in cloud infrastructure services. According to new research from Synergy, IBM and Microsoft are catching up with Amazon Web Services whilst Google is dropping off the pace.
Synergy estimates that quarterly cloud infrastructure service revenues (including IaaS, PaaS, private and hybrid cloud) have reached $3.7 billion, with trailing twelve-month revenues exceeding $13 billion. The total market is now growing at over 45 per cent, although the share of AWS and Google is essentially unchanged from a year ago.
"It has become clear that AWS finally has some tough competition to face" said John Dinsdale, Research Director at Synergy Research Group. "Until this quarter it could claim that it was bigger than its four nearest competitors, but now at least one jewel has fallen from its crown. While it remains a formidable leader of the market, Microsoft is making some huge strides in IaaS and PaaS while IBM now has clear leadership in the private & hybrid infrastructure services segment."
Email Newsletters
Sign up to receive TelecomTV's top news and videos, plus exclusive subscriber-only content direct to your inbox.